Although its shares bounced almost 6% on Friday, Sotheby's (NYSE:BID) still finished the week down 13% after a disastrous week. Although the shares are trading at low levels we anticipate them still going lower and would caution against going long despite how cheap it looks on paper.

It has been just a couple of weeks since Sotheby's annihilated the analyst consensus by reporting preliminary results of earnings per share in the region of $1.11 - $1.17, versus the analyst consensus estimate of 84 cents. For a moment it looked like great times lay ahead, but actually the future is looking a little shaky in our view.
You could be forgiven for thinking that this is a fantastic time to buy, look at those earnings. But that was for auctions held last year and we all know how quickly things can change in the art world. Perhaps the volatility in the financial markets is making art buyers nervous, or perhaps it has dented their wealth so they're cutting back on spending, it's hard to say. But, what we do know is that the Wall Street Journal has called out a correction in the art market. If it is indeed a correction in the art market, then Sotheby's could be hit incredibly hard.
In London last week Sotheby's and Christies sold just short of $185 million worth of art at their contemporary evening auctions. This was a far cry from the $364 million at similar sales a year previous. In fact, Sotheby's alone sold more last year that them both combined this year. In terms of quality, we believe both years were similar and had very well-known artists featured. It all came down to problems with the buying side.
This is bad news for Sotheby's for a couple of reasons. Firstly, in this type of market we do not believe key pieces will go up for auction if their values have been diminished. We expect the works of many of the more sought after artists will go back into storage, waiting for more favourable market conditions. At Sotheby's London auction several collectors, such as Fatima Maleki, withdrew pieces at the last minute. If Sotheby's doesn't get quality works through its auction houses, then both the top and bottom lines are going to suffer.
Secondly, Sotheby's is more than just an auction house, it is a finance company also, lending money against pieces of art. It will generally lend up to 60% of the low estimate value of the piece of art used as collateral. We are concerned that should art prices drop significantly we could see Sotheby's Finance suffer from increased levels of charge-offs. There has been talk this week of troubled Malaysian financier Low Taek Jho selling three key pieces (Picasso, Monet, and Basquiat) for a combined total of $54 million. These pieces were the collateral for a $100 million loan from Sotheby's. This isn't great news for its finance segment and hopefully not a sign of things to come, as it could put pressure on its reasonably strong balance sheet.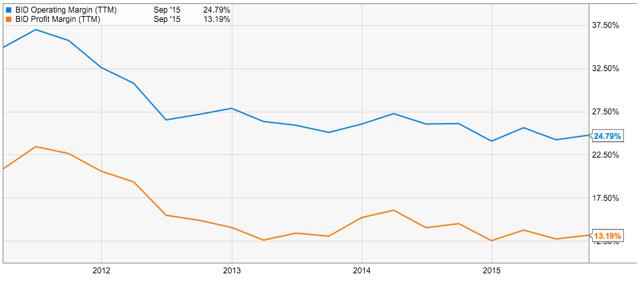 (Source: Ycharts)
We suspect Sotheby's may have to increase its marketing budget in order to increase demand for its sales. This could cause a decline in an operating margin that has trended downwards (see above) in recent years. Furthermore, to win listings in a market that has few sellers, the company may have to offer better terms to sellers, much like we saw with the Taubman auctions recently. To secure the listings it had to offer a $500 million guarantee on the pieces. This was a very risky play which could have ended very badly if this art market correction had come a month sooner.
So with everything that is going on in the financial and art markets, Sotheby's is just too risky for us at the moment despite its cheap appearance. Let's not forget how Sotheby's faired during the last financial crisis. While we don't necessarily believe another global financial crisis is coming, we acknowledge that economically the world is in a very precarious position right now. Shown below you can see the effect the last one had on Sotheby's, where its revenue was cut in half.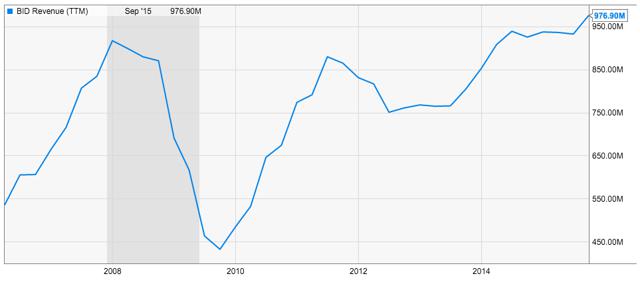 (Source: Ycharts)
If the financial markets find their feet and the market volatility disappears then Sotheby's could well be a good investment today. We believe the uncertainty in financial markets is the root cause for the decline in art sales and would likely rebound once confidence is built back up. But as we see no end in sight at present, we would be hesitant to buy Sotheby's as we fear it could still go lower to around $18.
Disclosure: I/we have no positions in any stocks mentioned, and no plans to initiate any positions within the next 72 hours.
I wrote this article myself, and it expresses my own opinions. I am not receiving compensation for it (other than from Seeking Alpha). I have no business relationship with any company whose stock is mentioned in this article.