MLPs had a negative 10.2% total return week, the 6th worst week ever, but not quite as bad as the first week of December leading up to KMI's dividend cut. Over the past two weeks, MLPs have dropped 14.4% and finished the week down 23.9% for the year, including distributions outpacing oil's price decline YTD.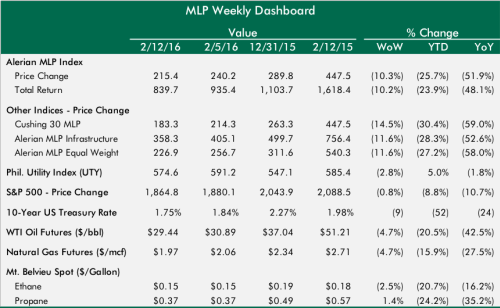 After 12 trading days without a 5% decline day for the MLP Index, the bottom fell out for MLPs when the index dropped 8.4% Monday, the third worst single day ever for the index, and the worst day since October 2008. Monday's crash was a mashup of MLP fears that all materialized at once: Chesapeake Energy (NYSE:CHK) was rumored to be planning to file for bankruptcy protection, ETE's CFO was fired creating even more uncertainty for an entity that controls or will control about 20% of the MLP Index, and oil prices dipped below $30/bbl.
Tuesday, MLPs continued lower, then had a small gain Wednesday before dropping another 4.7% Thursday to reach a fresh multi-year low. MLPs did finish on a high note with a 5.9% gain Friday, the 10th best day ever for the MLP index. The index broke below 200 for the first time since early 2009 and looked like it would continue trending straight down to the 2008 low of 152, but late on Thursday, oil bounced and MLPs started to bounce. The follow-through Friday helped MLPs close the week 8.2% higher than that intra-day low from Thursday.
Oil prices put in another bottom Thursday and rallied hard on Friday on rumors that OPEC may have had enough pain and might be willing to do something to arrest the oil price decline. It's hard to believe rumors and speculation from OPEC members outside of Saudi Arabia, but the news gave traders a reason to cover what had been very profitable shorts.
The negative sentiment around oil prices, E&P companies and MLPs seems to be peaking. There are definitely negative catalysts on the horizon that the market is attempting to discount into today's prices, but at this point, they seem to be very known unknowns. The negative catalysts on the horizon include another leg down for oil prices, volume declines after producer capex cuts, MLP credit downgrades, producer bankruptcies, or draconian producer borrowing base redeterminations. When some of the known unknowns become known knowns, we'll see how well the market discounted the storm clouds. There is certainly the possibility that the market has gone too far with at least some MLPs.
Next week earnings season continues. Several MLPs should provide meaningful volume data points and details on how their businesses are holding up. Among midstream MLPs in the MLP Index, ENLK, TEP, WPZ, CPPL, EEP and GEL all report this week.
Winners & Losers
BWP reported strong earnings this week, landing it a spot in the top 5, while wholesale distribution MLPs FGP, CAPL and APU also made the top 5 and continue to hold up better than most MLPs. On the downside, NGL's weak earnings, lower guidance and lack of a quarterly conference call led to another valuation haircut, while last week's winners CELP and JPEP fell back this week.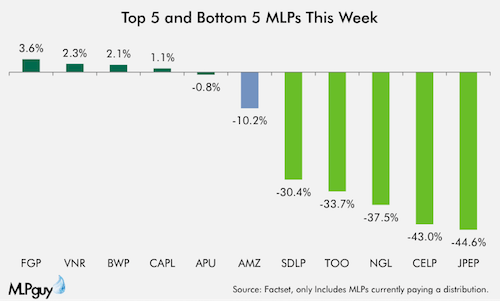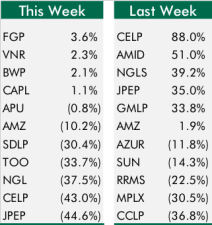 Year to date, demand-focused MLPs APU, TLP, FGP and WPT stay in the top 5 year to date, along with EVA, which operates outside the traditional MLP businesses. On the downside, midstream MLPs MPLX and CEQP dropped further this week, but both climbed a few notches from the bottom of the barrel. WPZ was nudged out of the bottom 5 by TOO.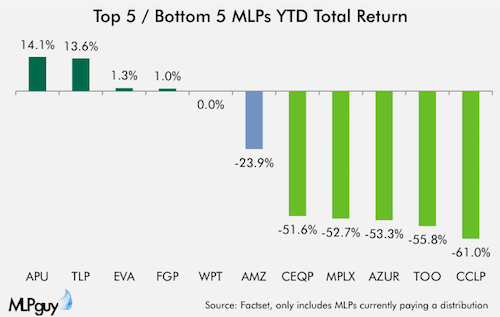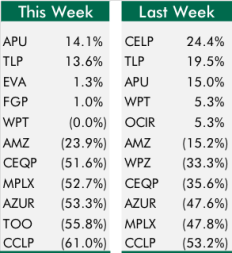 General Partner Holding Companies
All GPs declined this week and GPs declined basically double what the MLP index declined this week. Surprising in the below chart that ETE, WMB and PAGP were not among the bottom 5 despite significant declines for each this week. TRGP's merger was approved this week, so it will be removed from this list next week. Expect more volatility from ENLC with earnings next week.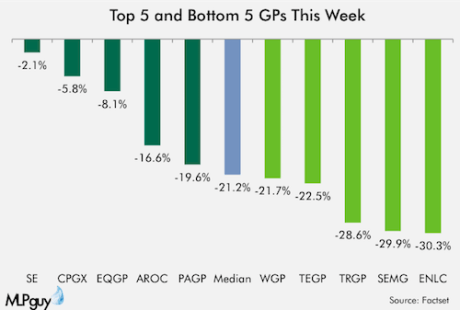 ETE's 19.9% decline this week was good enough to finally not land a spot on the bottom 5 after several weeks near the bottom. TEGP made it two weeks in a row in the bottom 5.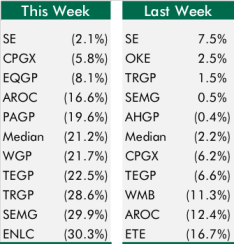 News of the (MLP) World
This week there were a few transactions for MLPs, including a drop-down acquisition and progress on a growth project. But, it was last week's 8-K from ETE and the confirmation in this week's 8-K that were in focus this week. Still no sign of equity capital markets opening up, and MLP IPO filings, including amendments to existing filings, have totally dried up.
Growth Projects/M&A
Other