Energy prices gyrated on February 10th after news broke that oil inventories came in much better than anticipated and that production of crude dropped while demand rose. On February 12th, however, with the expectation that OPEC will act and in response to positive news from the Baker Hughes (NYSE:BHI) oil rig count, prices soared to close up 12.3%. In what follows, I will dig into the data and figure out what all happened and discuss why this should be bullish for investors in companies like Linn Energy (NASDAQ:LINE) / LinnCo (NASDAQ:LNCO), Breitburn Energy Partners (NASDAQ:BBEP), Memorial Production Partners (NASDAQ:MEMP), and Approach Resources (NASDAQ:AREX) as well as for those invested in the United States Oil ETF (NYSEARCA:USO).
Inventories were mixed but pretty decent
According to the EIA (Energy Information Administration), oil inventories for the prior week hit 502 million barrels (excluding storage in the government's SPR). This represents a modest decline of 0.7 million barrels from the 502.7 million barrels the organization estimated to be in commercial storage a week earlier. This small move lower, while not material in and of itself, is far better than the 2.4 million barrel build forecasted by the API (American Petroleum Institute) just one day before and suggests that the glut's growth may finally begin to see some sort of reversal.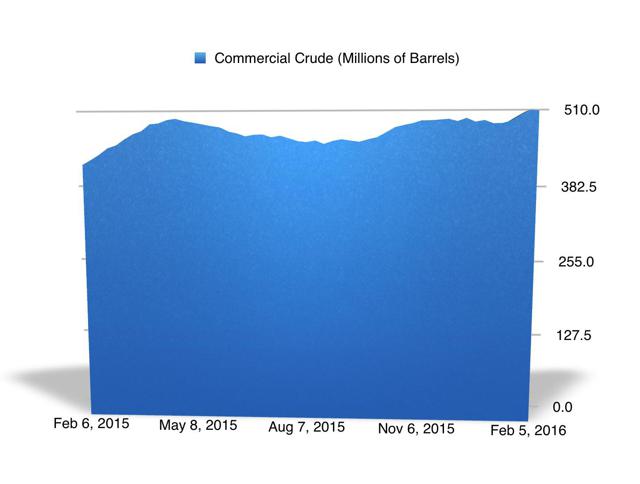 Fortunately, crude storage wasn't the only category of petroleum to see a decline week-over-week. According to the data provided by the EIA, propane/propylene inventories saw a decline of 3.3 million barrels, falling from 78.1 million barrels to just 74.8 million. Meanwhile, kerosene-type jet fuel dipped by 0.5 million barrels for the week, dropping from 42.2 million barrels to 41.7 million.
In spite of these improvements in the inventory picture, some petroleum product categories did see an uptick in storage. Motor gasoline, for instance, saw inventories climb by 1.3 million barrels from 254.4 million to 255.7 million and distillate fuels popped up by 1.3 million barrels from 159.7 million to 161 million. As a result of these increases, as well as some other fluctuations in product storage, total crude plus petroleum products saw storage inch up by 0.2 million barrels from 1.3377 billion barrels to 1.3379 billion.
Production and demand are looking good
In addition to seeing some categories show signs of improvement for the week, the EIA reported good news relating to oil production. Based on the data provided, oil output for the week dropped from 9.214 million barrels per day to 9.186 million barrels. Just as in past weeks, this isn't an amount that is terribly significant (just 196 thousand barrels for the week), but it is the largest move down that we've seen in some time. What's more is that this is the first time, on a weekly basis, that we experienced a year-over-year decline in domestic oil production. According to the EIA's data, production the same week a year ago stood at 9.226 million barrels per day.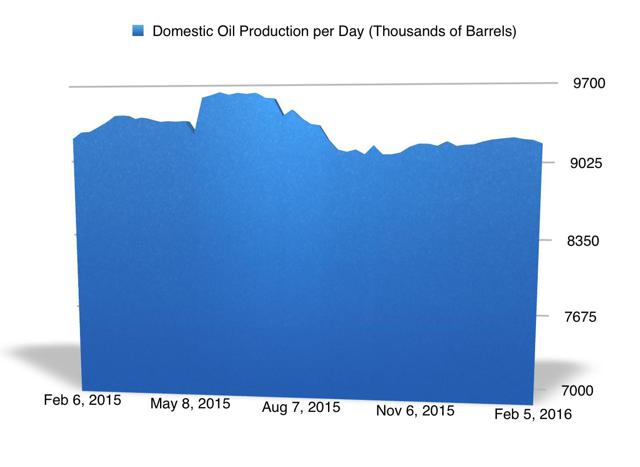 On top of this positive news, demand managed to shoot up for the week. If estimates are correct, motor gasoline demand for the week averaged 9.122 million barrels per day an increase of 9.4% week-over-week, and a jump of 10.1% year-over-year. Given the volatility of gasoline demand, it may be better to look at the four-week average metrics reported by the EIA. This would yield demand of 8.871 million barrels per day compared to 8.649 million barrels per day seen during the four-week period a year earlier. This represents an annual increase of 2.6% and serves to alleviate some concerns regarding a decline in demand this year compared to what was seen last year.
Rig counts took another dive lower
In addition to seeing this data reported, one other positive thing for oil related to the oil rig count for the week. According to Baker Hughes, the number of rigs in operation for the week dropped by 28 units to 439. This represents a massive decline of 58.4% compared to the 1,056 units in operation the same week a year ago and suggests that future oil production should decline. In Canada, the rig count fell by an additional 13 units to 118. Although the Canadian rig count doesn't matter quite as much, this is still bullish when you consider the year-over-year count is down by 40.4% compared to 198 units seen a year ago.
Takeaway
Right now, Mr. Market is still very bearish on crude but it may be wise to be more upbeat moving forward. Using the data the EIA presented, some categories of petroleum and petroleum products are seeing inventory levels improve. On top of this, production seems to finally be dropping once again and demand for motor gasoline, a major source of oil consumption, is on the rise. For long-term investors in this space, this serves to indicate that things may be more positive moving forward.
Disclosure: I am/we are long AREX, BBEP, MEMP.
I wrote this article myself, and it expresses my own opinions. I am not receiving compensation for it (other than from Seeking Alpha). I have no business relationship with any company whose stock is mentioned in this article.
Editor's Note: This article covers one or more stocks trading at less than $1 per share and/or with less than a $100 million market cap. Please be aware of the risks associated with these stocks.