Introduction
In one of my previous articles, I published my own dividend growth portfolio. I also shared my target sector allocation, and I was a little bit low on consumer discretionary companies. Since then I sold both Kinder Morgan (NYSE:KMI) and ConocoPhillips (NYSE:COP) after the dividend was cut. I used some of the capital to double my position in Walt Disney (NYSE:DIS), and I am also interested in initiating a position in Nike (NYSE:NKE) and Starbucks (NASDAQ:SBUX).
Both Nike and Starbucks are what I call type 1 dividend growth stocks. Type 1 stocks have low dividend yield and high dividend growth. The high dividend growth is usually accompanied with high EPS growth, so they are usually traded at higher valuation. If bought for a fair valuation, they will bring higher than average returns due to their rapid growth.
I am willing to buy these two companies, and I have two options. I can either just initiate a position and risk low returns if growth slows down, or wait for a sell-off, which may never come. I will use lessons I learned as investor in order to decide which course of action I should choose.
A quick glimpse of Nike and Starbucks
Nike and Starbucks are from the same sector. They both have a relatively short history of dividend growth, and both are poised to grow in the medium term. The graph below shows the amazing growth in the fundamentals. The top line, bottom line and dividend are growing, and Nike even manages to allocate capital to share buybacks.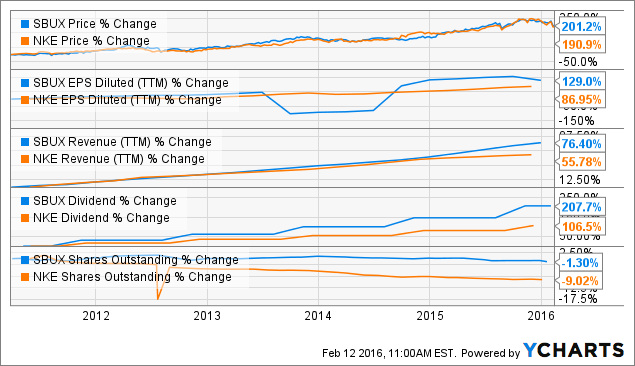 However, as the graph above shows, the price moved higher faster than the revenue and the EPS. Therefore, the valuation expanded a lot over the past 5 years. Usually my rule of thumb is to buy shares with P/E ratio lower than 20. This rule isn't written in stone, but it tends to leave me with enough margin of safety. Both Starbucks and Nike trade with P/E higher than 25, and Starbucks P/E ratio is even higher than 30. P/E ratio cannot expand forever, and this valuation isn't too compelling.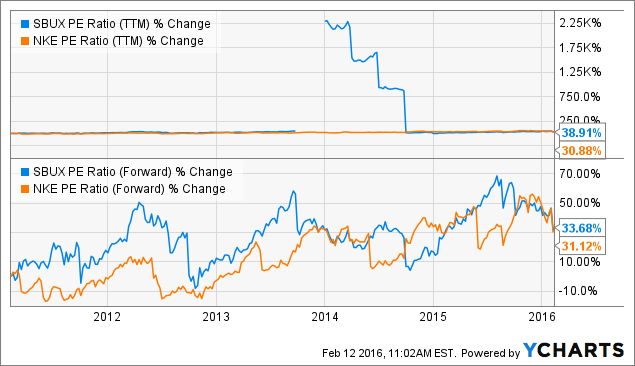 SBUX PE Ratio (NYSE:TTM) data by YCharts
The reason for this rich valuation for both companies is that they have tremendous growth prospects. They adapt to the need and desires of their customers. Starbucks does it by changing its menu to fit the tastes if its customers and Nike by signing top athletes to present its products. Names like Neymar, Cristiano Ronaldo and Kevin Durant have signed contracts with Nike. In addition, both firms have very ambitious expansion plan. They are great companies, but I am worried about their valuation.
Lesson 1: What I learned from Disney?
The Walt Disney Company is another consumer discretionary company. Until August 2015, the stock price behaved just like Nike and Starbucks. Investors were very enthusiastic about the upcoming Star Wars trilogy and the new Disneyland in Shanghai, China. In addition, the acquisitions of Marvel and Pixar several years ago gave Disney a vast portfolio of movies. Analysts were enchanted by Disney, and its stock could only go up, just like Nike and Starbucks.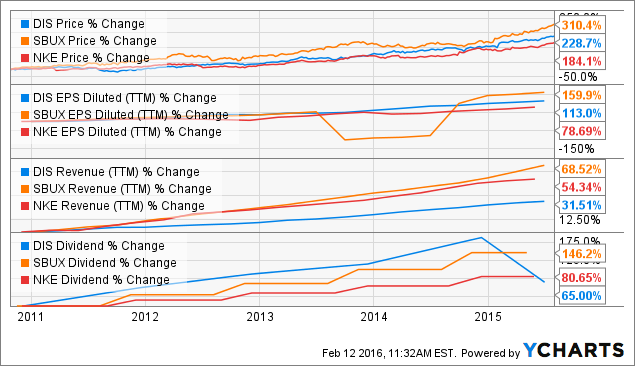 Disney shared with them the high P/E and it traded with P/E higher than 20 as well. However, concerns among analysts about the number of subscribers to ESPN, sent the shares down. Its price plunged 25%, and its valuation suddenly became pretty attractive with forward P/E at 16.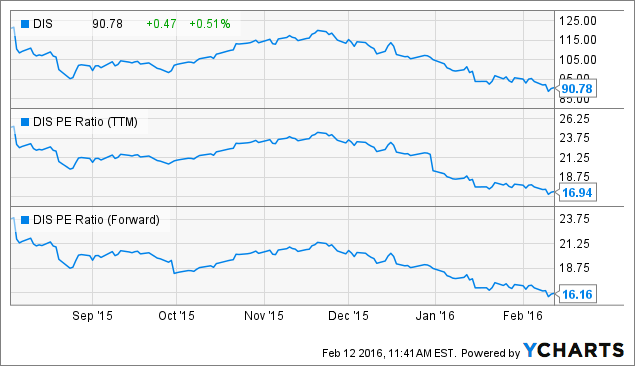 If Disney is in trouble, then the decline in the valuation is justified, as it may not be able to grow as fast as forecasted. However, Disney is in a great position. Last week, it published its Q1 results, which were very strong. Media networks are almost 50% of the revenue and over 60% of the operating income. Therefore, it is crucial for ESPN to deliver solid returns. ESPN revenue was up 8%, and operating income was down 6%. The CEO Bob Iger assured investors that Disney is working on ways to grow its media networks segment. Iger brought amazing returns to shareholders, and he should be trusted.
While the share declined 25%, the outlook for 2016, 2017 and 2018 has never been better. Fundamentals are great, and analysts are raising their EPS forecast for the near future. Both Bank of America Merrill Lynch and S&P raised their EPS targets. Disney taught me that sometimes exaggerated sell- off happen even to the best companies, and even when the reason is an amorphous concern, that hasn't materialized.
Lesson 2: What I learned from Johnson & Johnson?
In 2010, Johnson & Johnson (NYSE:JNJ) announced a recall of 43 over-the-counter children medicines produced by one of its subsidiaries. Among the products that were recalled was the popular drug Tylenol. The reaction of the market was harsh. In one month the share price plunged 10%. This violent reaction is pretty unique for a blue chip like Johnson & Johnson.

However, again we saw an exaggerated reaction by the market. The risk was real, but it was from being as serious as investors believed. The stock price bumped back in a few months, and long-term investors could enjoy a great entry point to the company. The recall was a mistake by one subsidiary, and it was not significant for the future growth prospects of the company.
It makes sense that share prices will decline when bad news arrives. It is for us, long-term investors to analyze whether the bad news is critical for the short term when a company might need to pay a fine, or cut its EPS outlook for the quarter, or maybe it will have an impact on the entire business model. The case for Johnson & Johnson is one local problem that couldn't affect the whole company as seen in this graph.

Johnson & Johnson taught me that the markets can react violently and not proportionally to bad news, even when they are not affecting the business itself for the long run. These moments can offer a great entry price for investors. The same thing can happen to Nike and Starbucks. A case of food poisoning in a Starbucks branch or death in one of Nike factories in Vietnam can cause irrational sell-off, and give investors better entry point.
Lesson 3: What I learned from Apple?
Back in 2010, I started following Apple (NASDAQ:AAPL). Back then it didn't pay any dividends, but it climbed so quickly, that everyone noticed it. By July 2012, the shares reached the mark of $700 ($100 split adjusted). Apple turned into the largest publicly traded company in the world. It seemed like Apple was untouchable, and I remember analysts talking about the first $1 trillion company, and price targets higher than $1000 ($142 split adjusted).
Then in a combination of fears from the impact of Steve Jobs' death on the company creativity, and weak growth forecasts for 2013, the share price started to decline. As it declined, analysts who were praising the company, started talking about EPS decline, and emphasized the risks in the business model of Apple. Well, EPS did decline and the growth did slow, but the impact on the share was very violent. Apple declined in 6 months almost 45%, and gave many long-term investors an opportunity to initiate a position in this great tech company.

The graph below shows the top line and bottom line of Apple, Starbucks and Nike. Apple EPS did decline in 2013, but in 2014 rose back to the 2012 levels. Does that justify such a violent reaction by investors? I don't think so. Apple was and still is manufacturing superb premium products, and that 45% decline was a great opportunity for long-term investors. Apple actually performed better than both Nike and Starbucks, so it is really hard to understand why the market chose to punish Apple.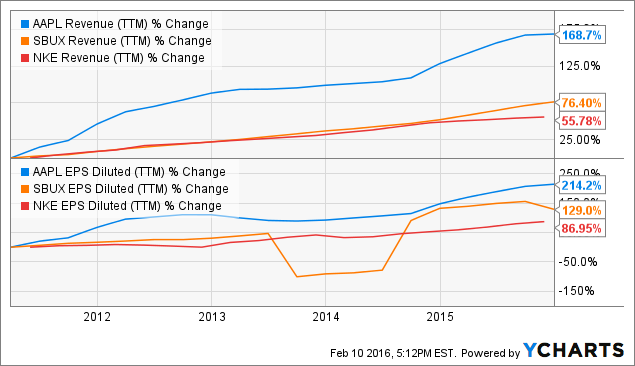 AAPL Revenue (TTM) data by YCharts
I learned from Apple that the markets can be violent. It doesn't even have to be bad news like Johnson & Johnson or even concerns over a specific business segment like Disney. The lesson here is to ignore the noise, as the effect of one weak year can be devastating for the share price, and allow a comfortable entry point. As you can see above, since then the company kept growing its top and bottom lines.
What will I do?
I showed above three lessons that I learned over the past 8 years. I saw how three resilient companies, with major growth prospects, all suffered from declining share prices. The companies suffered from exaggerated concerns and risks that were overblown by analysts and investors. In all three cases, the sell- off was violent and gave great entry price for long-term holders like myself.
Therefore, I am going to wait for a better entry point into Starbucks and Nike. Hopefully, like in these three cases, the fundamentals will still be great. It makes even more sense when we see how volatile the market is at the moment. One of the lessons I learned might help me to achieve higher returns in the future.
I would really like to invest in Nike and Starbucks, but I will have to wait for a more compelling valuation. When P/E will be more attractive, I will probably imitate my positions. I will be ready for the opportunity, with my small cash position ready to be deployed if needed.
Buying them at current prices will give me exposure to these great businesses, but I might end up with very low returns for years to come. The same thing happened to investors who bought Wal-Mart (NYSE:WMT) and The Coca-Cola Company (NYSE:KO) back in 1999 and 1998 respectively.
Disclosure: I am/we are long AAPL, DIS, KO, WMT, JNJ.
I wrote this article myself, and it expresses my own opinions. I am not receiving compensation for it (other than from Seeking Alpha). I have no business relationship with any company whose stock is mentioned in this article.