In the current market environment, it is important for income investors to choose their dividend stocks wisely as they are putting new money to work. The markets will certainly continue to ebb and flow, but volatility will likely remain for the next 3-6 months.
One of the best ways to generate stable income in any market environment is through dividend growth investing. Thankfully, this strategy is not rocket science and it is fairly simple for anyone to implement. Ideally, you want to build a portfolio of dividend paying stocks that have a track record of increasing their dividends every year. This way, not only are you generating stable income, but you are also able to maintain the purchasing power of your dollar (as long as your dividends are at least rising at the rate of inflation).
All Dividend Stocks Are Not Created Equal
We love analyzing dividend stocks and we built our ranking system to help us find the cream of the dividend crop. Specifically, we use a combination of fundamental and technical analysis to determine which stocks to buy and when to buy them. Our ratings are derived by ranking each stock in our universe based on 30 key fundamental and technical data points across four rating categories: (1) Dividend, (2) Safety, (3) Value, and (4) Momentum.
That said, we recently scanned through our rating system and came up with our "All-Retirement" team. This team is made up of 25 dividend growth stocks that meet the criteria below.
Consecutive Years of Dividend Increases > 25 years
Dividend Yield > 2.0%
1-year Dividend Growth > 4.0%
5-year and 10-year Dividend CAGRs > 4.0%
Parsimony Momentum Rating > 20 (to avoid "value traps")
We then ranked these stocks using a Dividend/Safety/Value (DSV) blend. The DSV blend is a blend of our individual Dividend, Safety, and Value ratings for each stock using equal weightings: Dividend (33.33% weight), Safety (33.33%), Value (33.33%). We used this blend so that the most well-rounded stocks would be ranked higher on the list.
We have highlighted each of these stocks over the course of a 5-part series. Below is a schedule of the entire series. Please make sure to"follow" us so that you will be notified when we publish future series and articles.
Part 5: First Team (stocks #1-5)
The All-Retirement Team: First Team
This article highlights the 5 stocks that made the First Team (stocks #1-5). Although some of these First Team stocks have relatively low dividend yields, all of them have great dividend growth histories and very high Safety ratings (all First Team stocks have a Safety rating over 85). The tables below summarize some of the key data points that we analyze when ranking our dividend stocks.
#5 Cardinal Health (NYSE:CAH)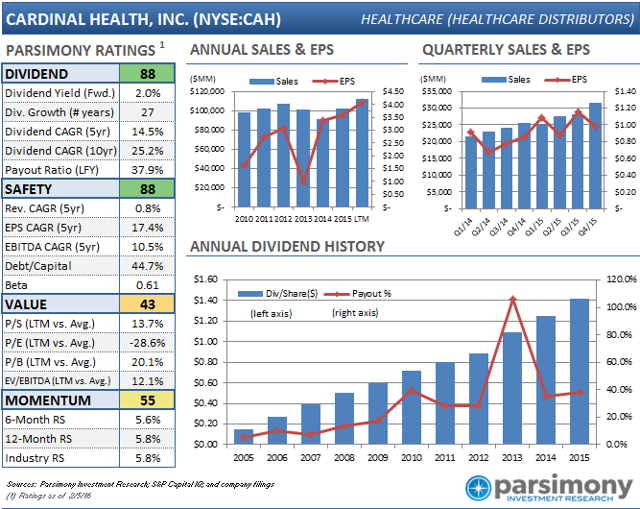 Founded in 1979, Cardinal Health, Inc. operates as a healthcare services and products company through two segments, Pharmaceutical and Medical. CAH has both a Dividend and Safety rating of 88. Despite its low relative yield (2.0%), the company has been a dividend growth machine, with a 10-year CAGR of 25%! In addition, the company has a low beta and stable earnings growth. CAH has a low payout ratio of 38% and has increased its payout to shareholders for 27 consecutive years.
#4 V.F. Corporation (NYSE:VFC)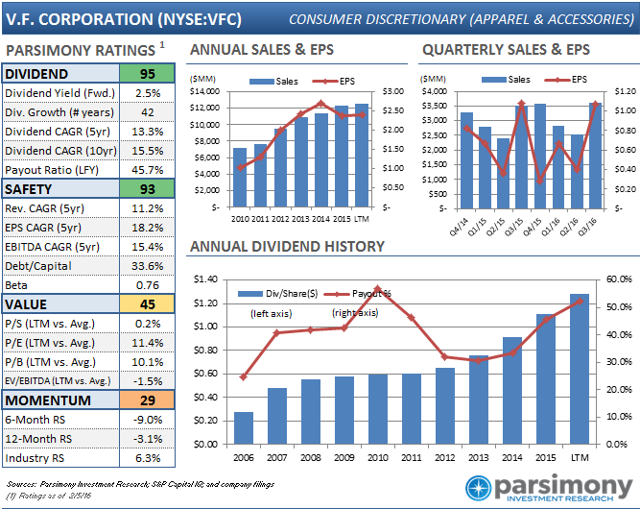 V.F. Corporation designs, manufactures, markets, and distributes branded lifestyle apparel, footwear, and accessories. The company's brands include The North Face, Vans, Timberland, Jansport, Reef, Eastpak, Wrangler, Lee, and Rock & Republic. VFC is one of only a handful of stocks in our entire universe that has a rating above 90 for Dividend and Safety. The company recently announced a quarterly dividend increase of 16%, which marked the 43rd consecutive year of higher dividend payments to shareholders. Despite VFC's modest current dividend yield of 2.5%, the company has been a dividend growth machine lately with four consecutive years with at least a 15% increase.
#3 Genuine Parts Corp. (NYSE:GPC)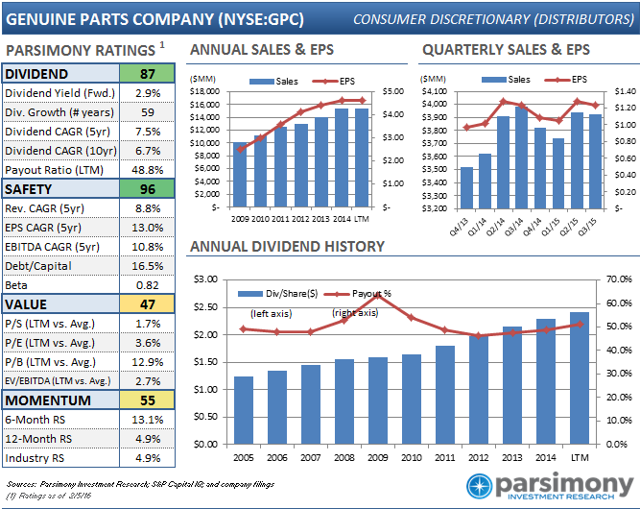 Founded in 1928, Genuine Parts Company distributes automotive replacement parts, industrial replacement parts, office products, and electrical/electronic materials. The company operates 60 NAPA automotive parts distribution centers and 1,100 NAPA AUTO PARTS stores. The company has increased its dividend for 59 consecutive years and provides shareholders with a 2.9% dividend. GPC also has a payout ratio of less than 50%, so the company has plenty of room for future increases. In addition, GPC carries a very high Safety rating of 96.
#2 W.W. Grainger (NYSE:GWW)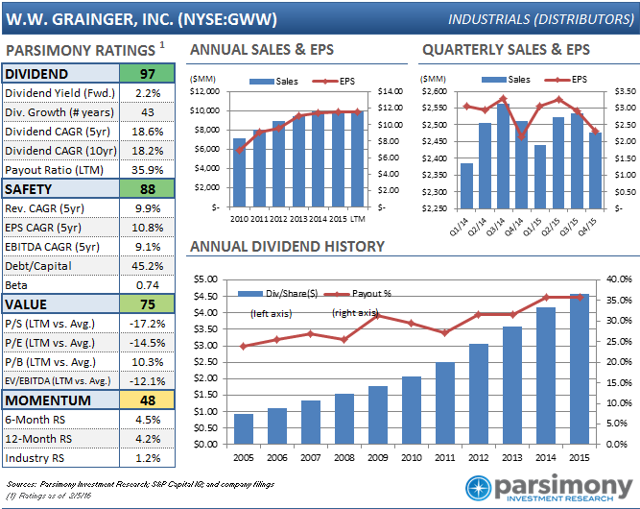 W.W. Grainger operates as a distributor of maintenance, repair, and operating supplies; and other related products and services to small and medium-sized businesses, primarily in the U.S. and Canada. GWW has a very high Dividend rating of 97 as the company has increased its dividend for 43 consecutive years, including an 18.2% compound annual growth rate over the past 10 years! GWW also has a high Safety rating (88) and the company has grown earnings at a compound annual rate of 10.8% over the past five years. This is definitely a stock that should be on your radar despite only having a dividend yield of 2.2%.
#1 T. Rowe Price Group (NASDAQ:TROW)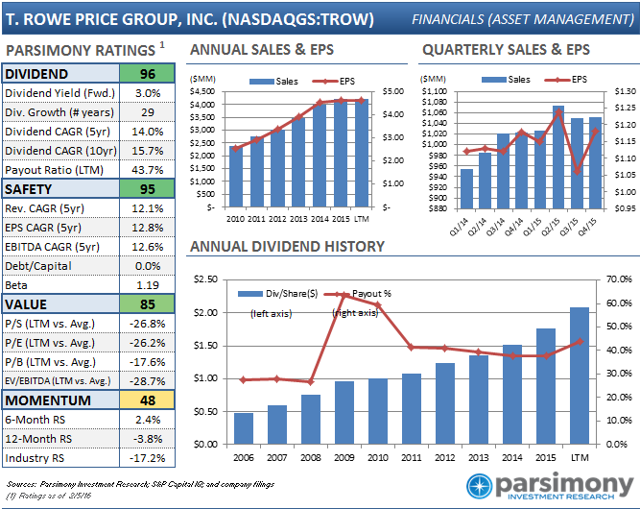 Founded in 1937, T. Rowe Price is an investment firm. The company offers mutual funds, subadvisory services, and separate account management for individuals, institutions, retirement plans, and financial intermediaries. TROW is the only stock in our entire universe with a Dividend, Safety and Value rating of 85 or above (which is why it currently ranks #1 on this list)! The company generates a dividend yield of 3.0% and has increased its dividend for 29 consecutive years. Over the last 10 years, the company has increased its dividend at a CAGR of 16%. Despite the increase in dividend, TROW maintains a modest payout ratio of 44%.
Summary
If you are looking to generate stable income for a retirement portfolio, dividend growth investing is a great way to accomplish this goal and any one of these dividend machines would make a nice addition to your portfolio. Note that identifying good stocks is only the starting point of building a dividend portfolio and investors should pay close attention to valuation as well when deciding whether or not to buy a stock as many stocks right now are overvalued (i.e., good stocks can often trade at bad prices). We try to focus on good stocks that have a minimum Value Rating of 50 when making new purchases.
Please make sure to "follow" us so that you will be notified when we publish future series and articles.
Disclosure: I am/we are long GPC, TROW.
I wrote this article myself, and it expresses my own opinions. I am not receiving compensation for it (other than from Seeking Alpha). I have no business relationship with any company whose stock is mentioned in this article.