Hopefully, this article will help you add to your financial wealth.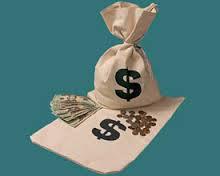 CYS Investments, Inc. (NYSE:CYS) is a mortgage REIT. It invests in Agency RMBS. These are collateralized by Agency ARMs, Agency Hybrid ARMs, and Agency fixed-rate mortgages. When such a company can maintain or grow its book value while paying a great dividend, it is a good investment. Admittedly, CYS' book value suffered in 2015. However, it is on track to log a large gain in book value in Q1 2015. As of the close on February 11, 2016, CYS was trading at $6.81 per share - a -27% discount to its December 31, 2015, book value of $9.36 per common share. When you consider that CYS' book value has gone up significantly already in Q1 2016, CYS is likely trading at a -30%+ discount to its current book value. Remember CYS has gained book value in Q1 2016, as the 10-year US Treasury Note has fallen from 2.27% to 1.68% (-59 bps) as of February 12, 2016.
The tables below depict the relative positions CYS maintained as of December 31, 2015, September 30, 2015, and December 31, 2014. The second table more fully describes CYS' portfolio as of December 31, 2015.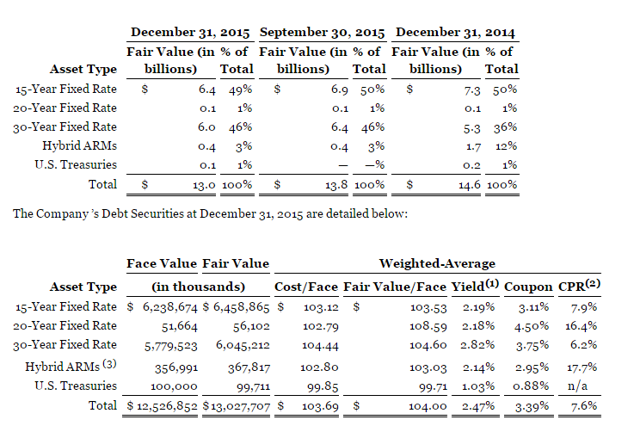 The Q4 2015 earnings presentation supplemental materials are not yet available on CYS' web site, so I cannot give you more detail at this time. However, readers should notice the shift to a higher percentage of 30-year fixed rate Agency RMBS from Q4E 2014 to Q4E 2015.
With the relative dearth of information about the portfolio so far, one cannot hope to make a precise estimate of what the book value will be, so I will merely point out the ballpark figures. The chart of the Bloomberg US Agency Bond Index (BAGY) shows that Agency bonds have appreciated from 117.83 on December 31, 2015, to their current 120.28 level on February 12, 2016 (+2.45 pts). This represents a +2.08% gain in fair market value on average.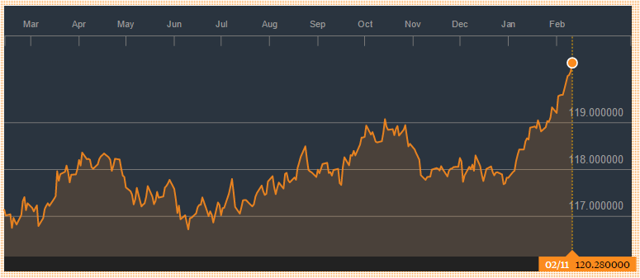 CYS as of December 31, 2015, had a leverage ratio of 6.77 to 1. On the simplest level (without factoring in management costs, hedging costs, amortization costs, and financing costs) this would have led to a book value gain on its portfolio of about 14.1% so far in Q1 2016, based on the ballpark number from the Bloomberg US Agency Bond Index (BAGY) above. That is without even considering the monies CYS made from the net interest rate spread and Dollar Roll income (the monies the 15%+ annual dividend gets paid out of). Of course, there is no saying that interest rates will be this low at the end of Q1 2016. Remember the Fed meets in March 2016; and it is still talking about raising rates instead of cutting them. However, CYS has a huge drop in interest rates in its pocket at this time; and interest rates could go even lower. That should translate into a nice jump in book value. The jump could easily be in the range of +5% to +10% even after factoring in the management costs, the hedging costs, amortization costs, and the financing costs.
Readers will naturally want to know more about the hedging, in order to gauge risks and to more accurately ballpark the potential book value appreciation and the TBA profits. As of December 31, 2015 CYS held swaps with a notional value of $7.95B and interest rate caps with a notional amount of $2.5B for a portfolio with a fair value of $13.03B and TBA investments of $0.661B. This seems a reasonable amount of protection. However, the TBA positions decreased from September 30, 2015 to December 31, 2015 ($787.6 million to $661.3 million). Unfortunately, this means that CYS was not as well positioned as one would hope for the huge rise in Agency RMBS book values that has occurred so far in Q1 2016.
Still CYS should profit nicely. It did move into more 30-year fixed rate Agency RMBS, which should provide higher interest rates going forward. Since interest rates are dropping, they also present less duration risk than they would have if interest rates had continued to climb. This should leave CYS in an enviable position going forward in 2016.
Further, it is not necessarily a bad thing that CYS management was not taking on large risks with large TBA positions. After all the Fed did raise the Fed Funds rate on December 16, 2015, for the first time in many years; and at that time it was promising more raises within the next year. Of course, since that time the world economic news has worsened; and the likelihood of further Fed Funds rate raises has fallen considerably. Some are even suggesting that the Fed may end up cutting its Fed Funds rate soon. The possibility of negative interest rates has been mentioned.
CYS management made it clear in the conference call that they believed interest rates were likely to stay flat or fall given the increasingly troubled world economic environment. They indicated they might get more heavily involved in the TBA market. This may or may not be good given the Fed's conflicting statements recently. However, CYS' management has seemed to err on the conservative side so far. It seems likely they will continue to do so.
CYS' management also tried to address the issue of refinancing. Some analysts were speculating that the rate of prepayments might go up if the rate of refinancing due to lower interest rates went up. However, CYS' management nicely defeated this concern. They said that most refinancing had already been done at low rates. Some of it had been done with HARP loans and low loan to value loans that were unlikely to be redone. Even if we got negative rates, the banks would still have to charge decent rates in order to make a profit. We might see some acceleration in prepayments; but it is unlikely to be the type of deluge we have seen before. Hence Agency Mortgage REITs should be able to perform well in the flat to lower interest rate environment that CYS' management is foreseeing.
When you consider that CYS is probably trading at a -30%+ discount to current book value, that makes it very much a buy. Agency RMBS are very liquid investment vehicles. They can be bought or sold easily. CYS could be liquidated for very close to its book value. At this point, investors have to see it as a buy. It is only a matter of when investors wake up to that. Some might argue that a debt crisis is on the way. However, such an event would seem more likely to push investors into government-backed debt instruments such as Agency RMBS than away from them. There is every likelihood that such a crisis would cause Agency RMBS prices to go up instead of down. Remember that CYS repurchased about 3 million of its own shares during Q4 2015 at an average price of $7.54 per share. With the large discount of the purchase price to book value, CYS has also been able to increase shareholders' book value this way too. It seems likely to do even more of this in Q1 2016, given the huge discount to book value. CYS is a buy at this time.
The one year chart of CYS below provides some technical direction for this trade/investment.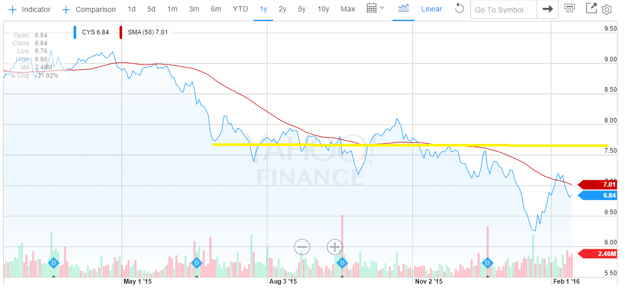 As readers can see, there is a lot of support (or overhead resistance depending on your view) at about $7.60 per share. This would still be an almost -19% discount to the December 31, 2015, book value. However, remember that the book value is already significantly up in Q1 2016. It is likely to finish the quarter significantly higher than the December 31, 2015, figure. That means the actual discount to book value after a rise to $7.60 might be -25% or more. That would still conservatively give CYS upside after the initial move upward, even given a target of a -20% discount to book value. Plus the great profits from the TBA investments during the current spurt upward in bond values should easily ensure the safety of the 15%+ annual dividend for Q1 2016.
CYS had Core Earnings plus Dollar Roll Income of $0.29 per common share in Q4 2015. This nicely covered the $0.26 per common share dividend. For Q1 2016, the net interest spread net of hedge, plus dollar roll income may move up. In other words, the dividend is safe at this time, although investors will likely want to re-evaluate the situation each quarter. CYS is a buy. CYS' stock could appreciate 10%-15% without any trouble. Plus, it would be paying a 15%+ annual dividend, while doing that. The possible downside risk should be negligible at this time.
NOTE: Some of the above fundamental fiscal data is from Yahoo Finance.
Good Luck Trading/Investing.
Disclosure: I/we have no positions in any stocks mentioned, but may initiate a long position in CYS over the next 72 hours.
I wrote this article myself, and it expresses my own opinions. I am not receiving compensation for it (other than from Seeking Alpha). I have no business relationship with any company whose stock is mentioned in this article.