The big data analytics company Splunk (NASDAQ:SPLK) will report its fourth quarter and fiscal year 2016 financial results next week following the massive sell-off in enterprise software stocks. For a long period, earnings results of the data visualization company Tableau (NYSE:DATA) are used as an indicator of Splunk's earnings, which usually report a few weeks after Tableau. This unique relationship between Splunk and Tableau goes beyond only statistical correlation. It is also based on the fact that both companies are leading pure-play big data players - their products are complementary to each other, and they service the same audience.
Even though I was very bullish in my previous coverage of Spunk and Tableau, I mentioned a few times that investors' expectations of these companies are unrealistic. Both of these companies traded with high multiples that reflected the potential growth investors applied to investing in these stock. However, it also reflected the embedded risk in investing in these stocks. Unrealistic expectations drove Tableau's stock 45% down after the company reported a 42% YoY top-line growth that was followed by weaker guidance than analysts' consensus. For Tableau, it's the second time in a relatively short period that the company has experienced a double-digit plunge in stock price after releasing its financial reports - it also happened for the company's Q2 earnings. When investors expect a company - no matter which company - to grow in double digits YoY every quarter and hike guidance every quarter, they are inflating a bubble. No company could maintain that pace for very long.
After the recent, disappointing earnings report by Tableau, Splunk's stock price dropped 15% and completed a 58% plunge from July 2015. As shown in the chart below, this is the second time that Splunk has experienced such a sharp drop since the company went public in 2012. In 2015, it took Splunk's stock three months to hit a bottom while in this case Splunk's stock has been dropping for seven months, and this is probably not the bottom of the sell-off yet mainly due to the global stock market's weakness.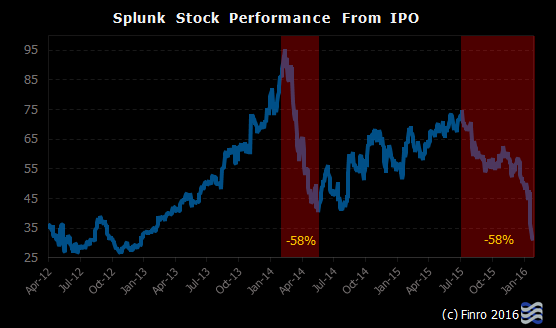 As the big data analytics market grows, more companies want a piece of that growth - IBM (NYSE:IBM), SAP (NYSE:SAP), Microsoft (NASDAQ:MSFT) and Amazon (NASDAQ:AMZN) are in different stages of penetrating and gaining market share in this field. Introducing new solutions by big tech companies does not mean that market share and revenues of small pure-play companies like Splunk and Tableau will be affected. However, when these companies have much deeper pockets than pure-play companies, and they offer many complimentary services like infrastructure, ERP, CRM, storage and more to their network of clients, they are well-positioned to have successful penetration.
The competitive landscape became much more complex for Splunk and that it could impact financials in the long run. There are currently many rumors of possible companies interested to acquire Splunk to expand their big data analytics offering that includes Google (NASDAQ:GOOG) (NASDAQ:GOOGL), IBM and Oracle (NYSE:ORCL), but investors should not invest in Splunk based on possible future acquisition as these type of rumors go on for years. The current situation of Splunk may resemble Stratasys (NASDAQ:SSYS) or 3D Systems a few years ago. They were great companies with great growth potential that were blown out of proportion by hype, and when their growth started to halt, their stocks plunged. Of course, there are many differences between the big data analytics and the 3D printing markets, but many aspects of buzz, stock price appreciation and investors' expectations are similar.
I still believe Splunk is very strongly positioned in the big data analytics market, and big data analytics is the future of enterprise software, which means it has incredible growth potential. The recent sell-off brought Splunk's stock price roughly to the area where it closed on the first day of trading - and four years later, Splunk generates x10 the quarterly revenues it used to, $200M instead of $20M. This fundamental change improved the company's P/S ratio to 6.7, which is much more reasonable than the company's P/S ratio of 20 that it traded at for a long time.

The current consensus is that Splunk's revenues for the 2017 fiscal year will be $854M, a forecast that reflects a share price of $45 and assumes a 6.7 P/S ratio. The current share price (at the time of writing) takes into account Splunk's likelihood of following Tableau and issuing soft guidance for next year and the market's reaction to such disappointing guidance. This is mainly because, in the beginning, Tableau's earnings serve as an indicator of Splunk's earnings. As most of the change is already baked into the current share price, I believe that Splunk's stock price will fluctuate slightly as a result of its earnings. The current P/S ratio is attractive, and the company still has impressive growth potential. However, investors should be very careful about adding more Splunk shares because of what we witnessed in the 3D printing market. I remain long SPLK, with a bullish outlook, and I'm not planning to make any changes in my position for now.
Disclosure: I am/we are long SPLK.
I wrote this article myself, and it expresses my own opinions. I am not receiving compensation for it (other than from Seeking Alpha). I have no business relationship with any company whose stock is mentioned in this article.
Additional disclosure: The information provided in this article is for informational purposes only and should not be regarded as investment advice or a recommendation regarding any particular security or course of action. This information is the writer's opinion about the companies mentioned in the article. Investors should conduct their due diligence and consult with a registered financial adviser before making any investment decision. Lior Ronen and Finro are not registered financial advisers and shall not have any liability for any damages of any kind whatsoever relating to this material. By accepting this material, you acknowledge, understand and accept the foregoing.