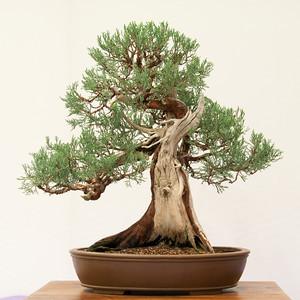 Although the art of bonsai is typically thought to be a Japanese tradition, the art actually originated in 700 AD in China. The Chinese called their dwarf trees 'pun-sai.' During the Kamakura period, the art of bonsai was introduced to Japan. Over the many centuries that followed, this art was redefined and perfected. Bonsai is, simply put, the art of cultivating a small tree and maximizing its aesthetic values.
The art of bonsai has been imported to United States, like many other artistic expressions in culture. Bonsai is especially effective using plants commonly found in the region in which the bonsai plant is cultivated. Here in the United States, giant redwood trees can actually be used to create a bonsai tree.
As an allegory for the stock market, this art form has particular value. In the wild, a giant redwood can grow to be 250 feet tall. If harvested, the tree may contain enough wood to build forty 5-room homes and may weigh up to 4,000 tons. They can be as tall as the Statue of Liberty.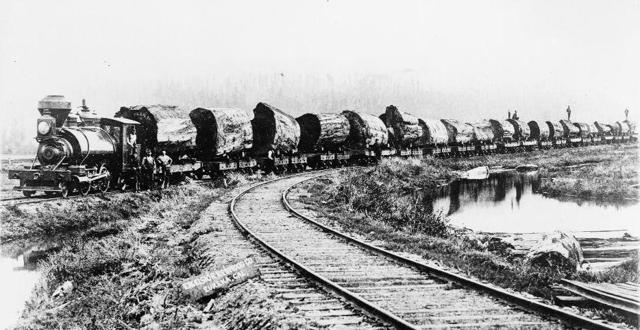 But to create a bonsai from a giant redwood you must pluck a sapling from the soil, cut off a portion of its roots, and plant it in a small pot. With daily care, you can keep the bonsai alive and thriving. You can enjoy its aesthetic beauty and all the while, perfect your ability to care for the small, but perfect plant.
Often investors do the same thing with their stock portfolio. They may find a truly unique company on the verge of breakout growth. Then, just as they've reached a nice profit, they sell their shares. It's difficult to imagine a company with all the imperfections of wild growth eventually becoming something truly massive and productive. It's much easier to believe in our own abilities to pluck that investment from our portfolio and cultivate it into something else which we would believe is equally as beautiful. But we may be doing ourselves a disservice.
There are countless untold examples of investors that sold too early; those early investors in Apple (NASDAQ:AAPL) when the iPod was first introduced (October 2001), for example.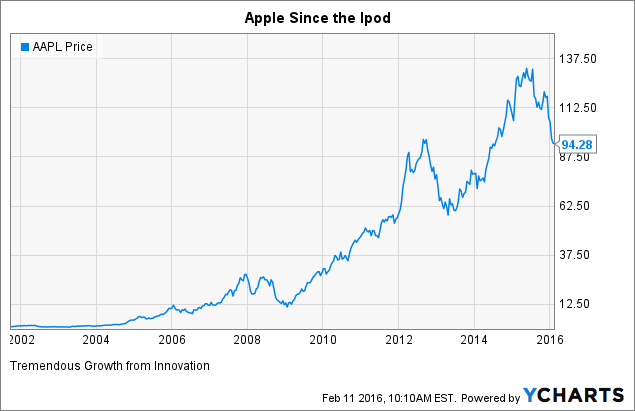 AAPL data by YCharts
The point is that investor fear tends to infect their decision making at the worst possible times. Apple, a decent company at that time, had actually fallen about 70% from recent highs. If following the "investing rulebook," one might have actually sold their shares, considering this stock a "loser."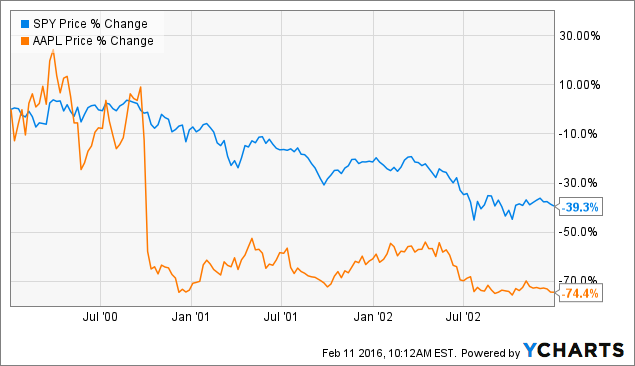 SPY data by YCharts
So, when investors look at a company like Impac Mortgage (NYSEMKT:IMH), they might forget about all the good things happening at this company. They might forget that the company recently quadrupled revenue, or that the company's equity balance has quintupled in one year. Investors might brush off the recent news that the company is venturing into personal lending. They might ignore that the company has started converting debt to equity. They might even say that the Alt-QM market is dead forever and will never return.
Excuses like these reflect market fears and they give investors an excuse to pluck a growing company from their portfolio and cultivate it into something else. That would be a mistake.
With Impac, the story continues to evolve. Insider Dick Pickup has been adding recently, with dilution restrictions from a 2015 acquisition agreement now gone. His substantial position in the company's shares is now being augmented by purchases at prices below $12. Last year, the Pickup family was purchasing shares at prices 50% higher.
The company's low price-to-earnings ratio of 2.54 indicates that the company is under followed and unloved. With average volume of just about 60,000 shares per day, the stock doesn't get the respect of Wall Street. There are no published forward earnings projections among analysts.
However, if the current growth trajectory continues and interest rates remain within optimal levels, this stock could be over $30 by the end of 2016. The company merely needs to continue executing on its growth strategy.
Personal Lending
In the most recent earnings call from November, the company indicated that it would be expanding into personal lending. One big obstacle to overcome currently is the company's dependence on mortgage production for nearly all revenue. This is a business line that is sensitive to interest rate swings. In this environment, the company is benefiting from another wave of refinance activity. However, if rates do eventually go up, it's good to have other lines of business to smooth out volatility in earnings.
Personal lending is one business that is not going to be hit by minor rate hikes (if they ever come) and it's a natural complement to the existing build-out of CashCall Mortgage. Similar strategies are in place at companies like loanDepot (NYSE:LDI). If you call loanDepot and ask about a mortgage refinance, you might notice that they will also pre-qualify you for a personal loan (try this yourself). If the refinance loan doesn't work out, there is a relationship established with the borrower already and an alternative product to sell. It makes a lot of sense.
Some investors might be worried about the economic picture and personal lending to consumers. There are a few reasons not to worry. Here they are.
Rising Credit Scores
The company's build-out of CashCall Mortgage is taking place on a national level. Overall, throughout the United States, credit scores have been rising for a very long time. This is partly due to a steady decrease in interest rates, which lowers the cost of borrowing and improves a borrowers' ability to repay.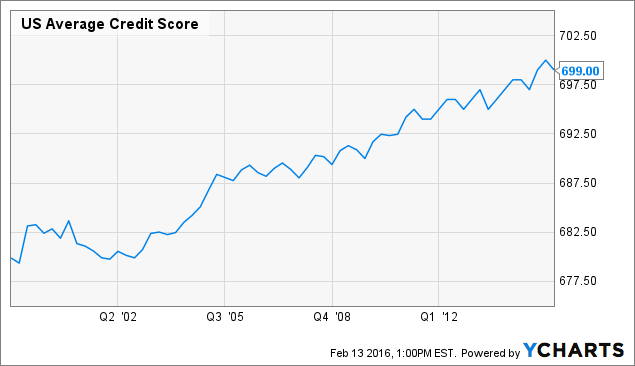 US Average Credit Score data by YCharts
Improved Debt Service as a Percentage of Disposal Income
Further confirmation of this trend is evident in the long-term picture of debt service as a percentage of disposable income. Consumers have less debt burden than they have had in decades.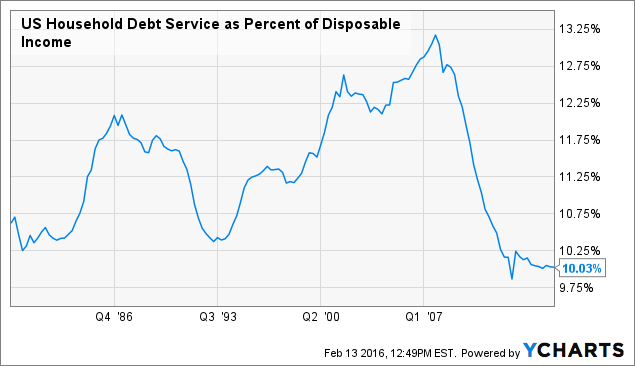 US Household Debt Service as Percent of Disposable Income data by YCharts
It makes sense that debt burdens have actually fallen. For seven years, consumers have been able to refinance 30-year mortgages to some of the lowest rates on record. So, despite relatively mild wage growth, they are spending much less on their mortgages each month and these rates are locked in for decades.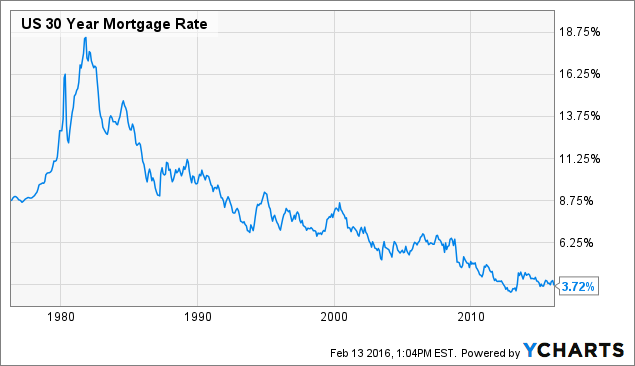 US 30-Year Mortgage Rate data by YCharts
This macro environment is looking better and better for personal lending. With low interest rates, high credit scores, and low debt service levels as a percentage of disposable income, this market is set to begin growing. Impac is positioning for additional growth on its nationwide platform and investors haven't even seen the fruit of that labor yet. Expect confidence to return soon.
Disclosure: I am/we are long IMH.
I wrote this article myself, and it expresses my own opinions. I am not receiving compensation for it (other than from Seeking Alpha). I have no business relationship with any company whose stock is mentioned in this article.
Additional disclosure: Preferred and common.