I have been negative on Blackstone Group LP (NYSE: BX) since June 2015, when the stock was trading at $42. Like a lone wolf in the wilderness, I published articles here, here and here outlining why I thought Blackstone Group LP posed substantial risk to common unit holders in 2015, primarily because consensus did not appear to factor in a natural decline in realized performance fee revenue, which would materially impact Blackstone's Economic Income and distribution.
Since then, Blackstone's performance fee revenue has abruptly reversed its upward trajectory and is now in decline. Not surprisingly, the stock has followed suit, down 42% since my first article.
Figure 1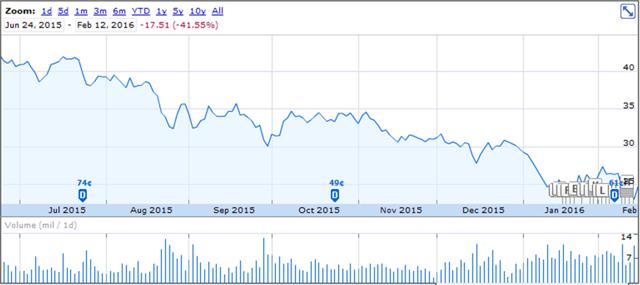 Source: Google Finance
Despite BX's technicals completely breaking down on volume over the last 8 months, there are still few negative voices out there. BX remains a very popular - and misunderstood - retail stock. According to yahoo finance, 17 of the 20 sell-side analysts covering the units have a "Buy" on the stock, 3 have a "Hold," and exactly zero - yes, ZERO - has a sell.
As a former sell-side analyst, that alone is enough to make me re-consider moving to Buy.
While I've enjoyed my time as a naysayer, the sell-off in Blackstone Group LP is simply overdone at this point. Macro factors and investor fears are pounding nearly every high beta stock, particularly those that are perceived as vulnerable to valuation multiples - which Blackstone most certainly is. Evidence that Blackstone's realized performance fee revenue is drying up has exacerbated the common unit's decline.
I can feel the portfolio managers out there reviewing Blackstone's "deteriorating" fundamental prospects and awful technicals and screaming, "sell, sell, sell!"
I now believe that, at these prices, a near complete loss of realized performance fee revenue is baked into the price. And in their rush for the exits, investors have ignored that Blackstone's assets under management ("AUM") and management fee revenue/earnings alone may now support a higher price than the units trade for today. Combine that with prolific fund-raising and return generation, over $80B of dry powder (undrawn capital), and Blackstone's fund lock-in periods - which, according to CEO Stephen Schwarzman, can last as long as a decade - and you have a company that may be better-prepared to weather - and take advantage of - a downturn than investors are currently given the company credit for.
In my view, this is a classic case of "throwing out the baby with the bathwater." I'm recommending investors open a small long position in that "baby," and buy Blackstone Group LP. I have done so in my more "risk-loving" accounts. While I would not be surprised to see the units head lower in the short term purely on technicals, I expect the units to rebound to around $30 within the next six months, generating a 20% gain for investors willing to cut against the grain (and, admittedly, potentially catch a "falling knife").
With Performance Fees in Decline, Fee-Related Earnings Should Drive the Units
While investors have been enthralled by Blackstone's impressive realized performance fee growth over the past two years - revenues that have driven >50% of the distribution since 2Q14 - I have been most impressed by Blackstone Group LP's growing AUM and management fee earnings base.
To quickly review, management fee revenues are relatively steady income earned on capital that is invested in assets (typically 2% of invested capital annually). BX generates this revenue irrespective of the return performance of its funds. Meanwhile, performance fees are volatile income streams that are only earned if Blackstone's fund returns exceed a pre-determined annual hurdle return rate (typically 8%), after which Blackstone receives 20% of all returns (20% of returns over the 8% hurdle rate, on an annual basis).
In other words, during boom market times, Blackstone rakes in the performance fees, and then when markets stagnate or decline, performance fees wither and then dry up entirely. This is what we now see happening. But all the while, management fee revenue is being earned on invested capital, covering base compensation expenses and operating expenses; and generating a tidy little profit (this point is key).
In their rush to re-risk, portfolio managers and investors have ignored that management fee earnings (referred to as Fee Related Earnings ("FRE") by Blackstone in their disclosures) are now strong enough to generate a >3% distribution yield on the common units.
And, unlike performance fee earnings, FRE has substantial room to grow over the next few years.
I Believe Blackstone's FRE Alone Can Support a >3% Distribution Yield
Blackstone Group LP provides a detailed walkdown of earnings in its earnings disclosures, as presented below in Figure 2.
Figure 2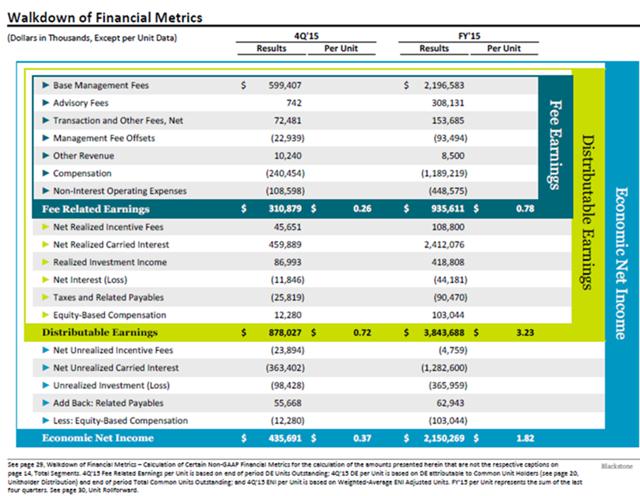 Source: Blackstone Group LP's 4Q15 earnings release
As can be viewed in Figure 2, the difference between Distributable Earnings ("DE") - of which 85% is paid out to unit holders as a distribution - and FRE is vast, with the primary driver being realized carried interest, realized investment income and realized incentive fees. These "realized performance fees" are drying up, and taking BX down with them.
In the ensuing carnage, investors have overlooked growing and highly profitable FRE, which can support a substantial distribution all by itself. Determining Blackstone's FRE-supported distribution is not as simple as dividing FRE by the number of common units and multiplying by 85%, though.
In Figure 3 below, I adjust Blackstone's historical FRE to exclude the Financial Advisory ("FA") division that was spun off in October 2015 and to subtract out "Net Interest (Loss)" which, according to BX, "represents Interest Income and Dividend Revenue less Interest Expense." I do not add back in "Equity-Based Compensation" - as Blackstone does to calculate DE - because this expense is most certainly real and will dilute my ownership going forward; I don't care whether it's a cash or non-cash, it's all the same to me. I then compare my calculated "FRE-based distribution" with today's unit price to derive a "FRE-based distribution yield."
Figure 3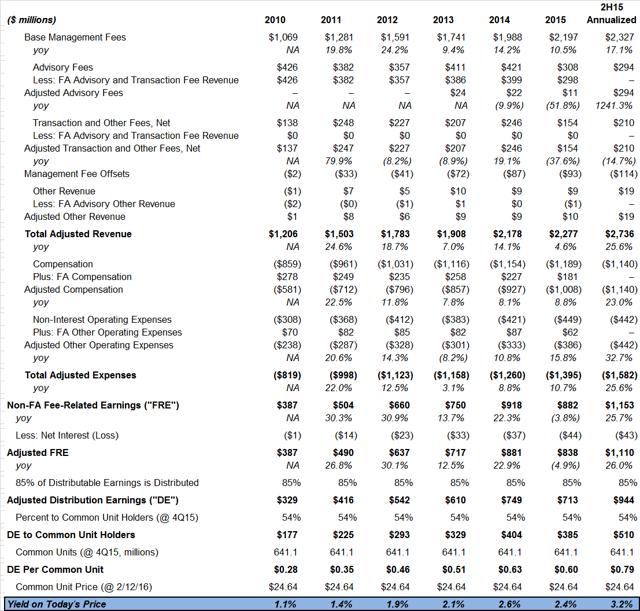 Source: Blackstone's 4Q15 earnings release and author calculations
As demonstrated by Figure 3 above, 2015 FRE alone - which excludes performance fees -would have supported a "FRE-based distribution yield" of 2.4%, based on Friday's closing price of $24.64. And, more impressively, annualizing Blackstone Group LP's second-half 2015 ("2H15") results suggests a 3.2% "FRE-based distribution yield" is supportable going forward. Annualize 4Q15's performance alone and you get a 3.5% "FRE-based distribution yield," though that yield is partially driven by abnormally low compensation expense in 4Q15.
Now consider that most investment managers, such as Blackrock (NYSE: BLK), are currently yielding between 3%-4%. In my view, BX's unit price should imply a "FRE-based distribution yield" that is less than peers because Backstone's FRE has significantly higher growth potential than other financial services companies, including BLK, in my view.
Therefore, I am led to conclude that BX is undervalued on a relative basis.
Continued AUM Growth Drives My Expectation that FRE Will Continue to Grow
Blackstone Group LP is prolific at fundraising and generating returns. As shown in Figure 4 below, Blackstone's AUM has grown at a nearly 21% compound annual growth rate ("CAGR") since 2005. In 2015, AUM grew 16% yoy.
Figure 4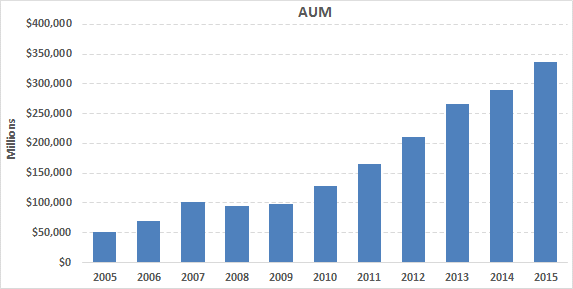 Source: Capital IQ and BX 4Q15 earnings report
What's also notable from Figure 4 above is that AUM declined only slightly in 2008 and 2009, at the height of the financial crisis. In my view, this demonstrates that Blackstone's management is adept at raising capital even during market turmoil, which is important because it is during those times that opportunities abound.
Because AUM has grown consistently, so has management fee revenue. In Figure 5 below, we look at base management fee revenue over time, noting that management fee revenue tends to track AUM. And management fee revenue is by far the largest driver of FRE (see Figure 3).
Figure 5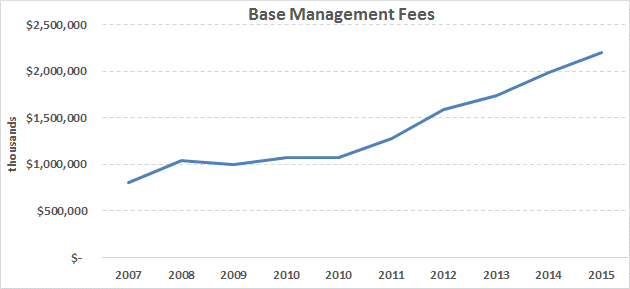 Source: BX 10-K's and 4Q15 earnings report
It's worth noting, again, that management fee revenue in 2008 and 2009 held relatively steady. This is because BX's private equity and real estate funds often have multi-year lock-up periods that prevent investors from fearfully withdrawing capital during downturns. This allows Blackstone to capitalize on market downturns by buying assets on the cheap, as the company did from 2008-2011, laying the seeds for success that has been subsequently harvested over the last two years.
Available Capital and Dry Powder Also Increased; Deployments Drive FRE Higher
In my view, Blackstone is preparing for a downturn, or at least a period of continued volatility and uncertainty, when opportunities to buy assets on the cheap typically arise. As of 4Q15, Blackstone boasted $80B of "dry powder" (or undrawn capital). That's nearly double the dry powder that was available at the end of 2013/2014 ($47B/$46B) and more than double the amount of dry powder that was available at the end of 2012 ($35B).
I believe that the majority of this dry powder is not currently earning management fees. Therefore, when Blackstone does deploy this capital, their management fee revenue may increase substantially (assuming market declines haven't tanked the value of assets already owned), driving FRE (and "FRE-based distribution") higher.
I Don't Expect This to Be a "Buy-and-Hold" Position
At <$25 per unit, I still don't view Blackstone Group LP has a "buy-and-hold" position. There are too many risks to my thesis for that to be the case (outlined below). In my view, BX is either going to continue to decline (if markets continue to stumble) or it's going to rebound sharply (if any market stability returns). But I do think that, with everything we know right now about the markets (i.e., China slowing, commodity price implosions, low oil leading to defaults, low but positive GDP growth in the U.S., possible deflation) that Blackstone Group LP is undervalued relative to peers on a yield basis, and that the selling is overdone.
There are Substantial Risks to My Thesis
Risks to my thesis abound, and include:
Continued market instability and valuation multiple contraction will drive down BX units.
A continued increase in U.S. interest rates, which I no longer expect to be the case, would increase the cost of debt for BX, depressing the profitability of leveraged buy-out transactions in both private equity and real estate.
I think the market may now be anticipating the possibility of performance fee claw-backs, whereby realized performance fees have to be paid back to fund limited partners because early asset sales were at high returns and late fund asset sales were at very low or negative returns. This potentiality might serve to eliminate BX's distribution altogether, and is a significant risk if markets continue to decline or credit markets seize up. Remember, these performance fees may have already been paid out to common unit holders, leaving BX without enough cash to meet the claw-back obligation.
At <$25 a Unit, I Think Investors Are Getting Future Potential Performance Fees For Free
At the end of 4Q15, BX had >$3.2B of net accrued performance fees. In my view, with units priced where they are today, investors are getting these performance fees (assuming they are realized) and any future realized performance fees for free, because I simply cannot see how potential realized performance fees are now reflected in the unit price. Based on FRE alone, units can yield >3%, and I expect that yield to continue to grow. For that reason, I recommend investors go long Blackstone Group LP, pocketing a 20% return (excluding any distributions along the way) as the stock returns to around $30 (implying a 2.6% 2H15 "FRE-based distribution yield," which I consider to be fair). I would also note that I will be quick to sell out of my position should it drop below $20, because, at that point, market irrationality has completely taken over (assuming the status quo today).
Disclosure: I am/we are long BX.
I wrote this article myself, and it expresses my own opinions. I am not receiving compensation for it (other than from Seeking Alpha). I have no business relationship with any company whose stock is mentioned in this article.