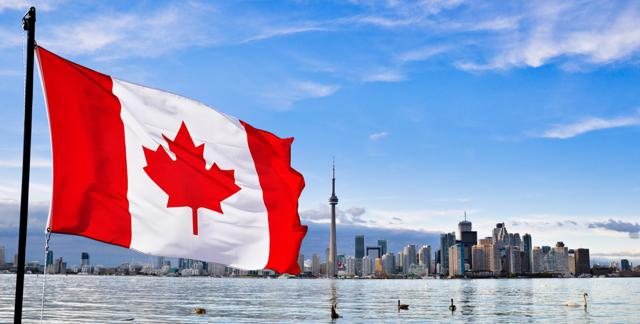 Following a fall to 68 cents against the U.S. dollar last month, the Canadian dollar (NYSEARCA:FXC) has clawed its way back up to 72 cents. But this appears to be a temporary reprieve with many, ourselves included, believing it could drop up to 13 percent from where it sits currently.
There are important points of data coming out from the Bank of Canada that traders need to be aware of next week, culminating with Friday's Inflation and Retail Sales announcements. Of all the developed nations, Canada is in an envious position where it is expected by economists to report inflation at 1.8 percent. Still a little short of its inflation target of 2 percent, but flying high in comparison to the likes of the United Kingdom, the United States, and Japan.

Sourced from tradingeconomics.com
The Bank of Canada could take the overnight cash rate to negative 0.5 percent.
The Bank of Canada has previously said that the overnight cash rate could, should circumstances deem it necessary, go as low as negative 0.5 percent, or even lower. In a speech in December, Governor Stephen Poloz said:
"We now believe that the effective lower bound for Canada's policy rate is around minus 0.5 per cent, but it could be a little higher or lower. This suggests that we have more room to manoeuvre in response to adverse shocks than we believed back in 2009. We will continue to watch the experience of other countries-the Swiss policy rate, for example, is currently minus 0.75 per cent-and we will also consider what adjustments might need to be made to the Bank's operational framework should they ever be required."
We therefore feel that if inflation comes in under consensus, the market may react negatively in anticipation of potential rate cuts and place the Canadian dollar under significant selling pressure. Which could be sharp as, in our opinion, the loonie has only appreciated against the U.S. dollar due to the greenback's recent weakening across the board thanks in part to the market pricing out rate rises in the United States. Each week the markets seem to to and fro between rate rises or no rate rises. The next time the market starts to believe rate rises will happen in 2016, we would expect the U.S. dollar to strengthen considerably. We believe there will be a minimum of one U.S. rate rise in 2016, and a maximum of two. A lot will depend upon when the first one occurs. Although, we think it is safe to almost certainly rule out a March rate rise now, there is the potential for one in the first half of 2016, with June our pick at present.
As the comments regarding the move to a negative cash rate came at the start of December, we expect many market watchers would be wondering if since then Governor Poloz has changed his view. Following the lack of success from the Bank of Japan's move to negative interest rates, it is understandable to ponder if Canada would even consider it. Although clearly the Bank of Japan's move has been a real failure, we do feel unforeseen circumstances ultimately led to it. The sustained high levels of market volatility saw a flight to safety in the financial markets. Traditionally, it is gold and the yen where people flee to, and the tradition remains strong today, as the chart below shows.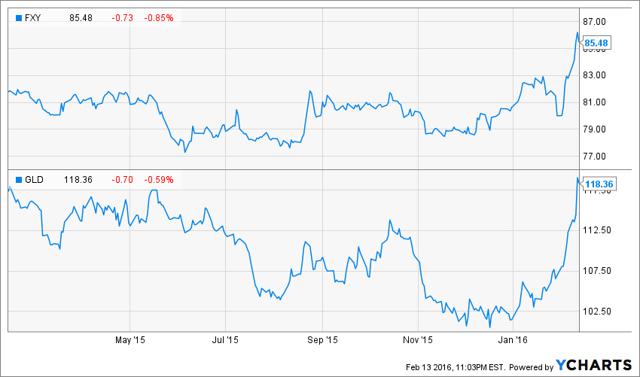 As the loonie is not classed as a safe haven, we do feel the negative cash rate would do what is required and reduce its value against major currencies and help boost inflation to the target rate of two percent. So for us, this is a real possibility and something we will be keeping a close eye on.
The divergent monetary policies the Federal Reserve and the Bank of Canada have should help depreciate the loonie towards 67 U.S. cent in the next few months. If the central banks behave as we expect them to (but let's be honest, when have they ever done as the market expects?), we foresee further declines to approximately 62 U.S. cents. For this to happen, it would be two rate rises in the United States, and a negative cash rate in Canada.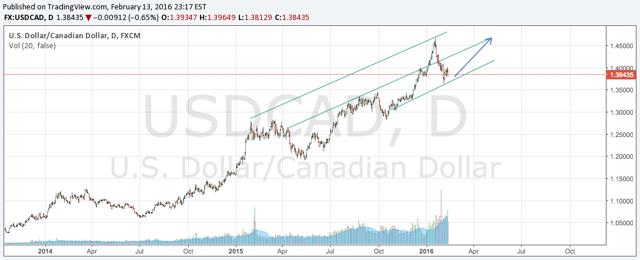 We are shorting the Canadian dollar against the U.S. dollar.
All in all, we think there is a long-term trade here shorting the Canadian dollar against the U.S. dollar (NYSEARCA:UUP) via futures contracts, but shorting the FXC could be used to the same effect. Things could pick up very quickly if inflation comes in lower than expected on Friday, as we believe the Bank of Canada could would be quick to act on cutting the cash rate. A great deal of the success of this trade relies on our belief that there will be one to two rate rises in the United States in 2016. Failure for this to occur could negatively impact the result of trade.
Finally, best of luck with your trades!
Disclosure: I/we have no positions in any stocks mentioned, and no plans to initiate any positions within the next 72 hours. I wrote this article myself, and it expresses my own opinions. I am not receiving compensation for it (other than from Seeking Alpha). I have no business relationship with any company whose stock is mentioned in this article.
Additional disclosure: Short Canadian dollar versus US Dollar futures.