Friday's session was more than interesting, ladies and gentlemen. Oasis Petroleum (NYSE:OAS) only traded up about 5%, despite a double-digit surge in the WTI. That is largely interesting considering the high leverage of the stock and previous movements relative to the WTI. While the correlation is still heavy and intact, we're seeing some activity in the underlying environment that could make Oasis attractive for the long-term, but I still have many concerns about this company's stability in the short-term.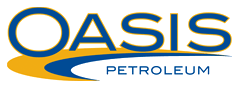 What's Going On With Oil?
Friday's session showed a surge in crude oil prices which, in my opinion, is largely unwarranted. There are still no reports of adequate production cuts from domestic producers and there are no reports of production cuts from OPEC. No one has come to the table, yet.
Now, the UAE oil minister did say that OPEC was willing to cooperate with other producers, but the same headwinds have not disappeared. There's no timeline on this nor is there a set amount for a potential production cap. Iran said earlier last week that it would cooperate in potential production cuts, but we have to remember that whatever deal is struck is going to have to on favorable terms to large exporting countries like Iran and Saudi Arabia. On Thursday, the WTI hit 13 year lows, which shows you how dire this situation really has become for domestic producers like Oasis. Despite the company's many well efficiencies, which is clearly reflected in their previous earnings reports, these incremental gains only take the company so far when the commodity at hand is falling so rapidly and with so much volatility.
Another factor we need to look to is the falling rig count. The count fell by 28 rigs last week for the eight straight week in a row and while investors may rejoice, I'd argue that enjoyment is preemptive. A falling rig count is a highly negative sign - it's indicative of the price burden placed on producers. It's indicative of billions of dollars of growth projects that are coming offline. I'd argue that some of the surge in crude oil prices, especially towards the middle of Friday's session was a large covering of shorts, which had been at record highs, will be a short-lived trend.
Full cooperation is a tall order and I wouldn't expect any real, material shifts in oil prices, i.e. where many domestic producers have placed their full-year estimates at, until a formal deal is made. Fruthermore, are we so quick to forget that the EI reported record stockpiles this week? At 64.7 million barrels, we have never seen such an imbalance. Curb your optimism if you want your investment in Oasis to work out.
Below is the last thirty days of trading for Oasis, which you can see is quite volatile, despite only inching up a few dozen bps.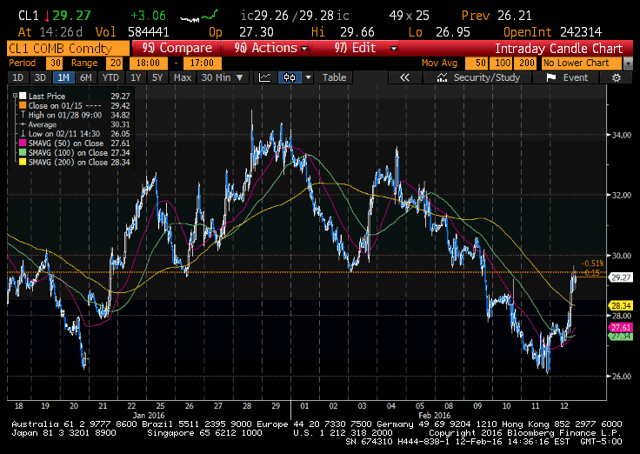 Source: Bloomberg
Furthermore, here's the correlation between the WTI and Oasis: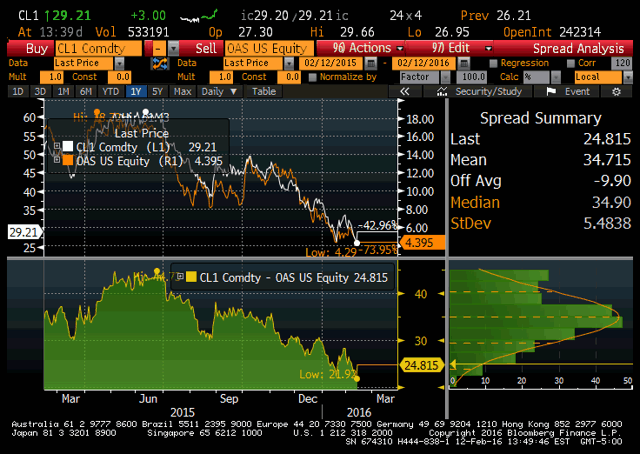 Source: Bloomberg
A Buy At Current Levels?
While the improved risk/reward scenario continues to be the bulls' main argument, this company is arguably not best in class and based upon what I've presented fundamentally, there is likely more pain ahead. The stock is currently trailing its 50 DMA of $6.65 and its 200 DMA of $11.18. OAS is consistently on my watchlist and I will go long at some point, but I'm keeping my patience intact so that I'm not subject to massive reversals. When you start to see 12 and 13 year lows for the WTI, however, the cost basis becomes extremely low and undoubtedly favors longs. Getting in too early, however, will make this investment highly unfavorable.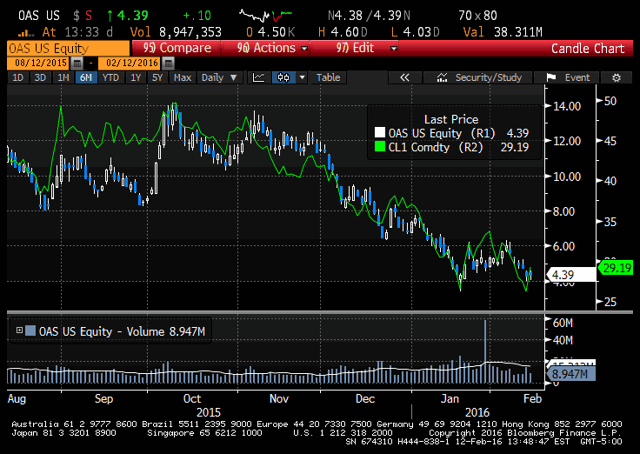 Source: Bloomberg
As a side note, the short interest on the stock has grown to be 21.21%, and the stock is now down 40.3% for the year. That makes it one of the worst performing equities for 2016 and is certainly something that I hope no one made a long investment in at the turn of the new year. With that being said, shorting at current levels is highly inadvisable given the day to day volatility of underlying oil prices.
Hedging Exposure
Now, hedging has long been a major consideration for me with this company, and as I've stated before, I'm bearish on their 2016 financial performance due to their hedges rolling off. Now, from what you can see below, the company has 26,000 barrels hedged for this first half of 2016 at a price of $54.85. Now, that's a quantity reduction of nearly 4,652 barrels from Q4 2015, at a price reduction of nearly 25.2%. That's not going to be in visible in the Q4 earnings report, obviously, but when Q1 finishes and this company goes to report in three months' time, a 25% top-line reduction in the top-line should be expected for the corresponding quantity.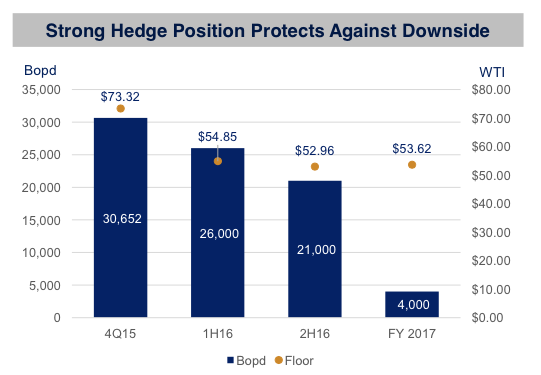 Source: Oasis Investor Presentation
At least they have this hedge, because the rest of their announced production, which is anywhere from 48,000 to 50,000 bopd, is unhedged and exposed directly to spot prices. Considering the large decline in the WTI in Q4 and the dips into the high $20s, Oasis' revenue looks fragile at best.
This concerning considering the recent cut to B+ from BB- by S&P earlier last week. Furthermore, they are still on review for being downgraded by Moody's, which was announced on January 21. Moody's will conclude a majority of reviews by the end of Q1, and if Oasis is downgraded, the stock will likely see a strong pullback. While the debt markets may not be the company's best friend right now, a move that had to be made was the additional equity offering on January 28. While stock traded down heavily due to this offering, the funds serve a greater long-term purpose than what shareholders can immediately recognize. After the company took on a massive reduction in capex spending for 2016, this had to offset the corresponding lack of inflows.
Conclusion
As a reminder, the company pays no yield and while it's risk/reward scenario is largely attractive considering it was trading in between $10 and $15 for the 1H 2015, fundamentals will ultimately dictate this stock's performance in 2016 and that picture isn't looking any brighter despite Friday's surge in the WTI. The company is set to report earnings on February 24 and I will discuss this report in-depth next month. If the equity isn't attractive to you from either the short or the long side, I'd advise you to begin looking into Oasis' debt, as it may present some interesting retail plays.
Disclosure: I/we have no positions in any stocks mentioned, but may initiate a long position in OAS over the next 72 hours.
I wrote this article myself, and it expresses my own opinions. I am not receiving compensation for it (other than from Seeking Alpha). I have no business relationship with any company whose stock is mentioned in this article.