WTI crude oil prices have been getting whipsawed on concerns about global oversupply, financial turmoil in the eurozone, China and emerging markets, as well as a weakening U.S. economy as the Federal Reserve began hiking interest rates. Comments and remarks from top U.S. Federal Reserve officials usually move financial markets and crude prices one way or the other. The crude price plunged over 8% in just two days, to a 12-year low of $26.05 a barrel on February 11, after U.S. Federal Reserve Chair Janet Yellen told the U.S. Congress during her two-day semiannual monetary policy report that overseas weakness and market distress could threaten the Fed's plans to raise the rate gradually this year, but didn't explicitly mention any delays to their interest rate hikes.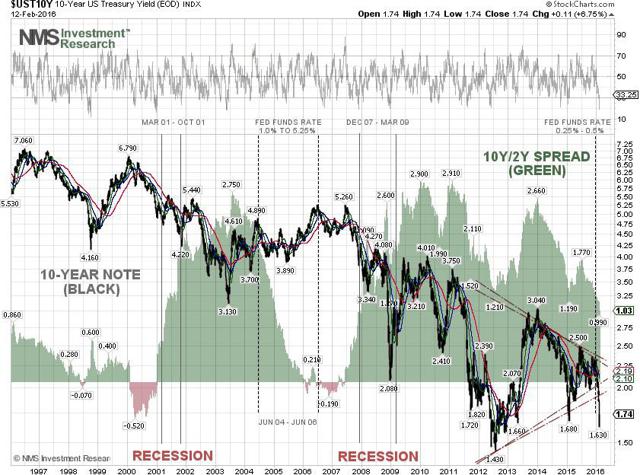 Investors may have a new worry about falling crude prices as Deutsche Bank's chief U.S. economist, Joseph LaVorgna, told CNBC earlier in February that the odds of a U.S. recession this year have risen to 40%, citing worsening financial conditions and the stock market sell-off. The next recession could be around the corner, and the Fed may not even be aware of it. The chart pattern of the 10-year Treasury Note yield has technically broken down, while the yield spread between the 10-year and 2-year Treasury Notes dipped below 1 percentage point for the first time since early 2008. Since 1960, each time that the yield spread went negative, a recession followed approximately 12-months later.
Fed Rate Hike and Crude Oil
There is no simple explanation for how crude oil prices, the U.S. dollar, and the bond yields are correlated. The general consensus is that crude oil prices move in inverse correlation with the U.S. dollar, meaning the crude oil prices would fall as the dollar strengthens, and vice versa.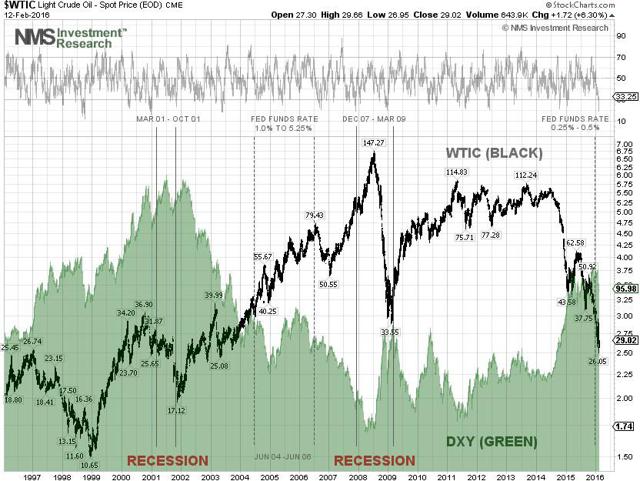 According to Business Insider, a 2014 report by Goldman Sachs' Jeffrey Currie shows that such rationale has broken down in the wake of the American shale revolution. Currie explained that the U.S. net imports of crude oil have reduced significantly since 2008, as U.S. shale production has surged. This has "significantly reduced the correlation between commodities and the U.S. dollar," said Currie in his report.
During the last Federal Reserve rate hike cycle, from June 30, 2004 when Fed Chair Alan Greenspan started hiking the fed funds rate to 1.25% from 1.0%, a then historic-low, through June 29, 2006, when Fed Chair Ben Bernanke raised the Fed funds rate for the last time to 5.25% from 5.0%, WTI crude prices surged 98.43% from $37.05 per barrel to $73.52 per barrel in the 2-year period. On the other hand, the U.S. dollar index, DXY, a weighted index of the value of the U.S. dollar relative to a basket of six major currencies, dropped slightly from 88.80 at the start of that time frame to 85.57 at the end, trading in a range between 80.53 and 92.33.
Things may be different this time around, as Fed Chair Yellen admitted during her testimony in front of Congress that she was surprised by plunging crude oil prices. Since the Fed announced a quarter-point hike in interest rates on December 16, crude prices have taken an 18.80% nosedive, to $29.02 per barrel on February 12 from $35.74 per barrel, while the U.S. dollar index has also declined, to 95.98 on February 12 from 97.88, or 1.94%.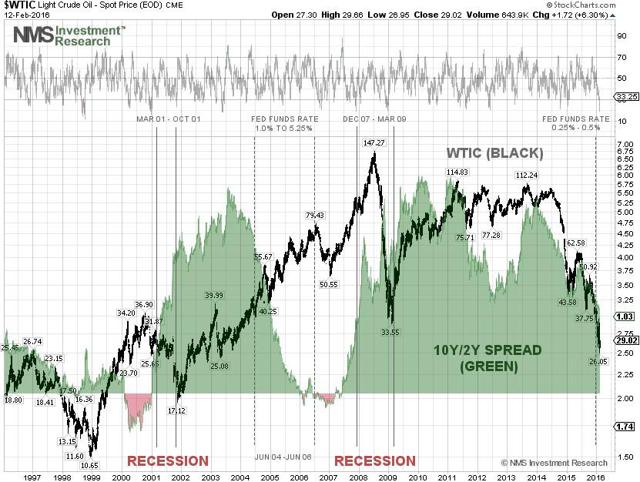 Yield Spread and Crude Oil
Unlike the last Fed rate hike cycle, where the yield spread between the 10-year and 2-year Treasury Notes decoupled from the crude price at the onset of the rate hike cycle, the yield spread and crude price has been coupled together since July 2014, with a positive correlation (+0.72) over a 20-month period. As the Fed continues its path on rate hikes, the yield spread will move towards zero, which puts downward pressure on the crude prices.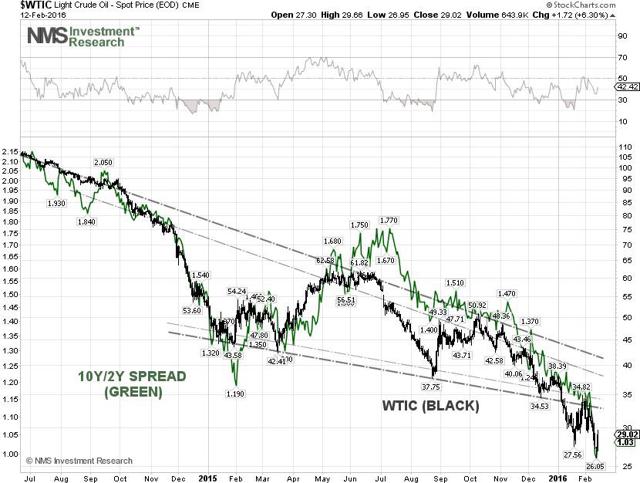 The Fed made it clear at the Federal Open Market Committee (FOMC) meeting in December that they expect the fed funds rate to rise to 1.375% by the end of 2016, meaning that they will make at least four more quarter-point rate hikes this year.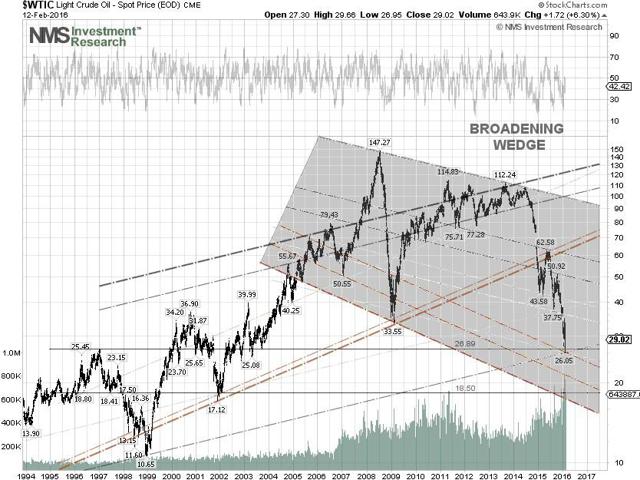 Crude Oil Technical Outlook and Conclusions
The WTI crude oil price bounced off the 17-year trendline support at $26.05 per barrel on speculation that the Organization of the Petroleum Exporting Countries, OPEC, was going to strike a deal over production. Unless the Fed changes its rate hike path, or crude prices begin to decouple from the yield spread between the 10-year and 2-year Treasury Notes, the price of crude oil is at risk of pulling back further to retest the $18.50 per barrel support level, and eventually $17.00 per barrel, or the lower trendline support of the descending broadening wedge chart pattern.
The fact that crude prices have also been moving in a lower-low chart pattern since summer 2015, meaning every low is lower than the previous low, a trend reversal will only occur when the crude price moves higher to close and stay above $50.92 per barrel.
Disclosure: I/we have no positions in any stocks mentioned, and no plans to initiate any positions within the next 72 hours. I wrote this article myself, and it expresses my own opinions. I am not receiving compensation for it (other than from Seeking Alpha). I have no business relationship with any company whose stock is mentioned in this article.