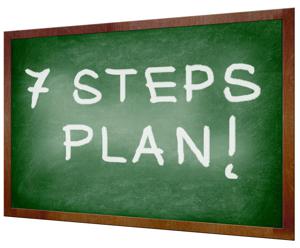 Given the state of heightened volatility and fear that has been rampant in the stock market so far in 2016, I'd like to outline the 7 steps that I use to maintain/increase my net income (and I don't use the word "net" lightly - as like it is in business, it's not what you earn, but what you keep). These steps (as well as my investing experience) keep me from tossing and turning each night worrying about today's, tomorrow's or the short-term stock market's spiral downward. For simplicity, I am excluding a discussion of taxes, but always remember that the government will rarely keep its hands out of your pockets if they see you making money. Please keep that in mind.
Always review expenditures first and foremost. It's the one thing that you as an investor have the most control over. You, not the market, decide what your choices are for how much you spend based on the lifestyle you want. If you can't be assured of having enough income to support that lifestyle, then the only thing you can control is a decision to adjust that lifestyle to the income level you're comfortable you can maintain. The more assured you are of your income, the better you will be able to decide on the cost structure to support it. Always remember, though, that things happen that could disrupt your income (loss of a job, unexpected illness for you or a family member, poor business environment for your company that could obliterate incentive income that you count on, etc.). I strongly suggest that you have at least 6 months of cash on hand before you even consider making any investments. That will buy you time to be able to navigate any potholes in life's road before you and prevent you from having to make investment decisions at what could be the most inopportune time.
When examining your equity portfolio, the highest rankings you should afford the stocks in it should go to the ones with the safest dividends (i.e. - low payout ratios, investment grade credit ratings, and a long history of continuing payments). A stock's dividend

return doesn't mean a lot if there is a reasonable possibility that the dividend itself could be reduced or disappear altogether.

Next, evaluate a company's profit growth potential. Without profit growth potential, don't expect much dividend growth, and with little to no dividend growth, you will lose purchasing power to inflation (muted for now, but it will return some day) as well as the important benefits of compounding income. If you don't have dividend growth, your income is no different than that of owning a bond except that at least bondholders have a higher level of security, can hold their bond to maturity, and not worry about market value changes. You want profit growth because you don't want a company just increasing its stock's payout ratio to increase its dividend. That is a red flag unless the increase is coming from a low payout ratio. Excluding stocks like MLPs and others that have regulatory requirements for minimum payouts, I don't like companies I own to pay out more than 60%-65% of their income in dividends. If a stock is paying out more than that, it is reducing the cushion it has to continue to pay that dividend in a profit downturn. The more stable a company's profit and cash flow, the higher I'm comfortable with it paying out.
Make sure your portfolio is diversified through the various sectors as an entire sector can get "the flu" at times such as the black plague that the energy sector is currently suffering from. (For this article, I'm assuming we're only talking about one's equity portfolio, which is why I'm not mentioning diversification among other asset classes). In the short term, correlation in the market and between sectors can seem very high. Unfortunately, diversification won't help too much during these periods. Since I am really gearing these steps to long-term investors, diversification between sectors matters as sector correlation won't be as great over the long term. I monitor my portfolio's market value by sector to make sure I am not concentrated more than I want to be in any one sector. How much concentration one is willing to have is dependent on an investor's personal risk tolerance. I consider myself to be a bit more risk tolerant and I'm OK having a sector concentration reach 25%-30%. You don't want all the stocks in your portfolio to be going up at the same rate at the same time because that means they can also all go down at the same rate at the same time. Diversification looks to mitigate the peak to trough returns of your portfolio by narrowing them to be less volatile.
Reductions in dividends require further analysis. I don't have a hard and fast rule for dividend reductions. In each case, I would need to analyze the amount of the reduction and the probability as to the permanence of the reduction before I make a decision. If the reduction looks like it may be temporary, and I believe the dividend may resume an upward trajectory again in reasonable short order based on the company's long-term profit growth potential, I may continue to hold that stock. This is a decision that each investor needs to make himself or herself.
If a company eliminates its dividend altogether, I will eliminate the stock from my portfolio. That tells me the company is very concerned about its future and it didn't plan for a "rainy day" (or many rainy days). It allowed its dividend growth rate and its dividend payout ratio to far outstrip its profit growth rate and cash flow. This means that it violated step 2 above and that is a major issue for me. It doesn't mean I will never buy this stock again in the future, but I would have to see that the company learned from its prior miscalculations and lack of conservatism.
This last step is the toughest one to develop and I've only been able to accomplish it over time. An investor needs to be able to "Fight the Fear!" When fear is rampant in the market, it is usually one of the best times to make money over the long term. First, an investor must distinguish between the company and its stock price. They can easily disconnect, particularly when fear has gripped the stock market. If you're a long-term investor, it's the company that is important and what you're really investing in. The stock is representative of your share of ownership in that company and its price may not accurately reflect that company's profitability. An investor also needs to distinguish between the company, the sector it's in and the stock market itself when making purchase and sale decisions. If an investor believes that the latter two are more the culprit in a downdraft, find a dividend yield level for that stock that you would be comfortable with for the next couple of years, remembering steps 2, 3, and 4 above, and dip your foot in the water with a purchase of 25% of the amount you would like to own. Once you own the stock, you can determine when and if you want to wade in further or just stand there and admire the view. The stronger your conviction, the greater the number of shares you buy. If your conviction leads you to not seeing anything you're comfortable with in the market, then doing nothing is a valid strategy. Since I am always unsure about my crystal ball, I will rarely do nothing for significant periods of time. If I'm comfortable with a dividend yield that I believe in for the long term, I'll act and take the risk that I could have waited and possibly made my purchase for a better yield. Then again, I still have the opportunity to do that if I've only layered into a position. In the past week, I've started positions in HCP (HCP), Boeing (BA), and CVS (CVS) as well as added to positions in Bank of America (BAC) and Blackstone (BX).
These are my 7 Steps to SWAN. I am comfortable following them and they are the foundation I have in my dividend growth investment plan. Many of SA's investors are relatively new to the stock market (I define that as within the last 10 years), but I strongly remember Monday, October 19, 1987, and keep it in mind whenever Armageddon seems that it's upon us. In retrospect, I would have loved to have been fully committed to the stock market on Friday, October 16, 1987. It's all about your investment time horizon perspective. What was sickening beyond belief at 4 PM on 10/19/87 (and trust me, sickening doesn't even describe it) is bliss on 2/11/16! It's not that I believe a 30-year time horizon should be the norm for comparison, but a successful investor needs perspective in order to make decisions based on fundamentals and analysis and not allow fear to dictate those decisions. With perspective and experience comes some wisdom (hopefully) and the ability not to succumb to fear.
What are your steps to investing during times like these? The SA comment stream is probably the best way to learn about investing. It's amazing how many investors are willing to offer up brilliant nuggets from which to learn.
If you feel that anything I've offered up here is valuable, please follow me by clicking above. I am always honored that an investor sees value in the things I've learned over my decades investing.
Good luck to all!