Shares of hopeful diet-pill makers Orexigen Therapeutics (NASDAQ:OREX) and Arena Pharmaceuticals (NASDAQ:ARNA) were buoyed by an expert panel that voted 20 to 2 in favor of approving Vivus's (NASDAQ:VVUS) Qnexa, an obesity drug that the Food & Drug Administration (FDA) had previously rejected over safety concerns. In 2010 the FDA noted that Qnexa led to elevated heart rate, which could result in cardiovascular complications. The FDA had also cited concerns over a birth defect in women who became pregnant while taking the weight-loss medicine.
Orexigen and Arena, neither of which have any beneficial interest in Qnexa, opened trading on Wednesday higher by 22.4% and 16%, respectively. By the end of the session, Orexigen forfeited about a third of its earlier gains; Arena closed in the red, despite the large gap-up in the morning.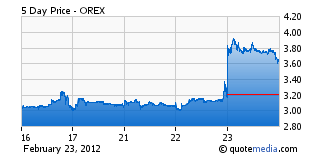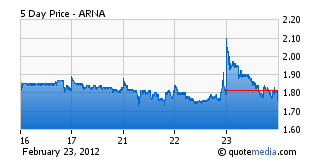 Trading post-morning euphoria was suggestive of a gross overreaction by investors. Vivus, the maker of Qnexa, doubled in trading on the panel vote news before succumbing to a lower close. In the heat of the moment, the panel vote seemed to be a blessing for a trio of diet-pill makers who had their dreams shattered in years past. Adding to the perplexity of the situation, Roche's (OTCQX:RHHBY) Xenical was the last prescription weight-loss treatment to be approved in the United States - where obesity afflicts 1 in 3 adults. That was in 1999; 13 years later it puts tremendous pressure on the FDA to approve a new drug for such a widespread healthcare problem.
The expert panel's vote on Qnexa was overwhelming considering the panel advised the FDA not to approve Vivus' weight-loss pill on a vote of 10-6 in 2010. While the panel does not speak for the FDA, its voice as an independent review board carries weight, and the FDA has been known to follow its recommendations. Interestingly, the FDA rejected Orexigen's new drug application (NDA) even after an expert panel voted 11-8 in favor of its drug, Contrave, in 2010.
The FDA is expected to make a decision on Vivus' NDA for Qnexa on April 17. But other challenges lie ahead.
Vivus is conferring with the FDA how to avoid prescribing the medicine to women who may become pregnant while taking Qnexa. The company is also expecting to finalize the design of a trial in response to the FDA's concerns over the drug's cardiovascular side-effects. According to Bloomberg:
...[Vivus] has proposed a post-approval trial to assess Qnexa in reducing major heart complications in obese, at-risk patients. The trial would involve 11,300 patients and take four and a half years.
The FDA asked Orexigen to run a similar study in response to concerns that Contrave raised blood pressure and could lead to undesirable cardiovascular events. The crucial difference, however, is that Orexigen will have to run this trial before the FDA reviews an NDA for the company's diet pill. That could put Orexigen years behind Vivus and Qnexa.
Assuming Qnexa is approved by the FDA, Vivus will then face the challenge of what Matthew Herper believes could be slow adoption of the weight-loss medication. Inevitably, Qnexa's first-to-market advantage would weigh on Arena's and Orexigen's abilities, respectively, to compete in the same segment with Vivus. The FDA would also expect superior safety profiles and/or differentiation in efficacy data if either of the two firms' drugs were up for review, in a post-Qnexa approval scenario.
In anticipation of a decision from the FDA in mid-April, Vivus remains a speculative issue, first given the uncertainty of a final vote by the FDA (however 'likely' or 'unlikely' one believes a particular outcome may be), and, second, the uncertainty of post-approval success. Trading in Orexigen and Arena, however, points to a gross misunderstanding of Qnexa's panel vote. While the panel's decision to weigh Qnexa on a balance of risks to its potential benefits suggests likelihood for a warmer reception than in years past, Arena's morning gap-up rewarded all but its investors. Excitement late on Wednesday and early on Thursday created opportunities for investors to generate alpha by short selling any of the three diet-pill hopefuls. All three issues ended lower on the day. Savvy investors booked profits in Vivus; shorted Arena, which retreated below its previous close, and shorted Orexigen, which retreated but held onto most of its overnight gains. Arena, which is second closest behind Qnexa in terms of being reviewed by the FDA as a weight-loss remedy, showed weakness and corrected accordingly. Orexigen held onto disproportionate gains likely to be forfeited in the sessions ahead.
Disclosure: I am short OREX.