Introduction
As the title of the article states, Baidu, Inc. (NYSE: BIDU) is a lot cheaper than its headline P/E, EV/EBITDA and other financial metrics, would seem to indicate. BIDU is similar to Google (NASDAQ:GOOG) (NASDAQ:GOOGL), not simply in that they both run dominant search businesses. In fact, they are also similar in how one should interpret their financials. Investors in GOOGL are beginning to take a granular look at the company, separating its "Other Bets" from its "Core" operations. I believe a similar approach is warranted for BIDU. Masking the rapidly growing and high-margin revenue stream of its search business are losses from O2O and iQiYi. Applying the same treatment to BIDU as one does to GOOGL will reveal that it is currently trading at about 13X search earnings, a phenomenally cheap multiple for a dominant business with major secular growth.
The Search Business
The fact that BIDU possesses a wonderful, high-margin, near monopoly search business is well documented and understood. While BIDU rises and falls in sympathy with Chinese macroeconomic data, it is clearly well-insulated from macro factors. The graph below shows BIDU's exceptional growth thus far. Most forecasts indicate that there is considerable room for the company to grow at high double-digit rates of growth. Morgan Stanley estimates 29% and 25.4% growth, respectively, in 2016 and 2017 (see graph below). In its latest quarter, revenues grew at 31.3%. This shows that, despite the macro turbulence in China, the shift towards greater Internet usage, thereby greater search usage and advertising revenue, will continue.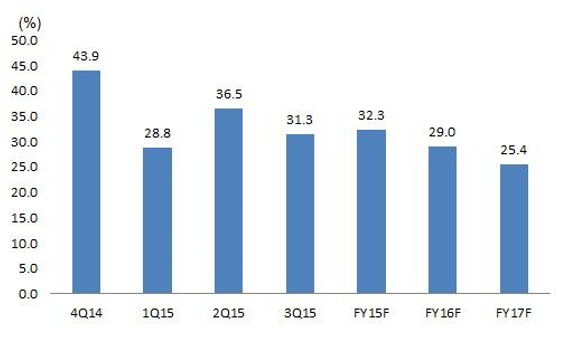 Source: Morgan Stanley
The graph below outlines trends for Monthly Average Users (MAU) on various BIDU mobile platforms. These figures originate from 2014 through to 2015. Evidently, the industrial slowdown and collapsing stock markets in China have not slowed down the company in any significant manner.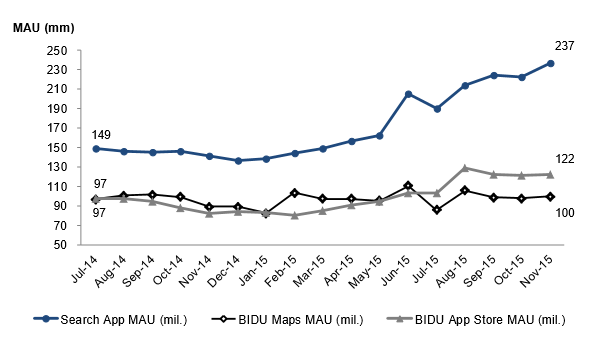 Source: Oppenheimer
Its success on mobile platforms has manifested in an ability to monetize mobile strongly. Mobile revenue has exhibited enormous growth. Increased smartphone penetration in China will serve as an additional tailwind for the company growing forward.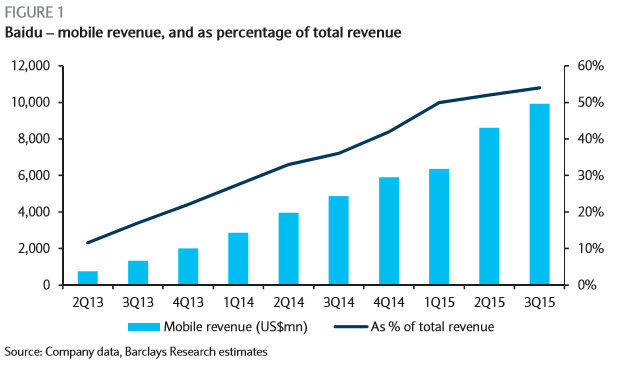 Source: Barclays
On the basis of market share by number of visits, the company's search platform has been stable and increasing slightly. As of the most recent quarter (Q3 2015), its market share stood at 71%. This compares favorably with Google's 65%, although this is not a direct comparison, owing to the fact that Google operates internationally and faces more competition.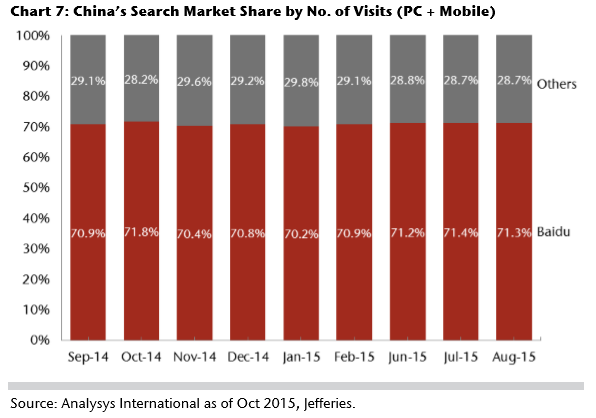 Source: Jefferies
When considering market share on the basis of revenue, Baidu's dominance is even more pronounced. It stands at nearly 79% of the Chinese market.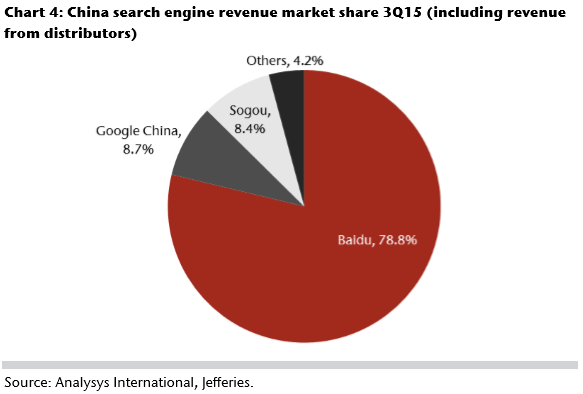 Source: Jefferies
Valuing Search
To understand how profitable BIDU's search business is, consider the results from the most recent quarter. To be conservative, I'm keeping in stock-based compensation for the operating profit calculation. Adding up the sources of operating loss one arrives at a Search operating profit of RMB 8.54B. Deriving search revenue in a similar manner, one arrives at an Operating Margin of 53.65%, much higher than the 13.66% GAAP margin implied by the company's consolidated financial statements.
| | |
| --- | --- |
| | RMB, millions |
| Q3 Operating Profit | 2512 |
| Add O2O and other losses | 5305 |
| Add QiYi losses | 727 |
| Search Operating Profit | 8544 |
| | |
| Overall Revenue | 18383 |
| Less Qunar Revenue | 1208 |
| Less QiYi Revenue | 1250 |
| Search Revenue | 15925 |
| | |
| Search Operating Margin | 53.65% |
Applying this exact methodology to full-year consensus earnings will underscore how undervalued BIDU truly is. The company is expected to do 61 billion RMB in search revenue for 2015, equating to roughly $9.31B in revenue.
| | |
| --- | --- |
| Revenue | $9.31B |
| Operating Margin | 53.65% |
| Operating Profit | $4.99B |
| Tax Rate | 19% |
| | |
| Net Income | 4.05 |
| | |
| EPS | 11.69 |
| Implied Multiple (BIDU=$153) | 13.08X |
As one can see, BIDU is trading for roughly 13X search EPS (on Thursday, February 11 this would have been less than 12X). On 2016 figures (assuming 20% growth), this multiple shrink even further to less than 11X. This is far too cheap for a company expected to grow at 20+%, with such a high quality, asset-light, dominant business. It also shows how deceptive the headline 29 P/E is. As with Google, the headline numbers do not indicate the true underlying value of the company.
Other Assets
In its last quarter, BIDU announced a strategic deal with Ctrip (NASDAQ:CTRP), China's largest travel site. The company transferred its 48% stake in Qunar (NASDAQ:QUNR) (Ctrip's foremost competitor) for a 25% stake in Ctrip itself. The Qunar-Ctrip tie up has profoundly positive implications for the newly integrated business, and will likely lead to an end to the profit-draining price wars the two were engaged in. Ctrip acquired a 36% stake in eLong, the third prominent Chinese internet travel company (and which is in the process of being acquired by Tencent (OTCPK:TCEHY)), earlier in 2015. These strategic partnerships will yield benefits going forward, in the form of price rationalization as well as general business improvements. A tie-up with Baidu will channel substantial traffic towards Ctrip, and it is likely that the business will grow in value. For the purposes of valuation, I'm simply taking BIDU's stake at market value, but recognize that it can definitely increase in value. Moreover, the deconsolidation of loss-making Qunar and the addition of profitable Ctrip should make BIDU's financials simpler to understand for investors.
Today (February 12), the company received an offer for its QiYi asset from Robin Li (Baidu's CEO) and Yu Gong (CEO of QiYi) for a total enterprise value of $2.8 billion. This implies Baidu's stake of 80.1% is worth $2.24B. The transaction is structured on a cash-free, debt-free basis. I believe it will be accretive to BIDU, allowing it to deconsolidate a loss-making asset and increase its own enterprise value. Given that Robin Li is a large shareholder of BIDU also, it seems likely that the deal will close.
Sum-of-the-Parts Valuation
The following SOTP valuation assumes Ctrip at current market prices, QiYi at the aforementioned deal price, and the search business at an 18X multiple. For a dominant, virtual monopoly growing at greater than 20% rates, this seems to be fairly conservative. Note that it implies a PEG below 1. All values presented in the following table are adjusted to provide their weighting relative to each BIDU share.
| | |
| --- | --- |
| SOTP | |
| Search | 210.48 |
| Ctrip | 10.84 |
| QiYi | 6.47 |
| Nuomi | 0 |
| | |
| Value | 227.79 |
| Price | 153 |
| | |
| Upside | 48.88% |
I attribute no value to Nuomi, Baidu's O2O venture. Seen in the graph below, the market is dominated by the Meituan-Dianping partnership, which holds an 81.4% market share. Nuomi, conversely, has 13.6%. Scale is critical for this business, and it doesn't appear likely that Nuomi will maintain dominance in the space given the wide gap in market share. However, there is reason to believe in the rationality of the BIDU management team, and one could expect them to exit the space if competitive dynamics worsen. So, at best, one can look towards some upside if the business improves. At worst, it will be exited, value-destruction will end, and the market will value BIDU for its core, profitable assets. The margin of safety is high, especially considering the quality of Baidu's assets. One can earn a 20% IRR if Nuomi is exited/break-even by 2017, even if no further value is created by the core assets. Of course, the search business' growth alone will generate substantial value going forward.
BIDU derives additional upside optionality from improving mobile monetization. Mobile currently contributes roughly 54-55% of total revenue, with roughly two-thirds of all search traffic. This implies nearly 60% of the monetization level of PC. As the shift towards mobile continues, merchants will recognize the value of mobile traffic, leading to improved CPM. Management has guided towards mobile monetization converging to PC levels, an additional call option that investors are receiving for free at these levels.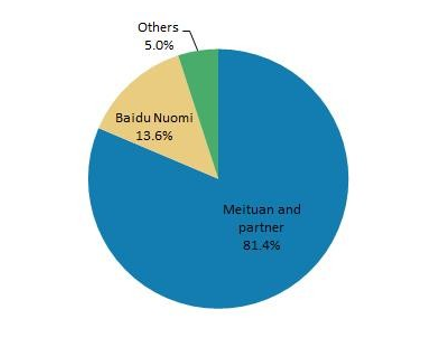 Source: Morgan Stanley
Risks
Aside from the usual stock market volatility issues (this article is not meant to say BIDU cannot fall lower), there is the very real risk of a Yuan devaluation. I would encourage readers to exhaust all possible resources in understanding the chances of a devaluation. Obviously, a devaluation for a US-listed stock would be negative, and because the probability of it occurring are material, I would advise caution. Hedging in any way possible against the currency would be ideal. Note that this is not a macro-call on the Chinese economy, or even the currency. With regard to the former, I think BIDU is very well insulated from the industrial slowdown or credit contraction in China. On the latter, I simply want to caution investors and would advise a hedging strategy of some sort. A put spread would be an ideal, low-cost way to hedge in my view.
Disclosure: I am/we are long BIDU.
I wrote this article myself, and it expresses my own opinions. I am not receiving compensation for it (other than from Seeking Alpha). I have no business relationship with any company whose stock is mentioned in this article.