The S&P 500 Index (NYSEARCA:SPY) has plunged by about 10% in the past few weeks. While this is a big drop in a very short time, the real decline has been in small cap stocks. In a significant market correction, small caps typically get hit the hardest because there is less liquidity with small company stocks. It also is easier for shorts to attack small-cap stocks and create panic, triggering stop loss selling and margin call selling. Smaller companies are not known as well, fewer analysts cover these stocks, and daily trading volumes are not as significant. That is why it is important to consider liquidity risks when buying small-cap stocks. However, liquidity risk is something investors can take advantage of after a sharp decline in the market because real bargains can be had in this sector. Take a look at the iShares Russell 2000 Index (NYSEARCA:IWM) and you can see it has lost about 20% in just the past couple of months.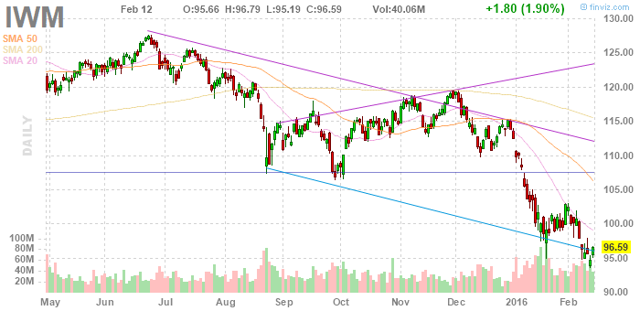 While the chart above shows that this small-cap index plunged about 20% recently, many stocks in this sector have declined a lot further and now appear to offer a bargain -buying opportunity. The iShares Russell 2000 Index has about 17% of its portfolio in technology, about 16.4% in financials, 13.4% in healthcare, 13.3% in industrials, and smaller amounts in other industries. For example, only about 2% of this fund is in the energy sector. The easiest way to take advantage of the drop in small caps is to buy this index fund and it will provide you with diversification, which lowers risks. However, if you want the potential to fine tune your investments and to have significant more upside potential, investing in select companies makes more sense:
American Axle & Manufacturing (NYSE:AXL) is a leading manufacturer of powertrains, chassis modules, driveline and drivetrain systems and other automotive components. It produces these products for use in passenger vehicles, four-wheel drive SUV's, pickups and commercial trucks. The demand for trucks and SUV's has been increasing now that oil is so cheap and auto sales have been strong as well.
Even so, this stock has been brutally and unfairly crushed over the past three months. In December, it was trading for about $23 per share and in this recent market meltdown it fell to less than $12 per share. There was no news to warrant a 50% decline in the share price. Much of the selling appeared to be caused by tax-loss selling at the end of 2015, then came a big market correction and nonsensical fears about "peak auto." I disagree with the theory of peak auto. Just because auto sales are strong, it doesn't mean sales have to suddenly fall off the cliff. I think that strong sales for trucks and cars could last for a few more years because of three main drivers: The U.S. job market is showing improvement, oil prices remain extremely low, and interest rates have moved down even further lately, which makes financing a vehicle less expensive.
Recent financial results from American Axle & Manufacturing show that demand is very strong and there appears to be no signs of a slowdown. The results were so good it caused the stock price to jump by about 22% on February 12, but this stock is still way below the 52-week high of about $26, and it is still very undervalued at just $14.50. For the fourth quarter of 2015, this company reported revenues of $958.4 million and net income of $62.9 million or 81 cents per share. The company also affirmed its guidance for about $4 billion in sales for 2016, as truck and auto demand remains strong. I think it is insane that we have a company that is producing 81 cents per share in profit in a single quarter and it is trading for just $14.50 per share. Analysts expect this company to earn about $3 per share in 2016. This puts the price to earnings ratio at less than 5 times earnings. I won't be surprised to see analysts upgrading this stock in the next couple of days thanks to the solid Q4 financial results and because of the cheap valuation. As of now, the consensus price target for this stock is about $22 per share which implies about 50% upside from current levels.
Obviously, there are many investors who believe that we are either in a recession or headed for one. If that is the case, there are sectors in the small-cap space like food that are relatively recession-proof. If there is a recession or even a period of slower growth, food stocks could rise and be seen as defensive ways to play the market. Another small-cap stock that fits this profile is a grocery chain called Supervalu (NYSE:SVU). It is one of my top small-cap picks to buy in this pullback, and at $4.25 it is a real bargain. It trades at just about 6 times earnings. It plans to spin off its Save-A-Lot division in the next few months which could be a significant upside catalyst. I also like the fact that this stock appears to have bottomed out and with a solid base now formed it could be poised for a rebound due to the cheap valuation and a potential short squeeze rally. I wrote about Supervalu in this article.
Data is sourced from Yahoo Finance. No guarantees or representations are made. Hawkinvest is not a registered investment advisor and does not provide specific investment advice. The information is for informational purposes only. You should always consult a financial advisor.
Disclosure: I am/we are long AXL, SVU.
I wrote this article myself, and it expresses my own opinions. I am not receiving compensation for it (other than from Seeking Alpha). I have no business relationship with any company whose stock is mentioned in this article.