I have been a perma-bull for over 7 years now, and the Team Alpha Retirement Portfolio reflects the success of my belief. Being nearly 4 1/2 years old, the total portfolio value has doubled from an original stake of $180k to over $360k as of its last update.
The dividend income stream has increased four-fold to nearly $16.5k, and has increased virtually every month since the third quarter of 2011. The management of the portfolio has not been magical or an act of genius. Simple actions of buying dips, reallocating cash from one equity to another, and deploying dividends received into various existing, or new positions.
As of now, the portfolio consists of the following stocks: Exxon Mobil (NYSE:XOM), Johnson & Johnson (NYSE:JNJ), AT&T (NYSE:T), Franklin Street Properties (NYSEMKT:FSP), Coca-Cola (NYSE:KO), Omega Healthcare (NYSE:OHI), Procter & Gamble (NYSE:PG), Realty Income (NYSE:O), General Motors (NYSE:GM), Ford (NYSE:F), Microsoft (NASDAQ:MSFT), Consolidated Edison (NYSE:ED), Altria (NYSE:MO), Main Street Capital (NYSE:MAIN), PetMed Express (NASDAQ:PETS), BGC Partners (NASDAQ:BGCP) , Ohio Valley Banc Corp. (NASDAQ:OVBC), HCP, Inc. (NYSE:HCP), Old Republic International Corp. (NYSE:ORI), Starwood Property Trust (NYSE:STWD), Mattel (NASDAQ:MAT) and Annaly Capital (NYSE:NLY).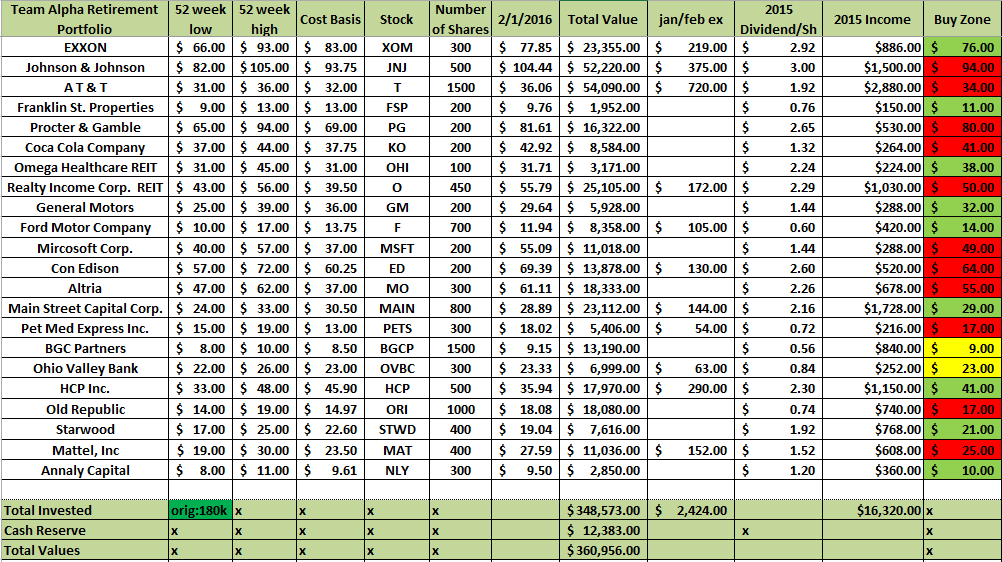 I Believe It Is Time To At Least Re-Evaluate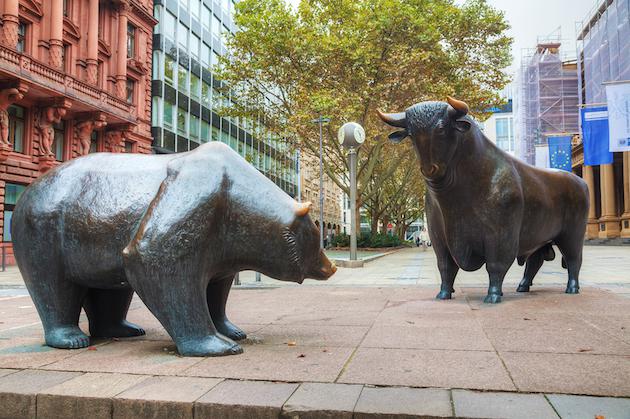 In the last few months, I have been writing about my opinions on where stock prices could be heading in the near term, and the state of our economy having a negative impact on the dividend income stream of TARP.
Review these timely articles for more in-depth analysis:
Retirement Strategy: The Smell Of Fear Is Here
Retirement Strategy: This Is A Dip I Will Not Buy
Retirement Strategy: If The Trend Is Down, Don't Fall Into The "Buy The Price" Trap
Retirement Strategy: I Hate This Market But The Team Alpha Keeps Producing Income
Retirement Strategy: Sometimes Living In The Real World Sucks
Retirement Strategy: Having Cash Is Not A Sin, It Is Smart
A Bounce Or A Turnaround?
Friday the market shot up by 300 points, and I have heard the so-called pundits claim that we have turned the corner and the headwinds we've faced have either been priced into the market, or have reached a bottom.
Malarkey! Remember what Morpheus asked Neo in the movie "The Matrix"?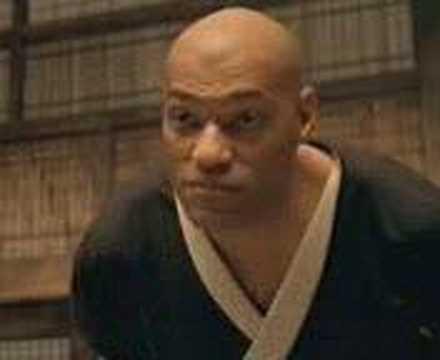 "You think that's air you're breathing now?"
Consider that the price of oil is likely to drop further since no OPEC agreement can be found anywhere to cut supply, and Iran has just started to add to the current oversupply, and Russia needs to pump even more to virtually stay afloat.
Think about the recent ambiguous testimony that Fed Chairperson Janet Yellen gave to congress in which she said the current plan to increase rates will continue for now. There's also the potential for a continued stronger dollar amid a global economic issue of negative interest rates that will make US products even more expensive, and the real potential of a global and US recession. On top of that, there is the real possibility that Fed policy could opt for a NEGATIVE interest rate policy, which could be disastrous (yes, a weaker dollar might even be worse)!
Consider the impact of just the above issues on corporate revenues and profits, which could ultimately lead to dividend cuts and lower streams of income, and perhaps one might realize that the bounce on Friday was simply that, a bounce, not a turnaround, and the "air you're breathing" right now might NOT be real! From the New York Times article linked above:
... people who have truly relied on dividends for income may have to face a sad truth. Dividends aren't bonds, and they may be cut at a company's discretion.
My Own Approach Is To Have A Plan Even If It Is Never Implemented
I went into greater detail in my last article, which also is a must-read:
Retirement Strategy: Let's Discuss The Elephant In Room
In that article, I began to pre-plan what a more defensive TARP would look like, and I began the process of evaluating what a "new" portfolio might look like. I have come up with a somewhat more defensive model portfolio of stocks that are ONLY dividend aristocrats, have less exposure to a variety of the headwinds I previously outlined, and feel will offer a less risky and more reliable income stream while all stocks get hit during this downturn.
Obviously, I am not suggesting that this is a perfect portfolio without risk, nor am I even ready to shift gears from the original TARP into TARP2, but I am offering these ideas for your consideration and something to think about.
There are no values, nor are there any details other than the selected positions and the most recent price and dividend yield: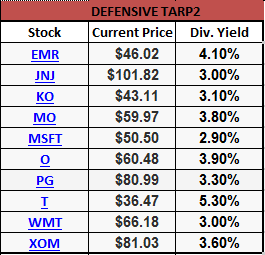 The reasons for these stocks are as follows:
They are ALL dividend aristocrats
There are no BDCs, REITs (other than O) or mREITS, which are riskier by their very nature and I do not want to reach for higher yet riskier yield.
Using profits from positions that have appreciated allows more shares be purchased in these dividend aristocrats.
Aside from XOM, none have oil exposure, and at the same time the triple A credit rating that XOM, cash flow, and ability to navigate low oil prices, has given me confidence in the company continuing its status as a dividend aristocrat.
There are no banks, which have been under pressure.
Companies like PG, JNJ, T, KO, and MO will always sell products, even during a recession.
Obviously, this does not make them bulletproof, but I believe these stocks will maintain their elite aristocrat status, which will keep the income flowing in.
If I move forward with this portfolio, the next step would be to move out of many stocks in the original TARP and redeploy the funds into the above positions. Since this is the first step, actual allocation of dollars and share amounts in each position will come next.
The Bottom Line
There has been absolutely no action taken, and TARP2 is a model portfolio that is ready to be used in lieu of the original TARP, but NOT YET!
There are two new stocks included in this potential portfolio: Emerson Electric (NYSE:EMR) and Wal-Mart (NYSE:WMT). Both are dividend aristocrats with sound yields, as you can see, and with very acceptable payout ratios for the time being (EMR at 50% and WMT at 42%).
Obviously everyone is awaiting YOUR selections for a more defensive, less risky portfolio that does NOT chase yield or include non-dividend aristocrats.
The comment thread is now open and yours to discuss how to help others consider their own choices for their own benefit.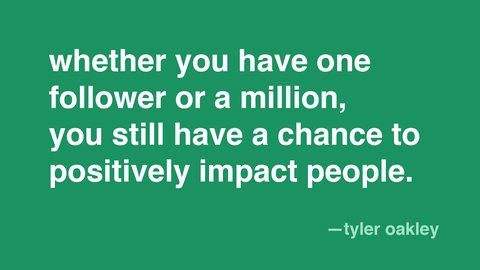 Why "Follow" Me?
The main reason for a subscriber to "Follow" me, especially for the model portfolios (TARP or otherwise), is to glean some knowledge to become a better investor and not simply place bets.
Money management is every bit as important as any other aspect of investing, and by following a portfolio and the actions taken, you can gain some insight into a somewhat higher level of investing acumen. There are no requirements, and this is not "rocket science" - it is simply a powerful way for you to put the money you have worked hard for to work even harder for you.
My message will be consistent, and my hope by doing this is to share my own experiences, illustrated in the model portfolios I build exclusively for Seeking Alpha.
Knowledge is power, and many folks shy away from the investing world because that very world makes it more confusing each and every day in an effort to sell you something: stock picks, technical strategies, books, videos, subscriptions with "secret ideas," gadgets, and even snake oil.
My promise to you is that my work here will remain free to all of my followers, with the hope of giving to you some of the things that took years for me to learn myself. That being said, let me reach out to you with my usual ending:
**One final note: The only favor I ask is that you click the "Follow" button so I can grow my Seeking Alpha friendships. That is my personal blessing in doing this, and how I can offer my experiences to as many regular folks as possible, who might not otherwise receive it.
Plus, it is free (and will continue to be) and does not cost one penny for anyone who reads me.
Disclaimer: The opinions and the strategies of the author are not intended to ever be a recommendation to buy or sell a security. The strategy the author uses has worked for him and it is for you to decide if it could benefit your financial future. Please remember to do your own research and know your risk tolerance.
Disclosure: I am/we are long BGCP, ED, F, FSP, GM, HCP, JNJ, KO, MAIN, MAT, MO, MSFT, NLY, O, OHI, ORI, OVBC, PETS, PG, STWD, T, XOM.
I wrote this article myself, and it expresses my own opinions. I am not receiving compensation for it (other than from Seeking Alpha). I have no business relationship with any company whose stock is mentioned in this article.
Editor's Note: This article covers one or more stocks trading at less than $1 per share and/or with less than a $100 million market cap. Please be aware of the risks associated with these stocks.