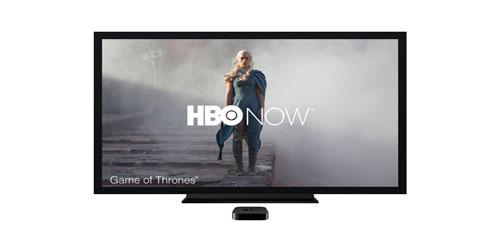 Credit: HBO
HBO (Time Warner (NYSE:TWX)) made news last week when it was revealed its HBO Now service had logged 800,000 subscribers so far. Expectations had been much higher and, as a result, analysts and the media have teed off on the cable giant. Yet for all the disappointment, is HBO Now really a flop?
Now that the dust has settled let's really look at that question.
Yes, the expectations were much higher and many thought the service should reach the one million mark quickly and without problem. In fact, other projections actually went as high as two million, including one from HBO CEO Richard Plepler, who last year predicted the count could be as high as four or five million subscribers.
So you can imagine how the media and industry analysts reacted when Plepler was the one to report the 800,000 number. Plepler and his company had to have to have seen the irony here which is why they were ready with a response.
"I wouldn't say only 800,000 subs. We're just getting started."
The thing is…Plepler's right.
HBO is just getting started and there are a number of factors in play that can account for the lower subscriber count. Yet before I get into those, what's fascinating and overlooked is that HBO Now isn't the first streaming network to see this backlash over slow growth. Take Vince McMahon's WWE Network for example.
The company got hammered for breaking its traditional PPV model for a SVOD system. Over time though WWE (NYSE: WWE) has been able to get on a steady track to the point the service now outranks that of every traditional cable TV network. Furthermore, the network's revenue is now twice the number of its PPV revenue. Yes, you can point to total subscriber count and say it should be higher or that it slipped a bit quarter-to-quarter but that's missing the point.
The bottom line is that it took time for the WWE Network to get to where it is now and HBO Now needs the same opportunity. People have this expectation that just because Netflix (NASDAQ: NFLX) is dominating its field and has done so in quick (and surprising) fashion, then every streamer should do the same.
It doesn't work like that. Netflix is Netflix. It's the exception to the rule. It's also in a vastly different position than HBO. HBO Now at its base level is a way to view HBO programming without an HBO subscription. It's a way of extending the cable channel's audience.
Remember the primary way people view HBO programming is on their television sets or through the HBO Go app which is free to cable subscribers. HBO created this alternative model as a way to boost revenue and appeal to the cord cutters. At a cost of $15 multiplied by 800,000 subscribers the total comes out to $12 million, which is $12 million more than what HBO would have made in the last 10 months without HBO Now.
There's also that... it's just been 10 months. We aren't even at the year mark yet. HBO's "busy" season is arguably April-August which is when the majority of its top original programming runs. This is the window for the reigning Emmy winner for Best Drama Game of Thrones and the reigning Emmy winner for Best Comedy Veep. When those shows kick back up so will the subscriber count.
It's also important to note that not only is HBO Now not available through Xbox or PlayStation platforms (like HBO Go is), but for the first three months of its existence it was a Apple TV exclusive (which not coincidentally started right around the time Thrones returned in 2015). Investors can't overlook either of those facts, especially since 20% of HBO Go's viewing comes from those gaming consoles.
HBO also is constantly curating new content and in 2016 it is adding Jon Stewart and Bill Simmons to its already deep ranks. Stewart's content is being specifically designed for its streaming audiences as is a new daily news program from VICE Media (a company HBO helped launch).
HBO has long been a dominant force and now that one of its big initiatives is going slower than anticipated it's easy to take shots at the network. HBO Now (and even WWE Network) have a long way still to go, but the steps taken thus far are important ones that shouldn't be overlooked.
Keep any eye out here as new numbers come in, because it will be a gradual increase….maybe not to the levels of Netflix, but that was never in the cards.
Disclosure: I/we have no positions in any stocks mentioned, and no plans to initiate any positions within the next 72 hours.
I wrote this article myself, and it expresses my own opinions. I am not receiving compensation for it (other than from Seeking Alpha). I have no business relationship with any company whose stock is mentioned in this article.