Most investors (namely the dividend growth investor) would baulk at the idea of buying a company after they have slashed their dividend. They like to see a consistent stream of consecutive raises in their annual income, as that portion of their total return is of greater importance. This will generally result in swapping their shares for those of another company. However, in some cases a slash in the dividend might actually be a good thing for investors.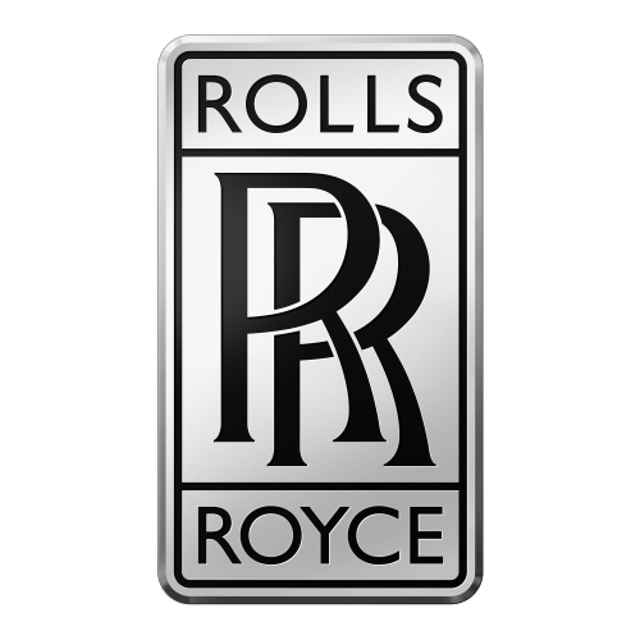 Rolls Royce
Rolls Royce (OTCPK:RYCEY) (OTCPK:RYCEF) reached a high of 1271p/share at the beginning of 2014 before the first of five profit warnings over the next two years dragged the share price to a low of 513p in November 2015. There were constant investor "fears" over a total cut in the dividend that was a catalyst for the share price drop. Since then there has been a change in CEO and a complete overhaul of the company by significantly reducing the abundance of senior managers.

On Friday 12th, the company released its full year results, showing the large expected drop in profits from its marine business, primarily due to the weakness in the offshore oil and gas sector that has intensified as oil remains around $30/bbl. However, the order book value continues to rise, up 4% from 2014 to £76.4b, showing underlying strength in both the civil aviation and nuclear segments.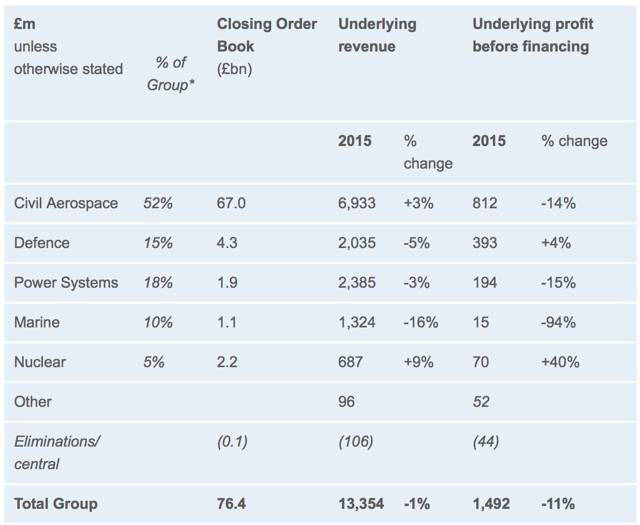 Near-term company outlook
The outlook for 2016 looks to be more of the same seen in 2015 as the marine division struggles with low oil prices and the continued pricing pressures as Airbus (OTCPK:EADSY) transitions from old to new airframes, dropping the Trent 700 for the Trent 7000. The company will also be affected from the initial charges (£75-100m) from restructuring, however some cost savings will come into effect.
Outlook for 2017 and beyond
The full effect of cost savings (£150m-£200m per annum) is expected to come into force by 2017.
As deliveries pick up for the new engines, the aftermarket service revenue will kick in. It should be noted that normally Rolls Royce does not make much profit on sales (sometimes even a loss) on their engines. The money is made from servicing engines afterwards. From the start of 2016, we have already seen a string of good news for the civil aerospace sector as Norwegian Air added to a $2.7b order and Rolls Royce is set to deliver engines for 61 airplanes ordered by Iran Air.
Expected market share of 50%+ of wide-bodied aircraft over the next decade.
Is the dividend cut a good for investors?
As mentioned earlier, the board has decided to cut the dividend by 50%. This is the first cut in 24 years. Most investors would see this as an immediate indication to sell their holdings, however, I think this is the opposite of what investors should be doing. Fears of the whole dividend being cut had been circling for a while and have been priced into the share price.
The decision to cut the dividend by 50% instead of cutting it completely has resonated with investors, pushing the share price up by over 14%. This allows Rolls Royce to maintain their credit rating, healthy balance sheet and flexible free cash flow. Furthermore, it will allow the company to invest the money into aiding their turnaround for the benefit of their long-term health.
In cutting its dividend, Rolls Royce is taking a different tack than other companies that are struggling in this cyclical downturn, mostly due to low oil prices. We see companies such as Exxon Mobil (NYSE:XOM) and Chevron (NYSE:CVX) raising large amounts of debt in an effort not to break their dividend raise streaks. This will undoubtedly put unnecessary pressure on the long-term health of their companies as although a rebound in the oil price is expected, these companies have no certainty about when this will happen, and by how much.
The situation is similar to investors raising cash in a bear market
Recently on Seeking Alpha there has been much debate over whether investors should raise cash in a bear market to provide increased liquidity instead of reinvesting dividends received. It has been argued that investors should build up a cash position while the bear market plays out so that money can be deployed at a later date that should provide better value for the long-term health of their portfolio.
The situation is currently very similar for Rolls Royce. They have near-term pressures of declining markets in several segments and a market-wide switch to higher efficiency and performance engines, the true benefits of which will only be seen a couple of years down the line.
Conclusion
Reductions of a company's dividend should not always be seen as a negative for investors. I believe that management, headed by new CEO Warren East has made progress in mending the holes of the sinking ship and that further downward pressure on the shares has decreased significantly. There is a now a clear focus on where Rolls Royce needs to be and how to get there. The reduction in the dividend to increase financial flexibility should be seen as a prudent move for the benefit of the long-term success of the company.
Thank you for reading. If you would like to see more articles or are interested in following the progress of my portfolio, please click "follow" at the top of the page.
Disclosure: I am/we are long RYCEF.
I wrote this article myself, and it expresses my own opinions. I am not receiving compensation for it (other than from Seeking Alpha). I have no business relationship with any company whose stock is mentioned in this article.
Editor's Note: This article discusses one or more securities that do not trade on a major U.S. exchange. Please be aware of the risks associated with these stocks.