Part of the American dream is to own a beautiful home in a luxury neighborhood and never have to worry about anything other than the weather.
When it comes to homebuilder stocks however, there are some worries. The home builders ETF (SPDR S&P Homebuilders) XHB is down almost 16 percent year-to-date and has lost more than 26% from the all time high. In other words: homebuilders are trading in a bear market.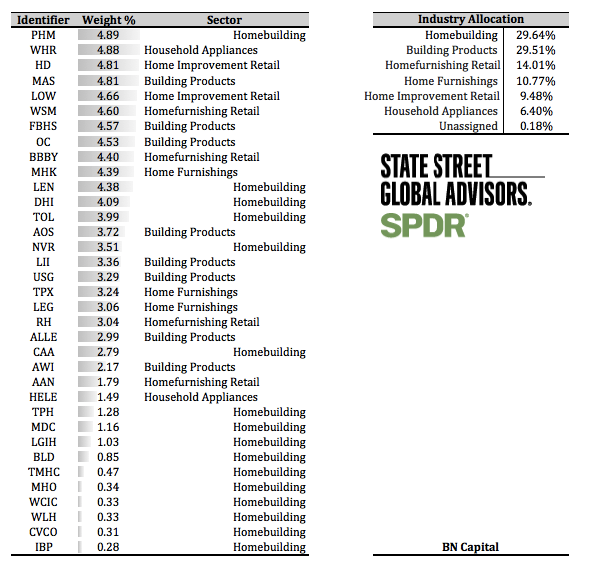 Although the ETF is called 'Homebuilders', only 29.6% of the ETF is invested in companies that actually build homes. Building product companies account for 29.5% which is not a surprise since homebuilders are heavily depending on suppliers.
Home furnishing retail and home furnishing companies have a combined exposure of about 24.7%.
These stats are quite interesting when it comes to trading. In certain economic times, industries within the same sector behave differently and therefore providing interesting trade opportunities.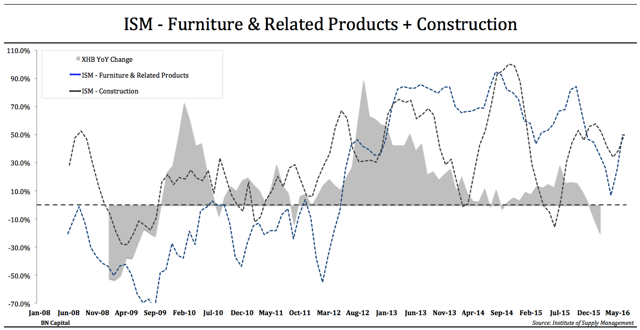 Housing got a boost in 2012 as seen in the graph above. The sentiment of furniture & related products and construction reached new highs and is still in positive territory. However sentiment is slowing since the summer of 2015 putting a pressure on stocks .
Building permits data, which is a strong leading indicator, soared in 2011 from negative growth to almost +50%. Since then growth has slowed to almost zero percent pushing upside pressure on builders.
In times like this companies that sell furniture and other home improvement products tend to outperform the actual builders.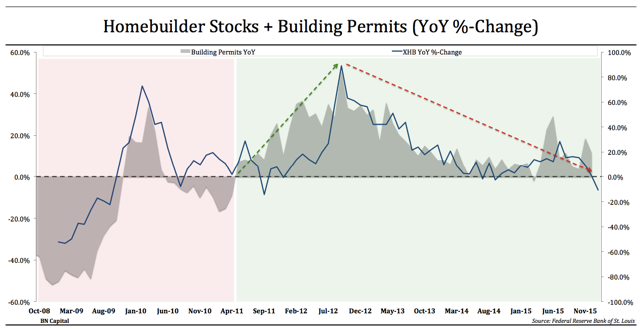 Stocks like Lowe's (LOW) and Home Depot (HD) have been outperforming home builders in the great recession and are close to new all-time highs at the moment. Both stocks have had tremendous growth and have still a good outlook given the shift from new home building to refurnishing existing homes.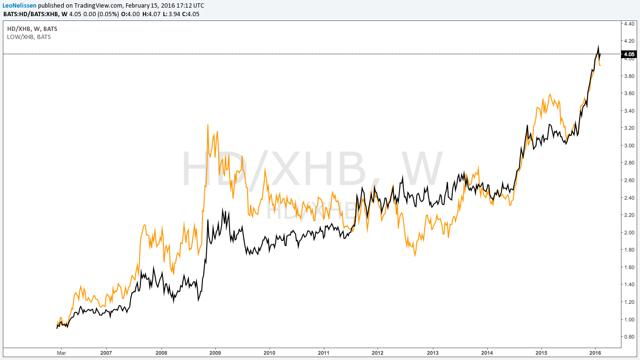 Note that not all household retail companies perform well. Stocks like Bed Bath & Beyond (BBBY) and Restoration Hardware (RH) are facing problems and are way under their highs.
If we take a closer look at Home Depot and Lowe's we see two extremely strong companies. Both companies have a strong valuation with PEs slightly higher then the industry average (investors expect stocks to outperform their peers) and PEG ratios below 1.50 which means future growth is relatively cheap given the current stock price.
Both companies have strong balance sheets and growth of more than 15% on average for the coming five years.
Given the market outlook and circumstances, trading these companies versus weaker companies is a safe trade.
For example a long position in Home Depot and a short position in a home builder like PHM. Of course trades with single stocks require more research and are more volatile but will generate more alpha.
The safest trade is to go long HD or LOW (buy both to reduce volatility & risk) and short XHB. By doing so you short all XHB stocks and therefore not only the weak stocks but the stronger ones too.
Result: lower volatility and lower risk.
Below you see the charts of three potential trades.
Long Home Depot versus short XHB
Long Lowes versus short XHB
Long Home Depot versus short M.D.C Holdings MDC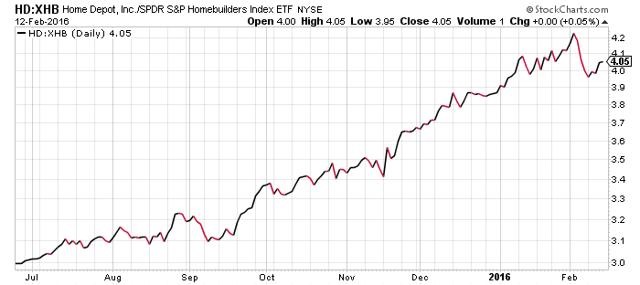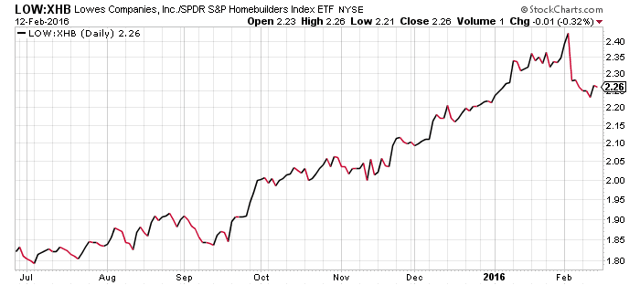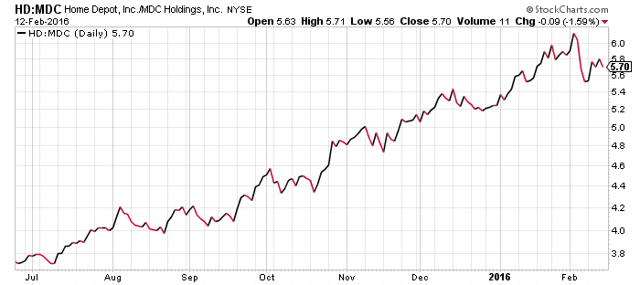 For more information about home builders I recommend this article.
I hope you will benefit from these trading ideas in the coming months. Note that risk management like position size and stop loss management are your own responsibility.
For any questions please leave a comment or contact me directly.
Disclosure: I/we have no positions in any stocks mentioned, and no plans to initiate any positions within the next 72 hours.
I wrote this article myself, and it expresses my own opinions. I am not receiving compensation for it (other than from Seeking Alpha). I have no business relationship with any company whose stock is mentioned in this article.