Prospect Capital Corporation (NASDAQ:PSEC) takes a lot of heat for a company with growing income and one of the highest and healthiest dividends in the market. Within the last month, the company has been downgraded, pushed lower by rumor and fear, and released results that belie a thought the company is not able to perform well, or that the dividend will be cut.
image source; Prospect Capital Corporation

The Analysts Are Split
Fears driving the market include questions about an alleged probe by the SEC into PSEC's CLO portfolio marks. Wells Fargo analyst Jonathan Bock reiterated an underperform rating earlier in February stating that there may be an ongoing investigation, not that there was one. The only evidence of such a probe I can find is one that was ended in December, disclosed in this 8-K filing, with no action taken, so it looks like old news to me, not material to today's valuations.
Other analysts are negative as well, but not all of them. Raymond James restated their underperform rating, lowering full-year earnings by $0.02 to $1.01, but the sentiment is not representative of the analyst community. RBC maintains a buy rating on the stock and recently upped its price target by $1.00 to $10.00.
The average analyst rating, depending on where you look, is a hold with a bias toward the buy side. Out of 9 analysts tracked by Yahoo!Finance, 5 are at least a hold, 3 are a buy, and one has just initiated with a neutral; National Securities. Consensus price target is in the range of $8.50 with a high of $10.00 and a low of $5.50. Bottom line, analysts are split but are generally optimistic about Prospect Capital despite the recent negativity.
What Does The Negativity Get You?
All the negativity and fear in the market gets you a business with growing earnings and above average dividend yield at a deep discount.
Prospect Capital just released earnings this past week, and has blown the estimates away. NII came in $0.03 better than expected, $0.28 per share, representing 5.2% YOY increase in investment income. Annualized portfolio yield rose 30 bps to 13.3%, +1% YOY, and leverage came down to 4.19X. Credit ratings are maintained at investment grade levels with positive forward outlook.
There are several reasons for these results. One is portfolio expansion; PSEC originated 5 new investments in the fiscal quarter totaling $692.3 million. Another is the ongoing effort to roll lower yielding loans into higher yielding ones; an effort that appears to be working as evidenced by the increase in annualized yield.
Healthy Dividend
Dividend yield at current share price levels is greater than 15% and has been as high as 20% in recent weeks. Annual distribution is $1.00, $0.25 per quarter, paid out monthly. Spill-back dividends are allowed, but have not been needed to cover current payments. The current results of $0.28 NII more than cover payments, as have earnings over the past year and projections for the end of this year.
Earnings estimates have been coming down in recent weeks but remain at levels more than high enough to cover distributions. Consensus estimate is $1.03 with a high of $1.06, in my view both low in light of 2nd quarter strength and making a special dividend or increased dividend more likely than there is a dividend cut.
As a point of reference, dividend distributions for the next three months have been declared, in line with previous. This payment is for the months of March, April and May.
Cheap And Deeply Discounted
One thing to be cautious about is a decline in NAV. NAV was reported at $9.65 for the quarter, down from $10.17 in the previous. The caveat is that the decline is primarily due to unrealized losses associated with the current macro-environment. In the report, management characterizes the decline as 74% macro changes in the market, 18% related to energy and 8% non-energy. The thing to keep in mind is that even with a drop in NAV, shares are trading at historically deep discounts.
At current share prices, PSEC is trading at a 36% discount to NAV. This is more than double the historic average discount and at levels not seen for nearly 5 years. Now, it is given that past performance of a security is no guarantee of future results, but there is something to be said for the historical perspective. In this case, the only other times that PSEC has traded at such a deep discount, it gave total returns in excess of 90% over the next 12 months.
source; Prospect Capital Corporation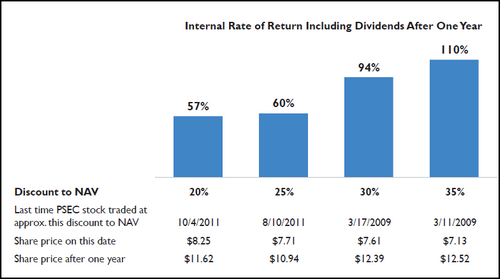 Insiders And Institutions Love It
According to my read on the data, the institutions and insiders love PSEC. It is cheap and it pays a substantial dividend on a regular and steady basis. In terms of institutional ownership, 227 funds and institutions own shares of PSEC, totaling 15% of the float. Insiders own another 2% with significant insider buying in recent months. December 2015 buying saw top managers scoop up nearly 15 million shares; full-year 2015 insider buying totaled more than $56 million.
The Market; Not Wrong, But Not Right Either
I don't think the market was wrong in its negativity toward PSEC. Over the past 2-3 years, the company has had some trouble, namely a drop in portfolio and revenue growth, a cut in the dividend, and an SEC investigation.
The thing is, the market may be wrong now. The negative drivers of this stock are in the past and have been, in my opinion, discounted into the price long ago. The most recent history shows a company with steadily increasing earnings, management making moves to ensure portfolio growth and dividend health, and more chances of increased distributions than not. Even if PSEC shares languish at deep discounts to NAV, it will keep on paying its 15% dividend. I say PSEC is a buy.
My final thoughts. The February 10th dip to historical low closing price was capitulation in the market. This move was sparked by the downgrade alert I hit on earlier. Since that low, the company has released better-than-expected earnings, sparking a 17% rebound in shares prices. PSEC may not move immediately higher now, but it sure looks like the end of a downtrend to me.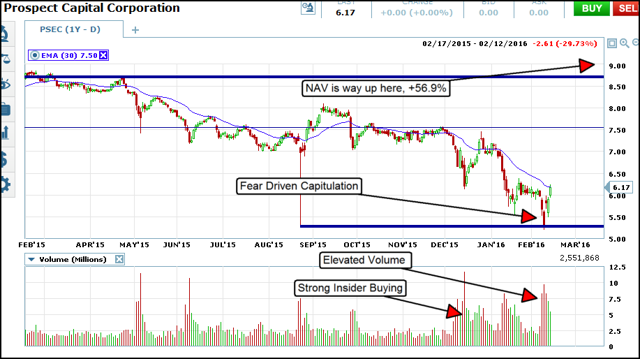 Disclosure: I am/we are long PSEC.
I wrote this article myself, and it expresses my own opinions. I am not receiving compensation for it (other than from Seeking Alpha). I have no business relationship with any company whose stock is mentioned in this article.
Additional disclosure: This article is my opinion based on the available information.