Eversource Energy (NYSE:ES) was formed in 2012 by the merger of NorthEast Utilities with NSTAR, creating the largest New England regulated electric and gas utility focused on its distribution business. The utility serves 3.6 million customers in Connecticut, Massachusetts and New Hampshire. While not usually considered a hot spot for population-driven growth, the New England region offers interesting opportunities for ES to expand its regulated rate base, driving earnings higher by 6% to 7% annually over the next few years. It seems ES could be in the sweet spots of utility infrastructure: FERC-regulated electric transmission and natural gas distribution.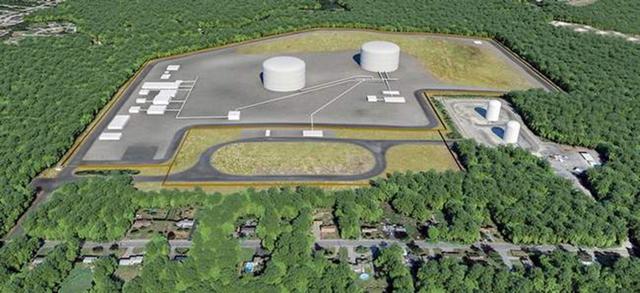 Proposed Expansion LNG Storage Facility
Eversource is split into three operating segments: Electric Transmission, Electric Distribution, and Natural Gas Distribution. Below is a map of its service territory: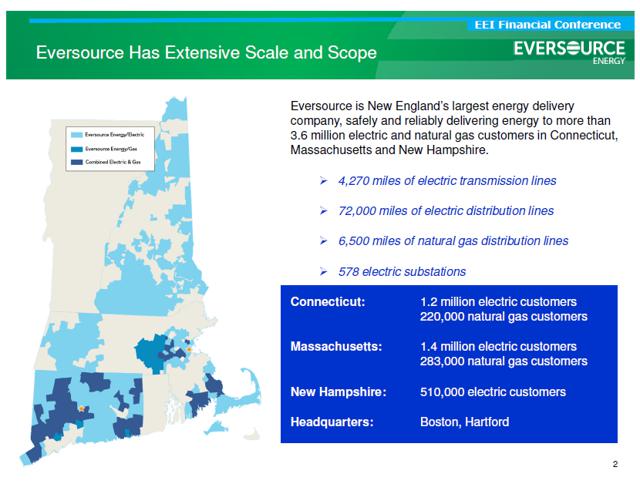 Based on year-end 2015, on a per share basis, Electric Transmission generated $0.93 in earnings, up 3% from 2014, Electric Distribution contributed $1.53, up 10% from 2014, and Gas Distribution generated $0.23, flat with 2014. As of Dec. 2015, Eversource has a regulated rate base of $14.7 billion. Management's goal is to expand its rate base by at least 24% over the next 3 years, driving regulated earnings as well. Below is a chart of their current and projected rate base by operating segment, from the 4th qtr. conference call presentation pdf: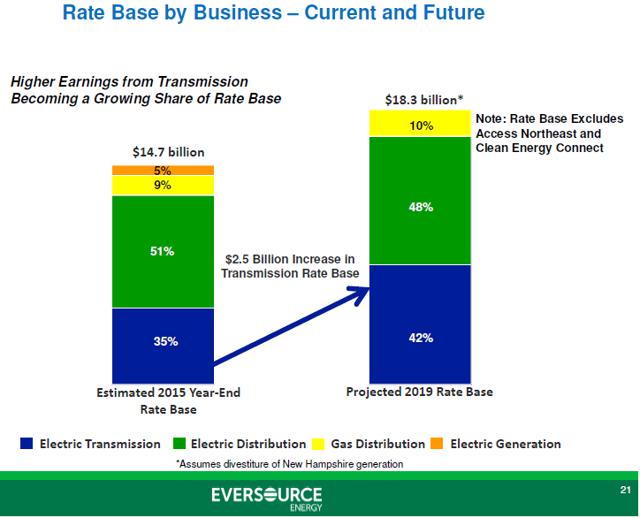 The game plan is to invest in federally-regulated transmission assets that offer the potential for better returns. For example, even after the recent ruling that instituted a reduction in allowed return on equity (ROE) from 11.15% to 10.57%, FERC still allows a higher return on transmission assets than the state-regulated assets allow. For example, in 2014, the Connecticut utility commissioners decided on an allowed ROE at 9.17%, on the lower end of the national scale and below the recent national average quarterly rate settlement of 9.90%. Massachusetts recently set allowed ROE at 9.80%, more in line with the national average.
In addition to electric transmission, Eversource is active in pursuing natural gas pipelines that are extending Marcellus shale gas to the Northeast. Long-term natural gas demand will come from residential switching from heating oil which is projected to be 2% to 3% annually. Regional nuclear-, coal-, and oil-fired power plants are being replaced by at least 28 gas-fired power plants from Connecticut to Maine. When the conversion is complete, it is estimated the Northeast will have an additional 5,000 MW of gas-fired plants on line. Eversource is part of a joint venture which has proposed the $3 billion Access Northeast pipeline, and is in the design and permitting phase.
An interesting offshoot of the pipeline is the expansion of ES's LNG storage facility in Acushnet, MA. With limited geology to accommodate the natural gas storage back-up needs of power plant users, ES is turning to its LNG technology as a replacement. The large twin double-hulled tanks in the center of the artist rendition pictured above would hold up to 6.8 bcf, more than doubling the power company's current total storage capacity to 11.5 bcf. The two tanks on the right represent the current facility. Management is targeting a $1.2 billion investment in Access Northeast, but due to its current stage of design, this is not included in most capital expenditure forecast.
Below are two graphs of overall capital expenditure budgets 2015 to 2019 along with specific transmission forecasts. Key to the transmission budget is approval and construction of the $1.6 billion Northern Pass transmission project that is designed to bring renewable electricity from Canada to the US grid and into New England. However, like many infrastructure projects, local environmental dissents are making their voices known and final approval has not yet been reached.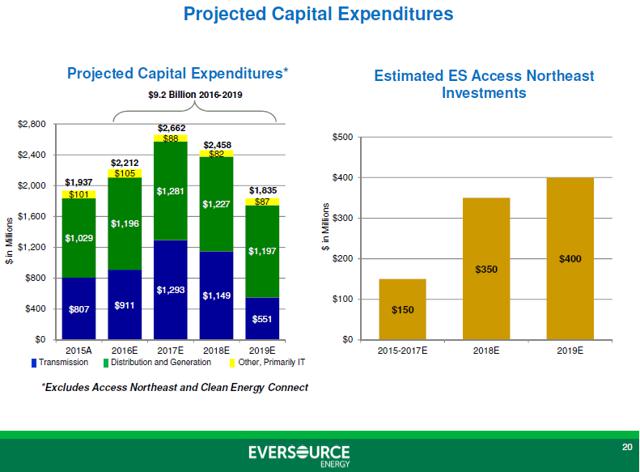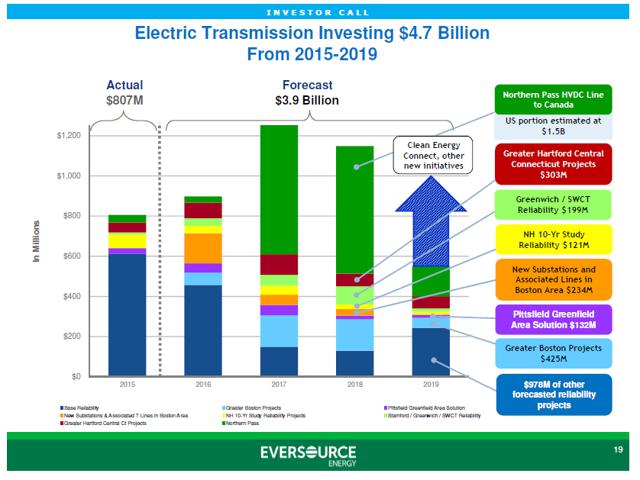 As the Northeast region continues to rewire and redesign its electricity and natural gas infrastructure, Eversource is in the middle of these opportunities.
Over the past few years, management has generated better than average return on invested capital (ROIC). Prior to the merger with NSTAR, the predecessor NorthEast Utilities had a very erratic history of generating consistent returns. From 1995 to 2006, management was unable to generate consistent ROIC, while from 2006 on, ROIC has been between 5.5% and 6.5%. According to thatswacc.com, the weighted average cost of capital (WACC) for Eversource is 4.23%, making the hurdle rate (ROIC-WACC) a positive 1.25% to 2.25%. Below is a 20-year history of ROIC, as offered by fastgraph.com: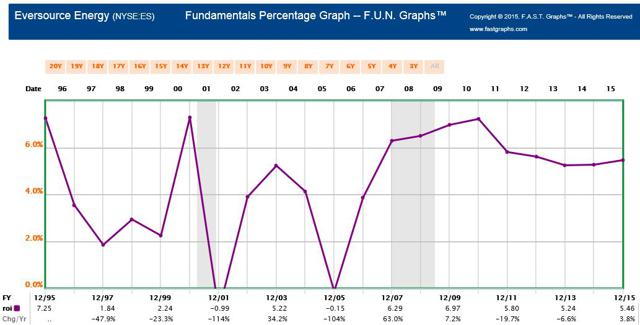 Continuing on with fastgraph.com presentation of ES, below is their analysis. Of interest is the slight premium of today's share price above its average PE ratio of 17.2. The dividend yield of 3.3% is in line with previous year's valuation. From this view, it would seem ES is fairly valued from both a PE and yield basis.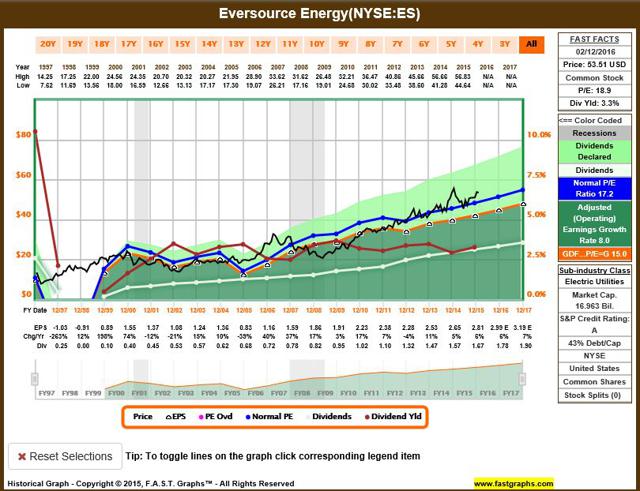 Unlike many of its utility peers, ES has a robust history of generating free cash flow, or operating cash flow minus capital expenditures. However, this positive attribute may be about to change. Below is a table from Morningstar.com outlining operating cash flow, capex and the resultant free cash flow.

If management is projecting a ramped up capex budget in the range of $2.0 to $2.2 billion annually until 2019, and if OCF grows at the same pace as earnings growth, ES will be free cash flow negative until at least 2018. These calculations do not include $525 million in annual dividend payments.
Speaking of dividends, the current $1.78 dividend represents a comfortable payout ratio of 63%, allowing for potential dividend growth above its earnings growth rate. While the current yield is a bit light at 3.3%, consistent future dividend growth should offset the lower yield.
According to management's latest investor presentation, ES is the only utility to earn an A credit rating from S&P in 2015. There are 14 utilities with an A- rating, 16 with a BBB+ rating, 14 with a BBB rating, and 2 with a BBB- rating. A conservative balance sheet has been a hallmark of ES, and should continue even as the latest capex investment cycle will most likely lead to higher debt and more equity issuance over the next 5 years.
On Nov. 1, 2014, SA published a buy recommendation on ES, then still known as NorthEast Utilities. The theory was the same - opportunities in transmission and natural gas conversion in New England. At the time, NU was trading at $42. Buyers in Nov. 2013 would have enjoyed a 26% increase in share price and $3.62 in dividends, for a total return around 15% annualized.
Utility investors looking for a secure dividend with slightly above average growth potential in the sweet spot of the sector's capital expansion cycle should review Eversource. I did and am about to add a small position to my utility portfolio.
Author's Note: Please review disclosure in Author's profile.
Disclosure: I/we have no positions in any stocks mentioned, but may initiate a long position in ES over the next 72 hours.
I wrote this article myself, and it expresses my own opinions. I am not receiving compensation for it (other than from Seeking Alpha). I have no business relationship with any company whose stock is mentioned in this article.