Introduction
Healthy and healthier food is becoming increasingly important in today's world, so I wanted to find some exposure to that (sub-)sector. I think Hain Celestial (NASDAQ:HAIN) could be a pretty important player in this market, and I wanted to find out if the company's current share price has reached an enticing level which could warrant an investment.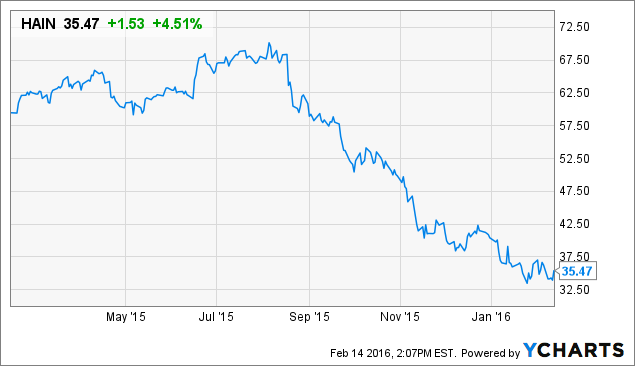 The second quarter was better than expected, and this bodes well for the entire year
Back in January, Hain issued a hidden profit alert as it was guiding for a soft second quarter of the year and it immediately also slashed its outlook for FY 2016 and now expects to generate an EPS of $1.95-2.10 for the entire financial year. Surprisingly, the company's share price actually jumped on the back of this news, as the financial community seemed to have expected a worse result.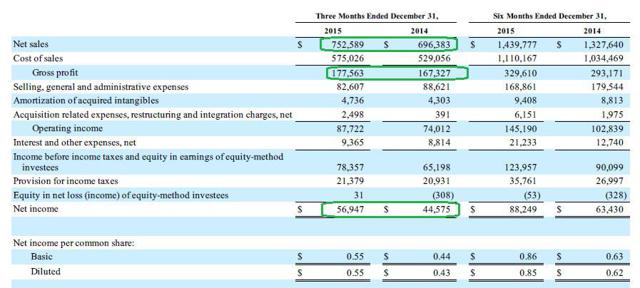 Source: SEC filings
But, let's have a look at the second quarter. Hain was guiding for a quarterly revenue of $740-760M and an EPS of $0.53-0.56, and it does look like the company's quarter came in at the higher end of this guidance. The revenue was approximately $753M and after taking all expenses into consideration, the net income was $57M, or $0.55/share, close to the top-end of $0.56 in the guidance.
The cost of sales increased faster than the company's revenue, but Hain compensated this by being able to reduce its SG&A expenses, so the operating income increased by $13M to $87.7M. The operating margin in the second quarter was 11.65% and this is a nice increase compared to 'just' 10.63% in the same period last year. The net income in the first half of the year was $0.86 (or $88.25M), and I was curious to find out what percentage of this net income has been converted into hard cash.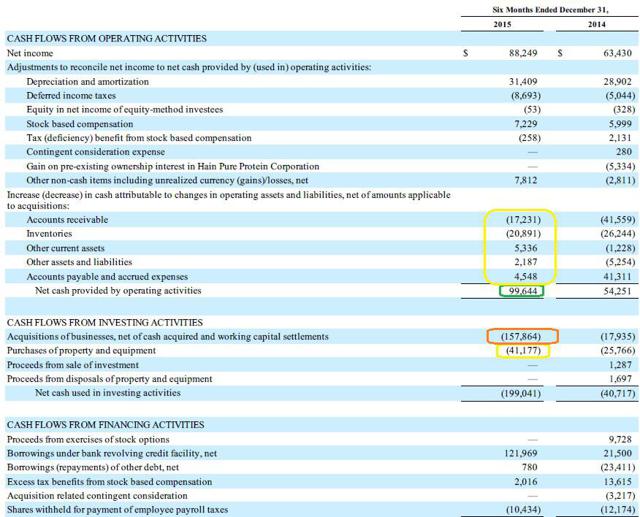 Source: SEC filings
Hain Celestial's operating cash flow was $99.6M, but this did include some negative changes in its working capital as it for instance increased its inventory levels. If one would adjust the operating cash flow for these WC changes, Hain's adjusted operating cash flow actually increases to $126M and even after deducting the $41M in capital expenditures, Hain's total adjusted free cash flow was approximately $85M and that's a pretty good result.
I like Hain's conservative financial approach, as it's keeping all of its cash inside
Hain's management is still quite cautious, and the entire adjusted (and non-adjusted- free cash flow was re-invested in the business. Not only did it invest in its working capital position, it also spent $158M on acquisitions that will contribute to the company's top and bottom line in the future.
And that's something I can really appreciate, as Hain is diligently working to improve and expand its business. Hain has reconfirmed its full-year guidance of $2.9-3.05B in revenue, which means the H2 revenue will be at least $1.5B, and 4% higher than the H1 revenue in FY 2016. This bodes quite well for the future, as a large part of the company's capex investments are focusing on growth capex. The capex was $41M in H1 2016, but as the full-year capex is expected to be just $60M, the second half of the year will be quite light and I think the company will incur just $25M in capital expenditures.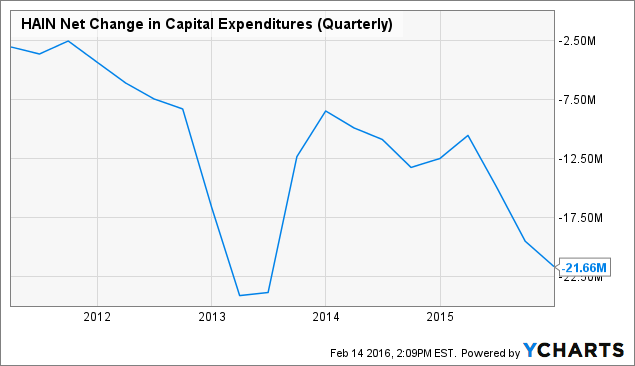 HAIN Net Change in Capital Expenditures (Quarterly) data by YCharts
If I'd now extrapolate the adjusted operating cash flow from H1, the full-year operating cash flow will increase to $250M, and after deducting $65M in capex, the adjusted full-year free cash flow will be $185M, which would be approximately $1.78 per share. This means that at the current share price, Hain is trading at a free cash flow yield of 5%. So whilst the company was quite expensive at a share price of $70, it has now reached a pretty decent value, considering the company's relatively strong grow profile.
That being said, I do think Hain should implement a (small?) buyback program to offset the increased share count due to the options exercises. And that shouldn't be expensive. If Hain would aim to reduce its share count by 1M shares per year, it would be able to do so for less than $40M per year, or just 20% of its adjusted free cash flow.
Investment thesis
I think I will initiate a position in Hain Celestial, as the company's financial performance is coming in better than expected. The free cash flows are looking pretty healthy, and I like the company's conservative approach (no dividends, no buybacks, everything gets reinvested in the business). As I'm not expecting any additional major acquisitions, Hain should be able to use the free cash flow to reduce its net debt (currently standing at $800M) which could reduce its annual $40M+ interest bill.
This indicates the company's cost of debt is approximately 5%, so every $100M that could be used to reduce its debt position will save the company $5M in outgoing cash flow, and boost the annual cash flows. Hain isn't a bargain right now, but I might write a put option with a strike price of $30 expiring in August of this year, for an option premium of $2.5. If I'd be assigned to purchase the shares, I would be buying them at an average free cash flow yield of 6.5% and that wouldn't be expensive.
And if I don't get assigned to buy the shares, I can keep the $2.5 option premium in my pockets, for an 8.3% return in 6 months.
Disclosure: I/we have no positions in any stocks mentioned, but may initiate a long position in HAIN over the next 72 hours.
I wrote this article myself, and it expresses my own opinions. I am not receiving compensation for it (other than from Seeking Alpha). I have no business relationship with any company whose stock is mentioned in this article.
Additional disclosure: I might write a put option, as explained in the article