There's a fine line between a value stock and a value trap and which category a particular stock falls into often only becomes clear in hindsight. For Mosaic Company (NYSE:MOS), only the future may tell. Currently caught on the wrong side of the commodity cycle this company's earnings peaked in 2011, the same year gold prices climaxed and heralded a bear market for commodity and materials prices. As would be expected, the materials and agribusiness sectors have underperformed since but even within their sector, Mosaic has suffered still having yet to see a year of positive earnings growth since that 2011 high. This prolonged period of earnings declines show in the company's valuation: the price-to-earnings ratio is sitting at around 7 for the trailing 12 months and the company is presently trading both below book value and below sales. These are the kind of numbers value investors love to see. The earnings numbers, on the other hand, are a little less eye-catching.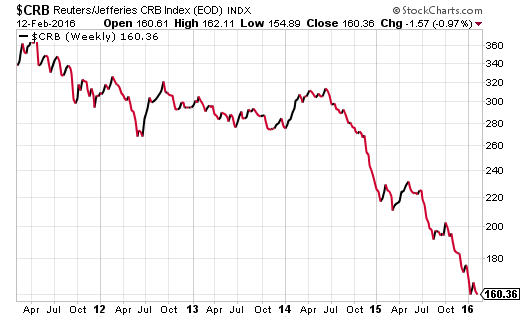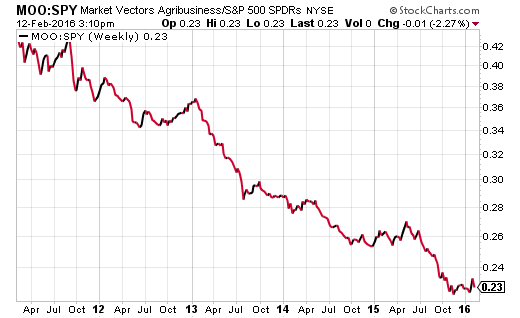 Mosaic appears to be focused on costs during this down cycle. They have been closing down higher-cost facilities while expanding into lower-cost production. The Esterhazy K3 site for example, should begin operations in 2017 and will lower the cost of potash coming out of Saskatchewan for Mosaic. They also made an investment of $225 million with Ma'aden Wa'ad Al Shamal Phosphate Company and plan another $300 million for 2016 to jointly develop Saudi Arabian facilities which are expected to have the lowest phosphate production costs in the world. Overall, potash production costs fell 16% in 2015 from cost cuts and the weaker Canadian dollar, and phosphate rock production costs are down to a 5 year low. Mosaic cut selling, general and administrative costs by 6% compared to the previous year taking them down to a 6 year low and will make further cuts in 2016 as well. These cost cuts should help the company remain well positioned for earnings growth when their markets do finally pick up. Mosaic is also keeping enough excess capacity on hand to handle any rise in demand when it arrives -- but just when it arrives is a whole other matter. They seem to be able to afford to wait for the time being, finishing the year with $1.3 billion in cash and equivalents on the balance sheet and retaining a BBB credit rating. It doesn't appear they're in any immediate danger.
Alongside the cost cutting, they increased their dividend by 10% and repurchased $698 million worth of shares in 2015. This should provide investors in Mosaic with at least a little bit of comfort -- the dividend is growing and on a per share basis, earnings were actually positive for 2015 thanks to share buybacks. Still, Mosaic is a chronic underperformer and even on a total return basis with dividends reinvested, it is down more than 50% over the past 5 years. The problem though, doesn't appear to be specific to Mosaic. Peers such as Potash Corp. have performed nearly identically. If there is some light at the end of the tunnel, if the fertilizer market does begin to turn up and the advantage shifts back to the producer rather than the buyer, Mosaic has kept itself well positioned to prosper in such conditions. In the meantime, they've been managing the decline as best they can. While shrinking, earnings remain positive and free cash flow finished the year at $582 million.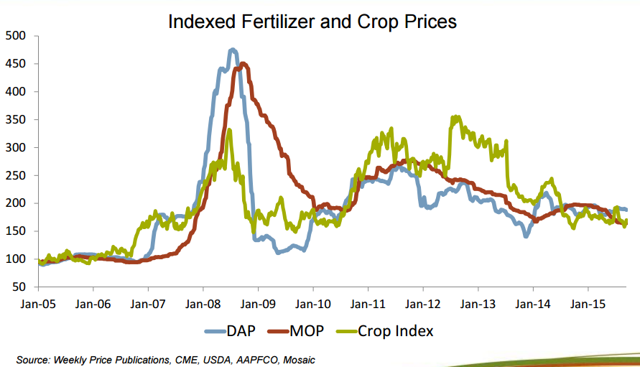 There may also be some small signs of life in the company. The integration of Archer Daniels Midland's Brazil and Paraguay fertilizer business has been completed and should increase distribution volumes in the region by 50%. The continued expansion of the MicroEssentials product line will add 1.2 million tons to capacity in 2016 bringing the total to 3.5 million tons. The investment Ma'aden Wa'ad Al Shamal Phosphate Company investment adds to lower cost production capacity and helps to diversify.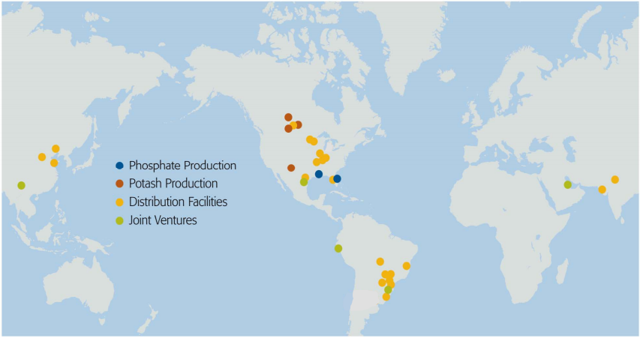 After such a long period over which earnings have crept lower and lower and the projected continuation of this trend, it's easy to see how such low valuations, especially compared to the broader market, can be justified. However with the focused management of costs, if there's any positive shift in demand it's equally easy to imagine a significant and rapid rise in earnings and those low valuations leave plenty of room for multiple expansion. In the meantime though, investors are left to wonder, waiting for some supply and demand shift in the global markets to bring this stock back to life, waiting to see if this is a value trap or value buy.
Disclosure: I/we have no positions in any stocks mentioned, and no plans to initiate any positions within the next 72 hours.
I wrote this article myself, and it expresses my own opinions. I am not receiving compensation for it (other than from Seeking Alpha). I have no business relationship with any company whose stock is mentioned in this article.