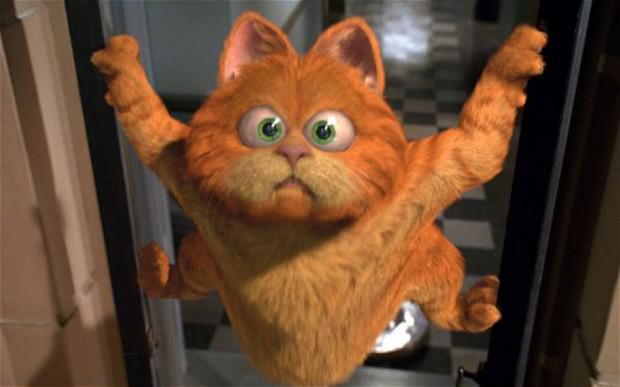 As for skinning a cat as in (NYSE:CAT) here is how not to.
And without further ado, we present a War and Peace sized installment of
Resource Sector Digest
(Vol. 23 - February 15, 2016) brought to you with pride by Itinerant and The Investment Doctor.
You know the drill. As for all previous editions of this newsletter we shall:
Set the scene,
highlight actionable ideas,
comment on news releases, and
link to relevant articles.
Before we start in earnest, please pause for a moment and consider our cordial invitation to join Itinerant Musings for exclusive access to actionable research on mining and energy stocks.
In case you missed out on previous editions of this newsletter, simply click here, here, or here to catch up.
Setting The Scene
News releases aplenty have kept your resource sector digestive systems busy last week, with many news items relating to one of the royalty and streaming companies out there in one way or another. Hence we are pulling these news items out of the News Release section and muse about them as we proceed to set this week's scene.
But before we dive in, let's just marvel at the gold price and the miners of the yellow metal for a split second. Year-to-date, the SPDR Gold Trust ETF (NYSEARCA:GLD) has already made a 34% move, the Market Vectors Junior Gold Miners ETF (NYSEARCA:GDXJ) is up 25%, and the Market Vectors Gold Miners ETF (NYSEARCA:GDX) is up 17%. A word of caution is in order for those getting giddy already: gold often rallies early in the year, only to fall back to its lows later in spring. We are not sold on the performance yet, but will be happy to be proven wrong.
Here is what our favorite Daily Market Briefer had to say:
"There's little-to-no evidence that any other commodities are turning higher here, and gold isn't going to stage a one-man run higher while everything else deflates."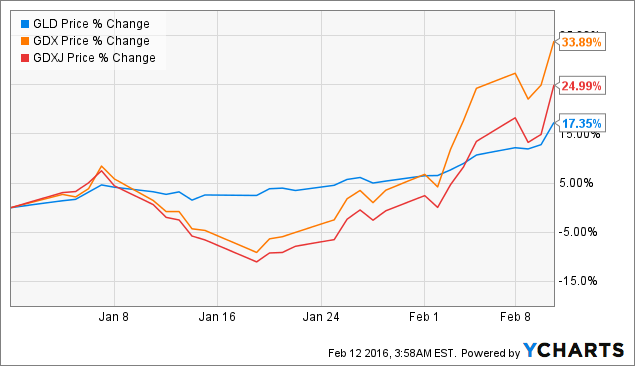 GLD data by YCharts
But on to the streamers and some observations on how these companies find new ways to skin their cat.
Franco-Nevada (NYSE:FNV) came away with the major prize last week hands down when it announced its latest cornerstone deal with Glencore (OTCPK:GLCNF). The major has given away another slice of its pie in favor of much-needed cash to keep its lenders happy. This latest streaming agreement concerns precious metals by-products from the Antapaccay in Peru, not far from the Antamina mine for which Silver Wheaton (NYSE:SLW) and Franco-Nevada have both purchased streams not long ago - the former also from Glencore and the latter from Teck Resources (NYSE:TCK). We see these streaming deals as a continuation of a diversifying trend in the streaming business model, complementing stream financings to fund capital projects as was the rule in years past. Increasingly, we see large deals implemented by established mine operators wishing to mend their balance sheets. Royal Gold's (NASDAQ:RGLD) stream on Barrick Gold's (NYSE:ABX) Pueblo Viejo mine last year also fits this bill, as does Sandstorm Gold's (NYSEMKT:SAND) multi-stream agreement with Yamana Gold (NYSE:AUY).
Silver Wheaton has also been working on a new variation on the streaming theme, calling it early deposit agreements and targeting junior exploration and development companies with promising projects. Silver Wheaton drip-feeds hand-selected juniors with funds tied to milestones along a development path and by the time a project comes into production, Silver Wheaton will own a sizeable stream; unless it pulls out before that is. This strategy puts a foot in the door very early on, but limits the risk for the streamer. In a way, this model is a logical continuation from a strategy already employed by Sandstorm Gold which has bought a number of early-stage royalties linked to a right of first refusal for potential streams at a more advanced stage. For example, Sandstorm Gold has such an agreement in place with Canadian Zinc (OTCQB:CZICF); and Silver Wheaton has so far partnered with Sandspring Resources (OTCPK:SSPXF) and Panoro Minerals (OTC:POROF).
And as we have already mentioned the usual suspects in the royalty and streaming niche, we cannot help but also talk about Osisko Gold Royalties (OTC:OKSKF), a smaller and relatively new player in this field which is building a portfolio of Canadian interests. The company has not only picked up some very attractive royalties, but is also directly investing and taking an active hands-on approach in selected juniors. Judging from market valuations this approach seems to be working for Osisko, but less so for Aurico Metals (OTCPK:ARCTF) which actually owns a development project in British Columbia along with a growing royalties portfolio - confusing a market that doesn't seem to able to decide whether Aurico is a royalty play, or a mine developer.
And speaking of innovating, the royalty business leads us to Abitibi Royalties (OTC:ATBYF) which has been offering to pay claim fees for distressed junior explorers in exchange for royalties on these claims. Somewhat surprisingly for this humble scribe the company has been able to collect numerous interesting royalties, many of them nearology plays on existing mines.
And finally, and perhaps already way out there in the leftfield of the streaming playground, American Cumo Mining (OTCPK:MLYCF) has caught our eye. This development company is trying to move a large copper-molybdenum project in Idaho into production. To fund its activities, the company is selling Silver Stream Debentures giving the buyers the right to purchase an agreed amount of silver at a discount once the mine generates metal output in exchange for a loan.
And this concludes our cat skinning review. But before we move on, here are a few more news items connected in one way or another with the mentioned royalty and streaming companies.
Osisko Royalties must be aiming high judging from a C$150M bought deal that was announced in tandem with an issue of additional C$50M in convertible debentures with Investissement Québec. Closure of these two initiatives will position Osisko as yet another candidate to compete for one or more of the larger royalties and streaming deals currently for sale. Franco-Nevada has also replenished its fire power by raising $800M (or more) to pay for its latest stream, and bolster its cash position.
And there was more good news for Osisko as Richmont Mines (NYSEMKT:RIC) tripled reserves and increased grades by almost 30% at the Island gold mine to 561,700 ounces at 8.26 g/t. Osisko owns a 2-3% NSR on this asset and can justifiably expect expansion plans to gather momentum after this pleasing update, which also reported a reserve increase at Richmont's Beaufor mine. Production at the Island gold mine was 55,040 ounces in 2015, and in the operational outlook announced a couple days after the mentioned reserve update Richmont Mines guided for 2016 production within a range of 62,000 to 67,000 ounces. The Investment Doctor has said it before and here we flog that horse again: a combination of the Island mine and the nearby Magino project controlled by Argonaut Gold (OTCPK:ARNGF) would make a lot of sense and we hope the two neighbors are talking.
And talking of reserve statements that please royalty owners we also take note of Centerra Gold's (OTCPK:CAGDF) reserve update that showed a reduced reserve at the company's flagship Kumtor mine in the Kyrgyz Republic, but also included a maiden reserve for the Öksüt project in Turkey. Sandstorm Gold holds a sliding scale NSR on this project and plans to pour first gold by mid-2017 appear on track. However, even more to the point we note that True Gold Mining (OTCQX:RVREF) has started to stack ore on the leach pad at the Karma mine in Burkina Faso for which both Sandstorm Gold and Franco-Nevada hold a streaming agreement.
Staying on topic, we also point to Wesdome Gold (OTC:WDOFF) which announced a 13% reserve increase on top of a 112% (inferred) resource increase at its Eagle River mine in Ontario. Aurico Metals is the owner of a 0.5% NSR and will be pleased by this development as additional reserves not only replaced 2015 depletion, but also added roughly a year to the reserve based mine life.
Actionable Ideas
There have been plenty of (overly?) excited gold bulls posting this last week, so let's put a damper on and offer up a couple of bearish calls on selected miners here:
Primero Mining (NYSE:PPP) is overvalued and its business case is potentially broken argues Kees Decker eloquently as always in this article.
And yours humbly has some major concerns about Taseko Mines (NYSEMKT:TGB). Meanwhile, the company is blaming the Canadian government.
And before we go, we would like to give ourselves a pat on the shoulder for making the final selection of Seeking Alpha's 2016 Top Short Idea contest with this piece on Harmony Gold (NYSE:HMY) (but missing out on the actual prize money). Close, but still a cigar; and as is the case with most short calls, not everyone agrees.
News Releases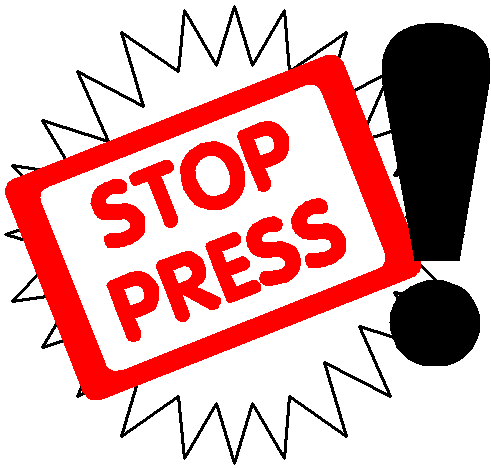 Busy week, plenty to summarize for our little nook of the market.
Lake Shore Gold (NYSEMKT:LSG) and Tahoe Resources (NYSE:TAHO) announced their business combination which will give shareholders of the former a 26% stake in the pro forma company, and the latter a foothold in the Canadian Timmins camp. The concurrent report on the updated Gap 144 resource has presumably aided this takeover which comes at a premium of anywhere between 14.8% and 30.4% depending on which metric one wishes to subscribe to.
In case you were worried about Mr. Makuch, rest assured that Lake Shore Gold's CEO won't be suffering too much as he is entitled to "[...] a payment equal to 30 months' salary plus an amount equal to 2.5 times the average of his previous two years' bonus payments, and benefits coverage for two years (or payment of an amount sufficient to obtain comparable benefits coverage)." If our math is correct, then that's C$1.65 for the salary component, plus C$2+M for bonuses or more if options are included. On a personal note, we find our very first article here on Seeking Alpha finally made redundant by this acquisition. Readers may pay homage to our inaugural piece by clicking here (disclosure: our entitlement is a penny per click).
NewCrest Mining (OTCPK:NCMGF) reported a geo-technical event at its Indonesian Gosowong mine which damaged portions of the mine and trapped one miner 300m below surface. Contact to the miner was established the day after who astonishingly confirmed that he was not only in good health, but also in good spirits. As this piece goes to press, progress in rescuing the man was reported, but without a time frame. As of Friday, the man allegedly remained in good spirits.
IAMGOLD (NYSE:IAG) and JV partner Merrex Gold (OTCPK:MXGIF) reported a maiden resource for the Diakha deposit located on the Siribaya JV project in western Mali which documented 129,000 indicated ounces at a grade of 1.9 g/t and 1.1M inferred ounces at 1.71 g/t. It's early days yet for this project, but IAMGOLD is pleased to show results despite the reduced exploration budget.
Lucara Diamond (OTCPK:LUCRF) has provided notice for the next exceptional stones tender to take place in April. This tender will not include any of the three previously announced exceptional diamonds recovered in November 2015; however, even without these record-breaking stones, there will be 10 diamonds with a total weight of 1,525 carat on display for this sale. Lucara has been able to achieve prices between $20,000 and $60,000 in previous tenders. On a lighter note, the company has also held a naming competition for the largest 1,111 carat specimen recovered in November, settling on Lesedi La Rona which means Our Light.
Avnel Gold (OTC:AVNZF) provided an update on its work towards the release of a DFS for its Kalana project in Mali towards the end of Q1. The update includes encouraging data on metallurgical recovery and also mentioned project plant design parameters that already foreshadow certain outcomes of the study.
Gold Standard Ventures (NYSEMKT:GSV) continues to keep its name in the news, this time by announcing that Oceanagold (OTCPK:OCANF) has exercised its right to increase ownership in the Nevada explorer to 19.9%. This bodes well for investors as a bidding war with fellow shareholder Goldcorp (NYSE:GG) would certainly constitute a desirable development for GSV shareholders down the road.
Randgold (NASDAQ:GOLD) posted another solid quarter, and the expected solid results for the full-year 2015. The company is priced for perfection and solid earnings of $0.48 per share for the quarter (and $2.03 for the year) cleared that bar. A 10% dividend increase to $0.66 per share and annum also helped to lift the share price on a day that was already buoyed by a rising gold price. Randgold also announced three new JVs to earn into gold projects in the DRC with Loncor Resources (OTCPK:LONCF), Kilo Goldmines (OTCPK:KOGMD), and Devon Resources respectively, but downplayed prospects of a big acquisition this year.
Peruvian Precious Metals (OTC:SNNGF) has received permits to commence test mining and underground bulk sampling at the company's Igor project in northern Peru. Bulk sampling on the Callanquitas structure will commence before the end of Q1 and should provide valuable information to complement the company's ongoing studies towards a PFS to be released later this year.
Excelsior Mining (OTCQX:EXMGF) released an update on the PFS for its Gunnison Copper Project in Arizona, the only other in-situ recovery copper project beside the Florence copper project in Taseko Mining's portfolio. At a post-tax IRR of 26.2%, assuming a $2/lb copper price, this must be one of the most attractive copper projects left standing, thanks in part to the recent acquisition of the adjacent Johnson Camp Mine that facilitates a staged development approach. Although the in-situ extraction method has been applied successfully in many cases for uranium it has yet to be proven for copper and we suspect that markets will remain skeptical until the concept is permitted and proven.
Cliff Natural Resources (NYSE:CLF) has settled a class action to the tune of almost $85M which the company says will be covered by its insurer.
Acacia Mining's (OTC:ABGLF) earn-in at Sarama Resources' (TSX ticker SWA) South Hounde project is showing promising results that have culminated in a 40% resource increase to 2.1M ounces. Importantly, this resource contains almost 0.5M ounces of oxidized material at a grade of 1.2 g/t. Endeavour Mining (OTCQX:EDVMF) will be announcing development plans for its Hounde project before long, and again there might be scope for nearology-driven speculation here.
Could it be that Orocobre (OTCPK:OROCF) is finally finding its stride at its Olaroz Lithium Facility in Argentina? The latest announcement indicates that after concluding the de-bottlenecking program in December, production is finally picking up. January production was reported to 699 tonnes of lithium carbonate, and output for February and March is projected at 850 tonnes per month on average. These numbers are substantially higher than the much-touted break-even production rate of 600 tonnes per month, but still only 60% of the number stenciled into the facility's nameplate. In answering the Doc's question of last September, Orocobre is now planning to reach nameplate production rates by September.
Alacer Gold (OTCPK:ALIAF) reported production of 204,665 ounces of gold at its Cöpler mine in Turkey at all-in sustaining costs (or AISC) of $690/oz for the full-year 2015. Following the script laid out here, production will drop off to 150,000 to 170,000 ounces in 2016, and we expect AISC to rise towards the $800/oz-$850/oz range.
Taseko Mines hopes to save up to C$0.15/lb copper produced at its Gibraltar mine in British Columbia under a power cost deferral agreement it has signed with BC Hydro. Although positive in the short run, we don't see this initiative as reason enough to modify our bearish view on the company just yet.
KGHM Polska Miedz (OTC:KGHPF) has flagged write-downs on key foreign assets of $1B to be recognized in the 2015 annual report. The Sierra Gorda mine in Chile alone will account for more than half of this sum, a copper mine acquired at the height of the market in 2011 when the European major bought out Quadra FNX in a $2.84B deal.
Maya Gold & Silver (OTC:MYAGF) reported another month with record production at its Zgounder silver mine in Morocco. The company achieved output of 52,086 ounces in January. Our favorite Doctor has kept mum on this junior silver miner for much too long.
Indonesia's Energy and Mineral Resources Ministry blinked first and proceeded to deliver a recommendation in favor of Freeport-McMoRan (NYSE:FCX) and its intention to continue copper concentrate shipments from its Grasberg mine. The new license was granted for a 6-month period only, and Freeport-McMoRan had to agree to continue paying a 5% export tax. Another and much more important stand-off is still to come as the major is seeking an extension to its contract to operate the mine which expires in 2021.
Denison Mines (NYSEMKT:DNN) intersected more high-grade uranium 100m to the North of its Gryphon deposit in the Athabasca Basin. If certain assumptions can be confirmed, then this newly found mineralization has the potential to add substantially to the existing inferred resource of 43M lbs U3O8 at a grade of 2.3% U3O8 at the Gryphon deposit.
First Majestic Silver (NYSE:AG) has consolidated its debt into a new senior secured $60M facility, deferring repayments until February 2019. Concurrently the company has closed out its base metal hedges for a gain of $5M. This move further strengthens the silver miner's balance sheet and puts the company into a position of strength for potential corporate activities this year.
Continental Gold (OTCQX:CGOOF) was punished while other gold miners soared; as explained in time and in detail for subscribers to Itinerant Musings there are plenty of reasons for investors to cut losses now.
The weekend is nigh, and this post has grown long in the tooth. We bid youse all a farewell and hand the reins on to the Doc who will without doubt take good care of this newsletter next week. Be safe and take care out there.
Disclosure: I am/we are long SAND, SLW, AG, LUCRF.
I wrote this article myself, and it expresses my own opinions. I am not receiving compensation for it (other than from Seeking Alpha). I have no business relationship with any company whose stock is mentioned in this article.
Editor's Note: This article covers one or more microcap stocks. Please be aware of the risks associated with these stocks.