Plains All American (NYSE:PAA), one of the leading pipeline operators in North America, has been hit harder than most MLPs, which is also acknowledged by the company's management. The partnership's units have fallen almost 53% over the last six months which compares against the peer average drop of 42%, as measured by the ALPS Alerian MLP ETF (NYSEARCA:AMLP). Consequently, Plains All American now offers a yield of over 16%, significantly higher than its five-year average of around 5%. But despite the juicy yield, investors should steer clear of this stock.
Crude oil MLP
Plains All American is an inherently risky MLP for the downturn since it primarily transports crude oil, rather than refined products. It is the largest crude oil centric MLP with a leading position in virtually every oil producing region of the US and Canada. Plains All American alone serves nearly half of North America's refining capacity. A weak oil price environment that negatively impacts crude volumes has dimmed Plains All American's future prospects. But on the flip side, cheap oil has strengthened the demand of refined products, such as gasoline. MLPs like Magellan Midstream Partners (NYSE:MMP), which mainly transport refined products, are the only ones who can profit from this strong demand.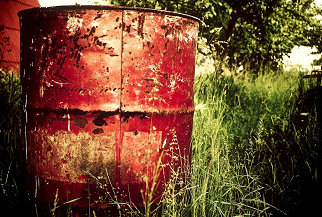 Stock image
The negative impact of cheap oil prices was already evident in its latest quarterly results when Plains All American posted 5.2% drop in adjusted earnings and 7.7% drop in implied distributable cash flows. The company has admitted that the growth in transportation volume, particularly from the Permian Basin, was worse than expected. I believe that as we head deeper into the downturn, with oil remaining in the high-$20s to mid-$30s a barrel window, Plains All American will likely witness further slowdown in transportation volume growth and it will find it difficult to improve the adjusted earnings and distributable cash flows.
Financial health
In the tough business environment, I believe that investors should play it safe and avoid MLPs that have a stretched balance sheet and poor coverage ratio of less than 1x. Plains All American's financial health is less than pristine. It does have ample liquidity of close to $3.9 billion, including $1.6 billion of new financing secured earlier in January from private equity. The company believes that this should satisfy its equity financing needs for this year and nearly all of 2017. The liquidity alone should easily cover this year's capital budget of $1.5 billion for growth projects and up to $210 million for maintenance.
But Plains All American has high leverage, with a total long-term-debt to adjusted EBITDA ratio of 4.8 times, slightly below the 5-times mark which is generally considered alarming in the MLP space. Moreover, Plains All American is also not generating enough cash to cover its distributions. The MLP's distributable cash flows have fallen, as mentioned earlier, but it has kept the cash distributions flat. Consequently, the coverage ratio fell from a decent 1.11x in Q4-2014 to an uncomfortable 0.88x in the latest quarter. The partnership cannot continue paying lofty distributions that exceed the distributable cash flows in the long run, even with support from lower capital spending and non-core asset sales. Eventually, if the market conditions fail to improve in the coming quarters, then Plains All American will be forced to slash distributions.
Over promising
On top of this, Plains All American has frequently missed market's consensus estimate. Its recent quarterly results were particularly disappointing in which it failed to meet its own guidance set just 13 weeks earlier. Its fourth quarter transportation volume increased by just 4.1% from a year earlier, significantly below the mid-point of guidance of a little less than 10%. Adjusted earnings fell 5.2% from the prior year to $563 million, below the low end of the company's guidance of $565 million to $625 million. The 7.7% drop in implied distributable cash flows was also greater than the projected decline of 2.4%. This clearly reflects poorly on the management and raises doubts on their ability to deliver on future promises.
Plains All American has made plenty of promises. It expects to increase the adjusted EBITDA by 4.9% this year to $2.27 billion while improving the coverage ratio to a more comfortable level of 1.05x-1.1x and leverage to around 3.5 times to 4.0 times in the coming years. But I believe that the MLP is over-promising.
Plains All American's guidance is based on $47.50 per barrel oil price environment, which I believe, which seems rather optimistic. Crude has been hovering in the low-$30s in 2016 while many analysts, including Moody's, believe oil will average less than $40 a barrel this year. A number of companies, such as Canada's largest oil and gas producer Suncor Energy (NYSE:SU), have also recently slashed their oil price outlook. Suncor Energy expects Brent and WTI to average around $40 and $39 per barrel in 2016. Plains All American will likely fail to meet these targets. Either this or it will reduce the future guidance.
For these reasons, I believe investors should play it safe and avoid Plains All American.
Disclosure: I/we have no positions in any stocks mentioned, and no plans to initiate any positions within the next 72 hours.
I wrote this article myself, and it expresses my own opinions. I am not receiving compensation for it (other than from Seeking Alpha). I have no business relationship with any company whose stock is mentioned in this article.