Important note: This article is not an investment recommendation and should not be relied upon when making investment decisions - investors should conduct their own comprehensive research. Please read the disclaimer at the end of this article.
Antero Resources (NYSE:AR) provided a preliminary reserve report for year-end 2015. The reported PV-10 metrics provide valuable insights into the company's drilling economics and asset value potential.
Please note that the company's proved and 3P reserve estimates were prepared by its internal reserve engineers and audited by DeGolyer and MacNaughton.
A Positive Reserve Report
Proved Developed: Antero's proved developed reserves were 5.8 Tcfe at year-end 2015, a 54% increase from year-end 2014. Increases in PDP reserves, alongside increases in production volumes, are key measures of the company's growth. Changed in proved reserves, on the other hand, can be "noisy" and even misleading, due to PUDs dynamics.
Antero added 69 Marcellus and 62 Utica wells to proved developed reserves in 2015, spending $1.65 billion on drilling and completion costs.
PUDs: Antero's proved undeveloped reserves were 7.4 Tcfe. The PUDs are estimated to require $5.1 billion of future development capital over the next five years. This equates to an average future development cost of $0.69 per Mcfe for the PUDs. The future development capital includes the assumption of legacy service contract expirations over the next year and replacement with current market-based contracts. As such, this metric reflects development cost economics during the cycle's trough.
As supply chain re-inflation is likely to occur during the cyclical recovery, future development costs may end up being impacted. Furthermore, I estimate that additional costs related to field infrastructure may represent as much as ~10% of the development cost included in the report estimate.
Antero reclassified ~2.3 Tcfe of its PUDs to the probable category in the eastern portion of its Marcellus acreage. The acreage, primarily dry gas acreage, is currently dedicated to a third-party midstream provider and has a higher operating cost structure and do not receive liquids-related pricing. As a result, these locations are no longer expected to be drilled within the next five years under the company's development plans under SEC pricing.
On the positive side, Antero was able to include 1.1 Tcfe of ethane reserves in its 2015 Marcellus proved reserves. The inclusion became possible as the first de-ethanizer was placed on line at the MarkWest Sherwood facility in December and Antero's first international ethane sales contract is expected to commence in 2017 upon the completion of Mariner East 2 pipeline project. The remaining Marcellus ethane reserves, as well as the Utica ethane reserves, continue to be carried as natural gas reserves.
2P Reserves: Antero estimated its 2P reserves at 34.7 Tcfe (28.4 Tcfe in the Marcellus and 6.3 Tcfe in the Utica). Antero removed Upper Devonian Shale reserves from its 2P reserves due to lower commodity prices.
Dry Gas Utica: With regard to dry gas Utica, no West Virginia or Pennsylvania Utica dry gas locations were included in the 2P reserves at year-end 2015, with the exception of one producing well, due to the play's early evaluation stage.
Leasehold Position
As of year-end 2015, approximately 30% of Antero's combined 569,000 net acre leasehold position was classified as proved. During 2015, Antero added 27,000 net acres in the Marcellus Shale in northern West Virginia while its Utica Shale position in southern Ohio was reduced by 1,000 net acres. The leasehold costs included $39 million for acquisitions and $160 million for land.
The PV-10 Value
PV-10 estimates are perhaps the most interesting element of Antero's report.
The year-end pre-tax PV-10 value of Antero's proved reserves (13.2 Tcfe) using SEC pricing ($2.56 per MMBtu unescalated Nymex price for natural gas) is estimated by the company to be $3.6 billion (the table below).
For 3P reserves (~37 Tcfe), the same PV-10 metric is estimated to be $3.7 billion.
The comparison of the 1P and 3P PV-10 metrics indicates that in the absence of hedges, development economics on the company's acreage is essentially uneconomic at $2.56 per MMBtu Nymex price for natural gas (and $23 per barrel C3+ NGL price).

(Source: Antero Resources, January 27, 2016)
Development economics improve substantially under the December 31, 2015, strip pricing scenario.
Antero estimated that assuming year-end strip pricing, the pre-tax PV-10 value of its year-end 2015 3P reserves would be $11.2 billion, as compared to $5.7 billion value of the proved reserves under the same price scenario.
In other words, the PV-10 contribution of the proved and possible reserves goes from $0.1 billion to $5.5 billion as one goes from the SEC pricing to the year-end 2015 strip pricing. The strip pricing scenario is based on December 31, 2015, strip curve for natural gas for the first ten years, kept flat thereafter. The average natural gas price in the first 10 years is ~$3.23 per MMBtu. NGL pricing assumes 39%, 46% and 48% of WTI strip prices.
The PV-10 value obviously needs to be viewed in the context of Antero's hedges which play a pivotal role in the company's operating plan.
Including hedges, Antero's PV-10 value of proved reserves is estimated by the company to be $6.7 billion under the SEC pricing and $8.2 billion under the year-end 2015 strip pricing.
The following slide shows allocation of the PV-10 value between Marcellus and Utica and by reserve category.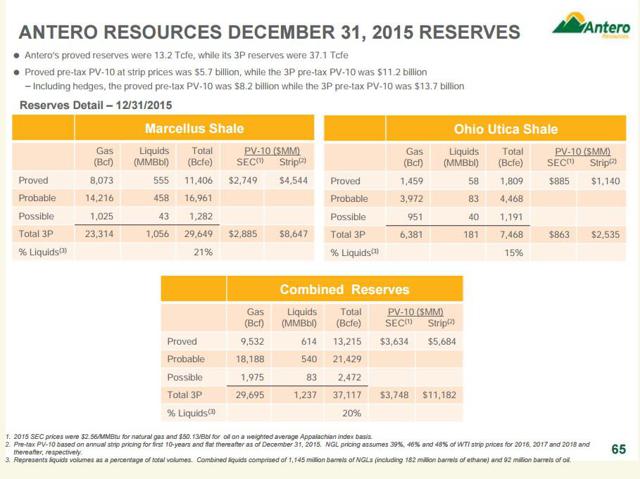 (Source: Antero Resources, January 27, 2016)
Valuation Considerations
Excluding the market value of Antero's interest in Antero Midstream Partners LP (NYSE:AM) - $2.2 billion at AM's current stock price of $19.24 per share, as of February 12, 2016 - and Antero Midstream's debt of ~$0.5 billion, the implied enterprise value of Antero's E&P segment currently stands at ~$9 billion.
Once hedges are included, the gap between Antero's PV-10 value of proved reserves and the enterprise value of the E&P segment is not huge if one were to assume longer term prices for natural gas above $3 per MMBtu.
Taking in consideration the value deduct related to the company's corporate overheads (which are not captured by the PV-10 calculation), I conclude that the current stock price valuation effectively reflects a future natural gas pricing in the $3.25-$3.50 per MMBtu range.
Given the strong protection by hedges over the next approximately four years, Antero is to a significant degree insulated from the near-term weakness in natural gas prices. In the longer term, natural gas pricing below $3 per MMBtu appears incompatible with the expected demand growth. As such, I view the current stock price as continuing to represent a favorable risk/reward balance, based on the company's estimates.
As always, long-term well performance and assumptions used by the company when preparing its reserve estimates represent risks to valuation.
An upside may be associated with future improvements in extraction techniques and operating efficiencies. Dry gas Utica is an emerging play that may also offer upside, particularly if its drilling economics match or exceed those within the company's best areas.
Implications For Natural Gas Prices
Antero's reserve report is also interesting from a macro perspective.
Antero is a highly successful and, arguably, efficient operator in prolific areas of the Marcellus and Utica plays. The fact that the company's drilling economics are obviously challenged under natural gas pricing scenarios below $3 per MMBtu suggests that industry-wide production growth will likely require higher natural gas prices to be sustainable.
However, the company's estimates also suggest that a relatively small improvement in natural gas prices - to a ~$3.50 per MMBtu range - would likely provide a meaningful economics incentive for an increase in drilling activity.
For more in-depth data and analysis of commodity fundamentals, please consider subscribing to Zeits OIL ANALYTICS that provides in-depth analysis of global and North American crude oil market.
The fundamentals discussed in this note may be relevant to natural gas-focused ETFs, such as:
Disclaimer: Opinions expressed herein by the author are not an investment recommendation and are not meant to be relied upon in investment decisions. The author is not acting in an investment, tax, legal or any other advisory capacity. This is not an investment research report. The author's opinions expressed herein address only select aspects of potential investment in securities of the companies mentioned and cannot be a substitute for comprehensive investment analysis. Any analysis presented herein is illustrative in nature, limited in scope, based on an incomplete set of information, and has limitations to its accuracy. The author recommends that potential and existing investors conduct thorough investment research of their own, including detailed review of the companies' SEC filings, and consult a qualified investment advisor. The information upon which this material is based was obtained from sources believed to be reliable, but has not been independently verified. Therefore, the author cannot guarantee its accuracy. Any opinions or estimates constitute the author's best judgment as of the date of publication, and are subject to change without notice. The author explicitly disclaims any liability that may arise from the use of this material.
Disclosure: I/we have no positions in any stocks mentioned, and no plans to initiate any positions within the next 72 hours.
I wrote this article myself, and it expresses my own opinions. I am not receiving compensation for it (other than from Seeking Alpha). I have no business relationship with any company whose stock is mentioned in this article.