By Eirik Nordgaard
The Cheesecake Factory (NASDAQ:CAKE) is set to report its fourth quarter financial results after the market close on Tuesday, (2/16). The restaurant and baking chain has a recent positive track record of beating earnings estimates. In 3 out of the 4 trailing last quarters, the company has beat the estimates with an average beat of 2.74%. Comparable same-store sales in peak hours are expected to have increased due to management's effort to reduce waiting time by improving cooking and training methods.
However, as we mentioned in our analysis for Red Robin Gourmet Burgers (NASDAQ:RRGB) last week, food costs and labor expenses will be the determining factors. Increasing food prices along with costs related to their international expansion efforts could overshadow the positive increase in comparable same-store sales. Wall Street is anticipating The Cheesecake Factory to announce earnings of 52 cents per share and revenue of $539.13 million for the quarter.
Fundamental Analysis
We populated the analyzer with The Cheesecake Factory's main competitors in the casual dining industry to project how its financial fundamentals compare to its peers. For this analysis, we used EBITDA and Revenue Multiples, MarketCap to Revenue and Total assets and P/E to compare The Cheesecake Factory against Darden Restaurants (NYSE:DRI), DinEquity (NYSE:DIN), Panera Bread (NASDAQ:PNRA), and Brinker International (NYSE:EAT). By running the fundamental measures in comparison to these companies, we received an implied share price of $69.48. With the end of day trading price of $48.21 (2/12) The Cheesecake Factory is undervalued with 42.04%.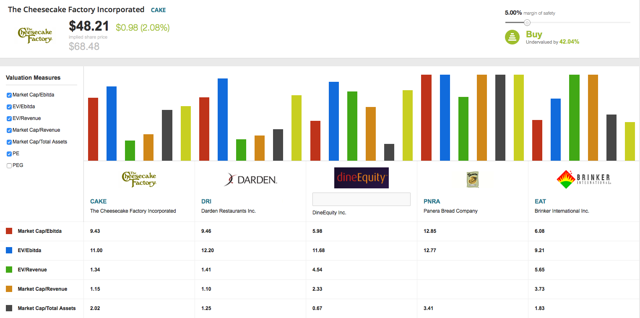 Technical Analysis
We also analyzed the technicals on the daily chart in order to see where the stock price could potentially move to on the release of earnings. With an entry price of $48.23 and a reported loss on earnings, the stock has the potential to fall to $46, for a 4.62% loss. With an entry price of $48.23 and a reported beat on earnings, the stock has the potential to rise to $49.30 for a 2.22% gain. The risk/reward ratio for this trade is 0.48.