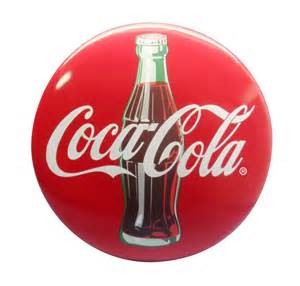 Beverage giant Coca-Cola (NYSE:KO) is a stock that has been defying gravity over the last few months. Shares of KO have managed to hold up quite well in the recent market malaise as the company's dividend has no doubt played a part in keeping investor interest in the stock elevated. Last October I laid out a case for why I thought KO was expensive at $43 and while the stock has bounced around since then, it is still within pennies of where I said it was expensive. The company's Q4 earnings were very well received and the stock is once again trying to make new highs. But is $43 where investors should be putting new money to work or is KO going to fail at $44 once again?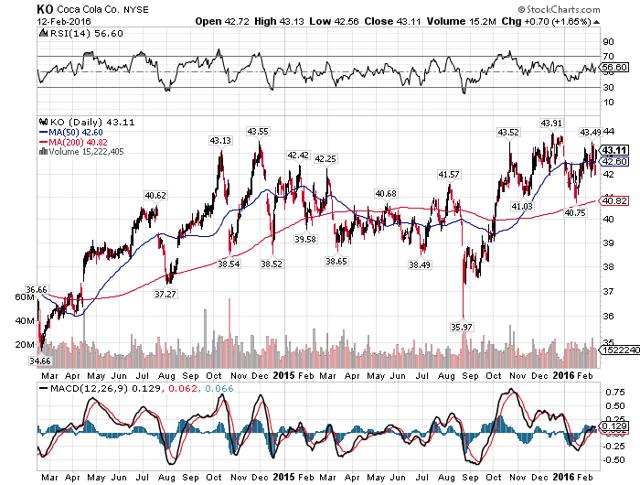 My main concerns with KO in the past - outside of its lofty valuation - have been surrounding volume and the strong dollar. KO has been struggling to produce even flat volume at times in the past and the dollar has been crushing results for several quarters now for just about any multinational. For KO, the impact of the dollar far exceeded any volume or pricing gains it could muster and with solidly negative revenue growth, I wasn't a big fan of the stock. But that hasn't stopped investors from bidding the stock up in recent months to near its highs so let's take a look at the progress KO has made on these fronts.
In Q4 the company's volume was actually pretty strong, coming in at +3% as still beverages shined. KO has been having a difficult time pushing Diet Coke in particular in recent quarters but soda sales in general have slowed. But growth in the company's still offerings is helping to make up some of the slack from weaker sparkling beverages and I have to say, I was impressed with KO's volume gains in Q4. I have been very bearish on the company's volume prospects but I was pleasantly surprised with Q4's numbers. That's a big hurdle for KO to clear in my mind as that kind of volume growth can be enough to keep the stock afloat.
In addition, pricing was strong once again as KO saw a further 2% gain in Q4 from that. KO's pricing has remained strong for the most part so I wasn't shocked at this number but the combination of strong pricing and volume gains really was quite good. However, despite the gains, currency translation removed 7% of revenue during the quarter in a continuation of what I have been saying for some time now; KO is especially beholden to the dollar since it gets so much of its revenue from overseas. The company's leverage to the dollar was an enormous negative in 2015 but recent developments suggest that may not be the case in 2016.
Since 2016 began the dollar has been hammered against many of the world's major currencies. Utter confusion caused by the Fed's guidance has led to chaos in the currency markets and for now, that volatility is benefiting KO. A significant portion of my bear argument on KO last year was the idea that the Fed would raise rates several times in 2016 and that would cause immense strength in the dollar, a significant negative for KO. However, a tremendous amount of doubt has been cast upon the Fed's rate hike guidance in recent weeks and that has led to weakness in the dollar, which should provide KO with a very nice removal of a huge headwind. If the dollar stays down in 2016, KO stands to benefit immensely. We are still early on in 2016 but recent action in the dollar is very encouraging for KO.
KO forecast that currency translations would be a 4% headwind in 2016 and given that KO attempts to hedge currency moves, it is difficult to say how it arrived at that number. It is possible that KO is hedged to the point where a weak dollar wouldn't accrue a large benefit to KO but I have to think that, given its guidance for a more muted impact in 2016, KO does stand to benefit. Again, we'll just have to wait and see but one thing I'm pretty sure of is that KO won't lose 7% or 8% of its revenue to currency losses again in 2016.
All of that being said, KO is still very expensive. It is trading for 22 times this year's earnings and 20.8 times next year's earnings. Both of those estimates include negative revenue growth, something that may or may not occur depending upon the company's exposure to moves in the dollar. Volume is picking up and KO is maintaining its pricing power in addition to productivity gains that are improving operating margins; that means there is some hope for the company to get close to flat EPS for 2016. The biggest variable right now is currency translations and for now, the weaker dollar is in KO's favor.
Everyone always talks about KO's dividend and of course, that is the reason most people buy the stock. The current forward yield is just over 3% but we'll be getting a raise here in the coming weeks so I expect the forward yield at the current price will end up being something like 3.2%. That's a nice yield and you can certainly do a lot worse but the stock is still expensive at these levels.
In addition, KO will trade sideways or down from these levels until it can clear $44 convincingly. The stock has tried to clear the $44 area repeatedly over the past couple of years but each time, it has been rebuffed. The fact that investors continue to push the stock to that level is encouraging but at the same time, the fact that it runs into a brick wall at $44 each time is decidedly less so. KO needs to push through $44 and if it does, it could take off higher. However, there is a lid on the stock right now and until it can clear $44, you are just collecting the dividend and not betting on capital appreciation. The ~3.2% yield after the impending raise is a nice consolation prize even if the stock doesn't move higher but given recent moves in the dollar, it seems more likely than ever to me that KO will make a run at $44+. So for that reason, I'm flipping to bullish here as I think KO's stronger fundamentals and the weaker dollar could be the catalysts needed for KO to set new highs.
Disclosure: I/we have no positions in any stocks mentioned, but may initiate a long position in KO over the next 72 hours.
I wrote this article myself, and it expresses my own opinions. I am not receiving compensation for it (other than from Seeking Alpha). I have no business relationship with any company whose stock is mentioned in this article.