In my previous article, Only 9% of Nasdaq Biotech Stocks Are Good Value: I am Shorting the Sector and Watching Gilead, I outlined my concerns with the biotech bubble, and how only 9% of Nasdaq components were good value investment picks. With only such a small portion of the components being profitable and having favorable valuation, a bearish view of the industry was fitting. Since then, Proshares Ultra Nasdaq Biotechnology (NASDAQ:BIB) has taken quite a downturn, which has also been strongly catalyzed by politicians speaking out against price gouging in the industry. Companies with strong fundamentals represent strong picks amid the sentiment based sell off that is occurring.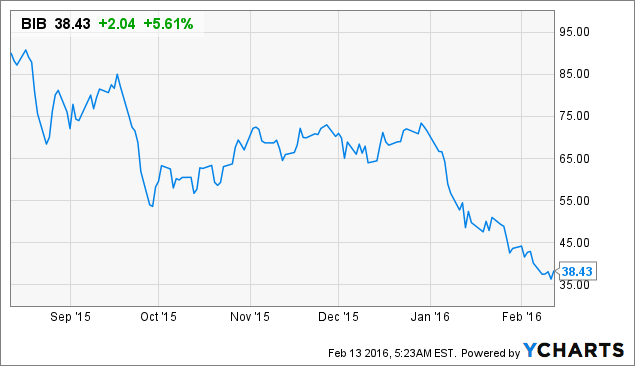 Nasdaq Biotech components have declined substantially from the price levels experienced during early October, and I have decided to end my short position, and to begin examining value based investment options for American and Indian biotechnology companies.
Opportunities for Nasdaq Biotech Components
In October last year, I filtered Nasdaq components based on valuation and profitability, to determine which companies might be strong picks amid a strong sell off. Among these components, I have been focusing on Gilead Sciences(NASDAQ:GILD), Amgen Inc.(NASDAQ:AMGN), and Biogen Inc.(NASDAQ:BIIB) based on these companies havinng strong fundamentals and promising drug pipelines.
| | | | |
| --- | --- | --- | --- |
| | | | |
| P/E | 7.51 | 15.97 | 16.12 |
| Forward P/E | 7.22 | 11.96 | 12.29 |
| Profit Margin | 55.48% | 32.03% | 32.95% |
| ROE | 103.61% | 25.77% | 35.60% |
| ROA | 32.17% | 7.73% | 18.54% |
Since early October, all three of these companies' stock prices have declined:
Gilead's stock price has declined by 10.8%
Amgen's Stock Price has had a negligent decline(nearly 2.2%)
Biogen's stock price has declined by 11.5%
Gilead: With Sovaldi and Harvoni treatments currently costing around $84,000 and $94,500 for 12 weeks, respectively, the company is extremely vulnerable to continued criticism of price gouging. The investigation from Massachusetts, as to whether the trade practices are in violation of law, further offsets the appeal of Gilead's low valuation. Strong political emphasis of the corruptness of price gouging has appeared lately, which leads me to take a wait and see attitude. Apart from financial fundamentals, I would feel wary investing in a company that financially strains our domestic population, when India clearly has something to offer.
Amgen: Amgen continues to deliver conservative growth for its oncology portfolio, led by Neulasta and Nplate. Its joint venture with Samsung Biologics has resulted in the introduction of a biosimilar of enebrel in the EU, while Novartis AG is close behind developing a biosimilar. Amgen is on my radar, and would be a strong pick in the event of a sell off.
Biogen: Biogen has responded to slowed sales of its MS portfolio by cutting 11% of its staff, allowing it focus on developing its MS, SMA, and Alzheimer drug pipeline. Moreover, increased sales and marketing efforts for tecfidera will further attribute to the company's pipeline success.
I will continue monitoring various value based investment options for these Nasdaq biotech components, in the event that the sell off continues. Although there are certainly limitations to financially analyzing biotech companies similar to consumer products companies, based on valuation and consistent financial performance, I see this as a means to mitigate risk amid the biotech sell off. Moreover, with America beginning to move towards a bear market, as seen by the sell off beginning this year, extra attention to fundamentals is befitting in all industries.
Taro Pharmaceuticals: Hello I'm Over Here
While larger Nasdaq Biotech components may present opportunity in the future, Taro Pharmaceutical Industries (NYSE:TARO) necessitates more attention from investors. The company has strong financials, a strong pipeline of products, yet has been undercovered by mainstream analysts; the company's stock has also historically delivered similar gains to other biotech gems.
| | |
| --- | --- |
| P/E | 10.78 |
| Forward P/E | 9.75 |
| Profit Margin | 58.49% |
| ROE | 37.79% |
| Liabilties/Equity | 0.18 |
| Current Ratio | 6.7 |
Valuation for Taro is certainly attractive, and its profitability surpasses Biogen and Amgen. The most obvious element of this company's financials that makes a golden and conservative pick is its low level of debt. Its Liability/Equity is only 0.18 and its current ratio is 6.6, which certainly makes it an outstanding outlier in this industry.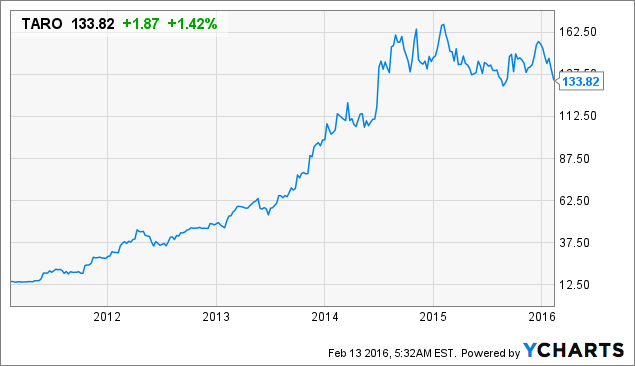 Taro's stock price has more than quadrupled since early 2012, yet it still remains a strong value investment pick. Moreover, it has a strong pipeline in the works:
The company has received FDA approval for its drug Keveyis, the first drug approved by the FDA for the treatment of primary hyperkalemic and hypokalemic period paralysis
The company also has approximately 34 ANDAs awaiting FDA approval
Taro has delivered strong financial growth in the past driven by its diverse portfolio of dermatology, cardiovascular, anti-inflammatory products, and derives the majority of its revenue from its operations in America.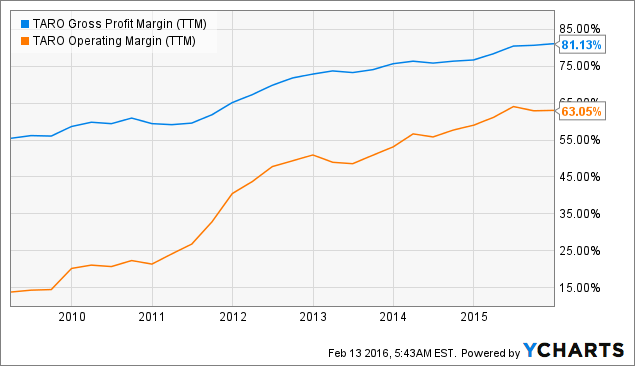 TARO Gross Profit Margin (NYSE:TTM) data by YCharts
The company's profitability has consistently improved since 2010.
Dr. Reddy's: I Bought The Dip
Dr. Reddy's(NYSE:RDY) has also been a company I have been watching closely, and I chose to take advantage of a sell off that occurred in November. One of Dr. Reddy's(RDY) factories received a warning letter from the FDA late in November, which caused a strong sell off of its stock. The manufacturing site that was in question accounts for 10-12% of the company's sales.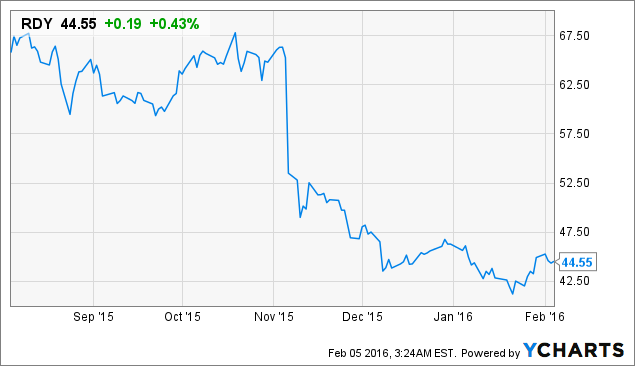 I have previously built a long term futuristic case for India's biotechnology industry and this company, and saw this short term drop as a wonderful buy opportunity. Some new company developments include the following:
The company has received FDA approval for zembrace, to be used for the treatment of migraines for adults.
The company also has a tentative FDA approval for zenazod capsules, to be used for the treatment of inflammatory lesions
The company has relaunched the generic nexium in America to treat acid reflux(the drug was originally denied due to its purple color)
Conservative Holds/Wait and See With Others
For now, I plan to hold Dr. Reddy's and may initiate a position in Taro, while watching the market for strong sell offs for Nasdaq Biotech components (especially if this continues for Gilead and Biogen). Moreover, I will also continue to monitor strong pharmaceutical manufacturers which I have previously mentioned, including Novartis (NYSE:NVS) and Merck (NYSE:MRK). Biotechnology is perhaps one of the most salient industries in America, and I like to emphasize risk mitigation through my writing and investing, providing a conservative investment approach to this industry, that is still capable of delivering strong returns.
Disclosure: I am/we are long RDY.
I wrote this article myself, and it expresses my own opinions. I am not receiving compensation for it (other than from Seeking Alpha). I have no business relationship with any company whose stock is mentioned in this article.