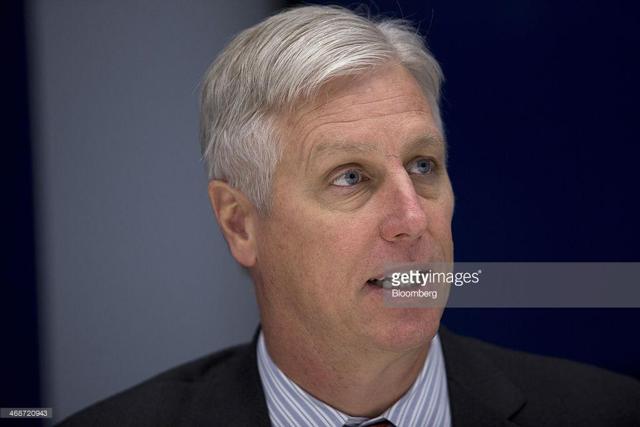 Gilead CEO John Milligan
Early last year I bet the pharm on Gilead (NASDAQ:GILD). Despite consistently beating earnings estimates GILD never lived up to my expectations. Since, there has been speculation whether the stock is headed lower due to declining earnings or due to peaking HCV sales. In my opinion Q4 2015 results confirmed it -- the pharm has peaked.
GILD is off about 12% over the past year, versus a 20% decline in the biotech index (NASDAQ:IBB) and a 10% decline in the S&P 500 (NYSEARCA:SPY). I expect the stock to fall further with a general pull back in global markets.
HCV Sales Have Peaked
Q4 revenue was up 2% sequentially, which HCV product sales were also up 2%.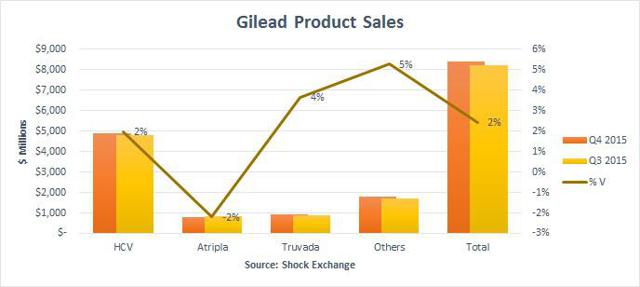 HCV sales improved over the 2% decline reported in Q3. However, double-digit growth or even mid-single digit growth may be a thing of the past.
HCV sales represented 58% of total revenue in Q4 2015, down from a peak of 61% in Q1 2015. Gilead isn't the one-trick pony I labeled the company as in Q1; its non-HCV sales were up about 3% Q/Q, outpacing HCV sales. However, GILD's meteoric rise was driven by explosive growth in HCV sales. Now that HCV sales appear to have peaked, it could create further negative sentiment for the stock.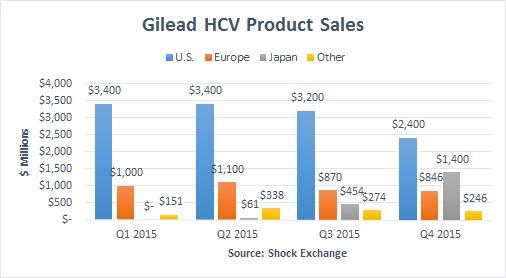 HCV sales fell in every region except for Japan which is still ramping up. Ex-Japan, HCV sales were off 20% Q/Q.
HCV starts in the U.S. peaked in Q1 2015 at 70,000. Q4 starts fell 3% sequentially to 58,000 while sales of $2.4 billion were down 25%. Gilead was negatively impacted by lower VA sales. Congress allocated $500 million in additional funds to the VA for HCV treatment. Those funds were used up in Q3 which hurt HCV starts in Q4. Congress allocated $1.5 billion to VA HCV treatment in 2016.
HCV sales in Europe fell 3% Q/Q. Starts were flat at 30,000, but revenue per start fell by mid-single digits as several countries took advantage of volume-based incentives.
HCV sales in Japan were downright gaudy, increasing from $454 million in Q3 to $1.4 billion this quarter.
Q1 2016 will likely reflect a push-pull of new VA starts in the U.S. and new starts in Australia, versus declining revenue in Europe and Japan. Starts in Japan may trail off as Q4 may have reflected a number of warehoused patients waiting for HCV treatment. Secondly, Japan might demand steep price concessions due to the rapid sales growth of Sovaldi/Harvoni.
Price Cuts Are Coming
The features that have made Gilead a company of interest to hedge funds and individual investors is the size of the HCV market (150 million infecteds), and Sovaldi/Harvoni provides a cure. This also makes Gilead a target of politicians. Presidential candidates Bernie Sanders and Hillary Clinton want to make the drug cheaper for Americans; their criticisms of the company have gotten the attention of the populace and other lawmakers.
The fact that HCV prices are cheaper in Europe and emerging markets vis-a-vis the U.S. does could be damaging to Gilead. Secondly, I am on record that the global economy is headed for a fall. The folly of record low interest rates from central bankers is starting to materialize. Budget constraints could force foreign governments to demand steeper price concessions. If unemployment rises and wage growth stagnates as I suspect, Gilead might be forced to cut prices domestically. It could be a public relations nightmare to maintain current prices if the country falls into recession.
Longs will point to a low p/e ratio and stock buybacks as catalysts for GILD. Secondly, I believe the company will improve upon its 66% operating income margins by cutting R&D and SG&A costs. However, Gilead continues to face strong headwinds to top line growth and investors should avoid the stock.
Disclosure: I/we have no positions in any stocks mentioned, and no plans to initiate any positions within the next 72 hours.
I wrote this article myself, and it expresses my own opinions. I am not receiving compensation for it. I have no business relationship with any company whose stock is mentioned in this article.