The rapid growth biotechnology industry has been experiencing, can be attributed to the reorganization of most pharmaceutical companies. The new reality includes a significant dependence on external development with further in-licensing of compounds. To understand the pipeline of pharmaceutical businesses, investors mostly depend on the information garnered from the company's corporate website. But such information is not comprehensive enough, as it does not fully capture the quality of Business Development team.
For this reason, I have tried to evaluate the effectiveness of present partnering programs at major Pharma and Biotech companies. To do this, a co-development proposal in Neuroscience (diagnostics and biomarkers) has been sent to a total of 29 firms, including startups. The conditions of offer were made extremely favorable and required no investment from contacted company. The products could be developed using public financing. Financial projection for the proposal was $30m in additional annual revenue. The results of partnering test will surprise most investors. Only 6 companies gave any answer. The list of responders:
1)Eli Lilly (LLY),
2)Genentech (OTCQX:RHHBY),
3)Sanofi (SNY),
4)Amgen (AMGN),
5)Vanda Pharmaceuticals (NASDAQ:VNDA),
6)Synapdx (startup).
Those that did not respond include: Pfizer (PFE) (none of 4 contacts answered), AstraZeneca (AZN), Allergan (AGN), Lundbeck (OTCPK:HLUYY), Bristol-Myers Squibb (BMY), Alkermes (ALKS), Gilead (GILD), Quest (NYSE:DGX), Novartis (NVS), Celgene (NASDAQ:CELG), GlaxoSmithKline (GSK), Biogen (BIIB), Shire (SHPG), Teva (TEVA), Incyte Corporation (NASDAQ:INCY), Navidea (NAVB), Sage Therapeutics (SAGE), Myriad Genetics (MYGN).
The startups that gave no response are: Denali Therapeutics, Asuragen, Ovid Therapeutics, Lineagen, Curemark.
This highlights the widespread problem, affecting most pharmaceuticals companies - they have dysfunctional business development teams. The list of "responders versus nonresponders" creates precise picture of companies' futures. The first group engaged in the hard work of creating value. The other doesn't go beyond the declaration and fashion of partnering websites. Pharma executives have made lots of statements about openness to outside innovation.
Just last year Brent Saunders of Allergan published an article stating:
"Here at Allergan, we've adopted a strategy we call "Open Science." It is based on a simple concept: Sometimes great ideas come from places where they are least expected."
I am happy that CEO adopted such a powerful strategy, but their business development team is not aware of it. At the same time there are degradation signs of the internal science team. The outcome? A waste of money and misleading statements. Such as from Allergan-Rugen press release about collaboration deal: "Rugen has demonstrated efficacy for its compounds in animal models of ASD and OCD." Chinese company definitely has "magic" pill for CNS diseases, but this will not result in Allergan products. At least not for autism.
Some companies go beyond just listing and email or providing a contact form. They make use of a submission system, offering considerable convenience (for example, monitoring messages). Novartis has such a system with the submission going through Novartis Institute for Biomedical Research (NIBR) for early stage ideas. But nice interface doesn't result in answers. The underperformance of NIBR is well known and could result in Novartis decision to shut it down. Novartis has a sizable work force in their business development, but it looks like they are too busy even to fix their own website.
I also need to mention the companies that I didn't contact because they lack common sense in partnering. Labcorp (LH) gives way to contact for patients, doctors, insurers, but not for business development. Probably they are not interested in BD at all. It's a sad situation when big diagnostics companies are not shopping for innovations.
Johnson and Johnson (JNJ) gets on the list of 'nonsense companies' in BD. Their submission form requires patent (issued or filed). It doesn't make sense to file for patent for early stage ideas, because the development can take more than 10 years. This nuance will result in Johnson & Johnson missing on 99% of valuable early stage deals. The only way for Johnson & Johnson to stay relevant is to split into several companies.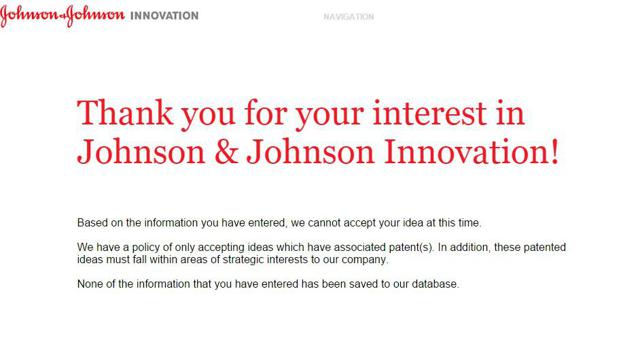 Partnering deals are a news topic all the time. Their prices easily soar to hundreds of millions. However, such figures only reveal the current inefficiency with life science companies which are considerably behind software industry in outsourcing. Companies that fail US clinical trials simply do not have a solid business structure. With one tenth of money spent, they can verify concept or drug outside of the US before the US trials.
Another point I would like to mention is the ability of business development teams to attract funds from the public. Foreign companies can teach a valuable lesson. Australian company Neuren Pharmaceuticals is using resources of International Rett Syndrome Foundation (headquartered in Cincinnati, OH) to finance clinical trials in the US.
What is missing
I am still waiting to see people in pharma BD, who have vision beyond their department. All it takes is one man. Darren Carroll has proven this. Not only he is running BD in Eli Lilly, but also created Innocentive, the major platform for open science.
Pharma is yet to develop productive relationships with NIH. Universities differ in their return on research investments. By changing NIH funding model, the pharma can double in-licencing.
Summary
I tried to follow up with some of the companies that didn't provide feedback. The request for comment has been sent to media and investor departments of 16 nonresponding companies. Only Quest Diagnostics responded with the following: "Please understand that BD gets many emails and proposals." I appreciate their answer, but it doesn't seem credible.
Summarizing all said, Eli Lilly stands out in partnership practice and I am bullish on Roche, Sanofi, Amgen and Vanda Pharmaceuticals.
Disclosure: I/we have no positions in any stocks mentioned, and no plans to initiate any positions within the next 72 hours.
I wrote this article myself, and it expresses my own opinions. I am not receiving compensation for it (other than from Seeking Alpha). I have no business relationship with any company whose stock is mentioned in this article.
Editor's Note: This article covers one or more stocks trading at less than $1 per share and/or with less than a $100 million market cap. Please be aware of the risks associated with these stocks.