By Parke Shall
The big news overnight was that the Saudis and Russians agreed to freeze oil production at current levels, far from the production cut that had been priced in on Friday and was expected by the market.
Seeking Alpha reported,
Top oil officials from Russia, Saudi Arabia and several key OPEC members have agreed to freeze crude output at January levels at a meeting in the Qatari capital of Doha, targeting a supply glut that's sent prices to 13-year-lows.
According to the International Energy Agency, Saudi Arabia produced 10.2M bpd last month, below its most recent peak of 10.5M bpd set in June 2015. Russia produced nearly 10.9M bpd in January, a post-Soviet record.
Oil soared almost 6% ahead of the meeting - on expectations of a more weighty announcement - but pared gains following the news. Crude futures +1% to $29.72/bbl.
The anticipation of a production cut drove oil prices higher into today's session and left global markets roaring last week and starting this week. The United States closed out last week with a rally and Japan's Nikkei index followed suit, moving up more than 7% in trading on Sunday night. China continued last night with Shanghai rising 3%, and US equity futures indicate about a 1% higher open this morning.
This does not take away from the news that many were upset about the agreement between the Saudi's and the Russians. Freezing production at these levels is a nice way to say that things might not get worse on the supply side, but it still leaves the demand-side as the backbone for holding up prices. Cuts were what the market wanted. The levels at which production are being suspended are post Soviet highs for the Russians, and very close to highs for the Saudi's. Further, this deal seems to be contingent upon the participation of other countries and so we will be monitoring actions on the global stage very closely tonight into tomorrow.
We do think, however, this may be one of the very early stages to some stabilization in the US equity markets. We still continue to believe that these markets are in a downturn, as a result of global monetary policy and decreases in productivity, but this may help settle things and prevent what was looking to be a potential deluge in the markets. We are by no means saying that we are going to be rip roaring into a bull market anytime soon again, but we do think that the ground may have leveled off a little bit for those looking to try and buy this dip or potentially put on some exposure to oil.
Much of the oil trade has been in and of itself a game of confidence. It's a lot easier to call the bottom or to try and call the bottom when you have increased confidence that oil may have already touched its lows. This is the same for oil and gas companies. Many of them, levered with significant debt, have their futures hinging on the price of oil directly. While $30 per barrel is not a desirable price for any oil company, it is at least somewhat reassuring to know that this price should now be tapped somewhat on the supply side, roping in one of two potential factors that could drive the price much lower and cause catastrophe.
Remember that not only are oil and gas companies at risk, but the banks that are counterparty to their debt are really one of the big risks and one of the reasons that we have seen softness in banking equities.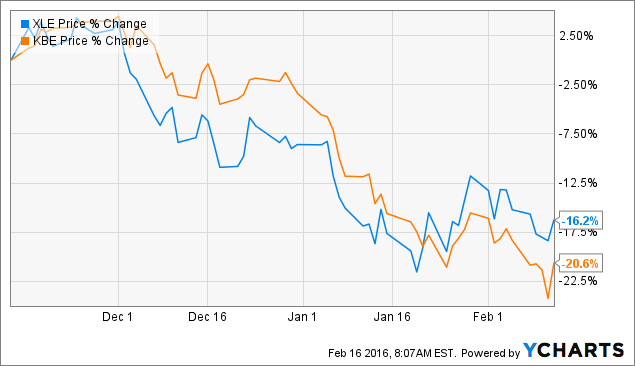 If the fear about the banks settles down, we could see some return to normalcy in their prices which may help steady the indices and steady the global markets.
There are some caveats of course. This all remains contingent on what other participatory countries do. It also does not account for the fact that some of the other problems driving down global markets are not tied to oil. Specifically, monetary policy in Asia and China's devaluation of its currency.
However, with this new news out, it at least signifies to us that oil producers may try to potentially put one foot forward in trying to not get prices to rise, but at least prevent them from falling further. In stabilizing one side of the supply/demand equation, it really only leaves a price rise up to a spike in demand. This spike in demand could easily come as a result of some of the cooler weather we have seen over the last month or rising global tensions around Turkey and Syria, to name a couple of examples.
Like it or not, oil is tied to a lot. It is inadvertently being tied to the security of our banks. A stabilization in price, even if the price does not rise could result in small bits of confidence returning to the oil market which then could lead to a stabilization of our equity markets. This is also not mentioning the oil and gas companies already priced for bankruptcy that might wind up as massive turnaround stories. As we have said, this is definitely subject to caveats, but what we are seeing could be the beginning of some much-needed stabilization, even in this bear market, after a couple months of volatility.
Disclosure: I/we have no positions in any stocks mentioned, and no plans to initiate any positions within the next 72 hours.
I wrote this article myself, and it expresses my own opinions. I am not receiving compensation for it (other than from Seeking Alpha). I have no business relationship with any company whose stock is mentioned in this article.