U.S. Crude Oil Production vs. WTI Price (Indexes)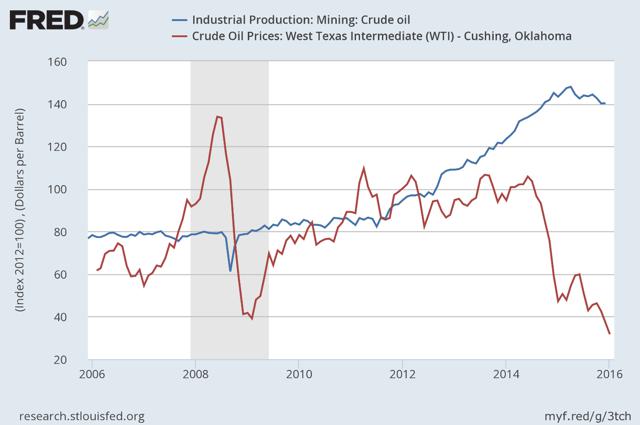 Source: Federal Reserve Economic Data (FRED).
One of the most surprising developments which has defied predictions throughout the collapse of oil prices commencing July 2014 has been the resilience of U.S. crude production. Despite a collapse in prices by more than two-thirds, production kept climbing from July 2014, peaking at 9.8 million barrels per day in April 2015.
Contrary to early estimates by the Energy Information Administration (EIA) in its Weekly Petroleum Status Report (WPSR), production has dropped by just 376,000 b/d from April to November 2015, the latest month for which there are estimates available from the EIA's Petroleum Supply Monthly (PSM).
A review of EIA's Short-Term Energy Outlook (STEO) forecasts for November 2015 (forecast month) beginning back in November 2014 reveals that the EIA had initially overestimated production back at the start of this forecast period by 358,000 b/d. But as the forecast month approached, STEO forecasts became more pessimistic. In September 2015, STEO underestimated production by 353,000 b/d. In December 2015, one month after the forecast month, STEO was "forecasting" November production would be 151,000 b/d lower than it was, according to PSM.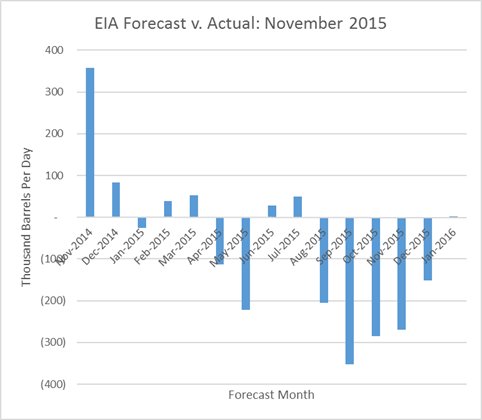 Various analysts and observers published estimates for end-2015 that were much more pessimistic than STEO. There were articles on Seeking Alpha projecting production would drop to 8.5 million barrels per day (mmbd) or lower.
What Enabled Production to Remain Higher Than Expected?
The EIA - and the market - systematically underestimated U.S. crude output in 2015. It is therefore important to understand the factors.
Lagged Responses. Production activity does not immediately respond to prices. As mentioned, crude prices peaked in June 2014 but production did not peak until April 2015, a 10-month lag.
Large investments in offshore projects were made a few years ago when oil prices were much higher. Beginning in July 2015, offshore production began to rise as a result. Overall, the gains in offshore have been about 200,000 b/d between July and November, helping to keep domestic production from dropping as fast as would otherwise be the case.
In addition, the major integrated firms had large profits from refining and marketing in 2015 to offset declines in revenues from their upstream operations.
Hedging Effects. Many of the mid-sized producers hedged production for 2015, in whole or in part. That effectively insulated them from the pain of lower prices. As their hedges expired, they booked hedge gains, which padded their treasuries, the same as if they had been selling oil at pre-2015 prices.
Declining Costs. Shale oil production has been a relatively new technology. As such, and given the need to become more efficient in a low price environment, operators gained experience and found more efficient ways to lower production costs. They were also able to negotiate lower rates from oil service firms, thereby reducing expenses.
Another phenomenon has been the inventory of drilled but uncompleted wells (DUCs). This inventory had developed because drilling crews worked faster than completion crews. The initial drilling investments, made when oil prices were much higher, constitute about one-third of the costs of bringing a new well online. Therefore, operators can bring these wells into production for two-thirds the cost of a new well. This factor may have misled analysts into thinking new wells could not be brought into production at low oil prices.
Financing Losses. Major oil firms are certainly willing and able to operate at a loss for years at a time. They understand the oil business is cyclical. Even medium-sized operators have been capable of funding losses with the expectation that oil prices will rebound and they will become profitable again. Analysts expectations that they will immediately shut-in production did not factor in that oil operators have a longer planning horizon.
What Is Different in 2016?
The EIA is predicting a large drop in production in 2016. Specifically, it expects production to drop one million barrels per day, from 9.3 mmbd in November 2015 to 8.3 mmbd in September 2016. Given that the EIA and market had been so wrong about production in 2015, what is going to make them right about such a prediction in 2016?
Futures prices presented much less of an opportunity for producers to hedge at high prices for 2016 than for 2015. Still, oil operators that did hedge in the fall are net much higher effective oil revenues than those that did not, when the effect of the hedge is taken into account.
The major oil firms are still capable of financing losses in 2016. They are not suddenly going to shut-in production. Statements by the heads of major firms, such as Shell's (NYSE:RDS.A) (NYSE:RDS.B) president, reflect their optimism about improving conditions beyond 2016.
The inventory of DUCs, while difficult to quantify, still appears high. Based on some estimates, it could be capable of adding 300,000-400,000 b/d to output with addition drilling.
Zombies
Lawyers and financial restructuring engineers refer to companies that have just enough money to pay interest on their debt, but not enough to drill enough new wells to replace older ones that are drying out, as "zombies." In an even lower price environment, their revenues cannot pay the interest and they must be liquidated. But will their production disappear?
Their assets are not worthless. They can sell them at a deep discount. The new buyers then own productive wells at a fraction of what they cost to develop. Under that scenario, they could afford to keep production pumping at low prices.
You Tell Me
Let me know your 2016 U.S. oil production forecasts for 2016. What will it average?
Conclusions
The EIA and the market has been wrong about the impact of lower oil prices on U.S. production in 2015. The EIA is predicting a substantial drop in output in 2016. Simple economics principles would seem to support that view, but a "deeper dive" suggests otherwise. But you tell me.
Disclosure: I/we have no positions in any stocks mentioned, and no plans to initiate any positions within the next 72 hours.
I wrote this article myself, and it expresses my own opinions. I am not receiving compensation for it (other than from Seeking Alpha). I have no business relationship with any company whose stock is mentioned in this article.