During the broad market sell-off that we have worked through in the last three months, the Consumer Discretionary Select Sector SPDR Fund (NYSEARCA:XLY) has shed just over 10% of its value. We have confidence that once the market turmoil dies down, this is one ETF that is set to fly thanks to a number of positive economic factors.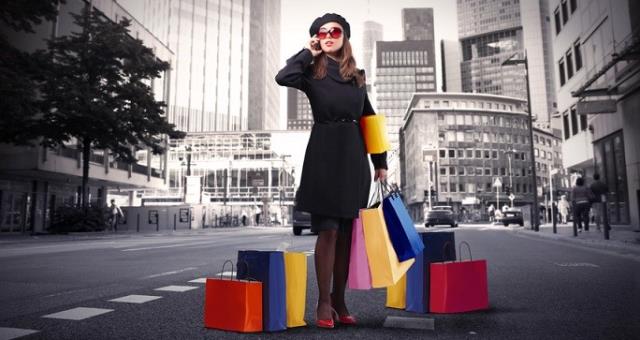 Firstly, let's start with a little bit of background on this exchange traded fund. As the name indicates, the fund aims to correspond to both the price and yield performance of the consumer discretionary select sector index. This index includes a wide range of companies from an equally wide range of industries that includes, retail; restaurants and leisure; media; hotels, textiles, apparel and luxury goods; household durables; automobiles; auto components; distributors; diversified consumer services; and leisure equipment and products.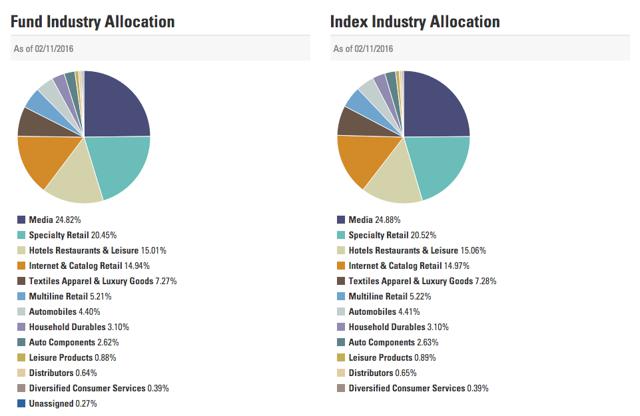 Source: SPDRS.com
Looking at the industries by weighting on the chart above, you can see how closely the fund replicates the actual index. According to the website at least 95% of it assets under management are invested at any given time.
As we have mentioned at the very top, this index has rather unsurprisingly been beaten down during the market sell-off, but we feel with several economic factors on its side, it should start to rebound once the market volatility subsides. Shown on the chart below is the performance of the fund in the last twelve months.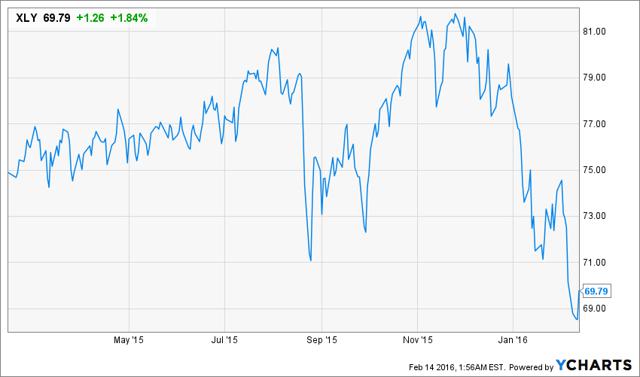 Since the start of the current year the drop has been sharp and fast. We are not entirely sure the ETF can retrace fully, but we do feel very confident in its ability to easily climb back up to around $75.00 within the next six months. From the $69.79 price it currently trades at, this equates to a return of around 7.5%. We have suspicions that $77.00 is also achievable, but, as always, we like to be conservative when we can.
Although disposable income has been rising nicely, there has been a lack of consumer spending in recent times which has hindered the consumer discretionary stocks. It appears as though the money which consumers have been saving from the low gas and energy prices has been put away into the bank instead of being spent as was expected. This has led to the personal saving rate reaching a three-year high, as demonstrated below.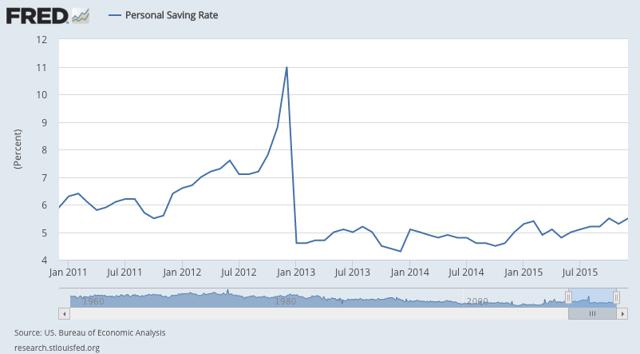 But thankfully we feel this will start to change soon and expect to see consumer spending increase. Due to the fact that wages are rising, unemployment levels and job security are strong, and oil prices continue to remain low, we feel consumers will start to gain confidence and begin to open up their wallets more.
Also, there isn't much incentive for keeping money in the banks these days due to the low levels of interest that banks provide. So, in our opinion this could lead to a retail splurge of sorts from consumers in the near future as they start eating into these savings.
Asides from the economic factors we have mentioned, when we look at the constituents of the index we feel there are a good number of undervalued stocks within it that have strong upside potential after the sell-off. To name three, Amazon (NASDAQ:AMZN) has lost 21%, Disney (NYSE:DIS) shed 20%, and Comcast (NASDAQ:CMCSA) lost 6.5%, in the last three months. We feel each of these should come back strongly, each dragging the fund up with them.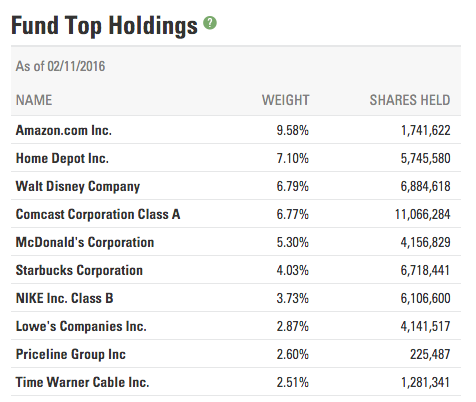 Source: SPDRS.com
The top ten holdings, shown above, account for approximately 51% of the fund's holdings. Many of these stocks had been providing strong returns in the last two years, only to be chopped down during the sell-off. As the strong growth prospects that they all had previously, still remain today, we see no reason why they will not continue to grow their earnings and share price over the next two years. Especially when the economic factors we spoke of will help tremendously when it comes to growing earnings.
It is because of this that we anticipate a climb to $75.00 within the next six months. Should these economic factors still remain positive in the next twelve months we would expect the fund to continue climbing higher. In light of this we have taken a long position with XLY in anticipation for 7.5% upside this year. We have little doubt that market volatility will make it a bumpy ride, especially with Amazon, together with its high price to earnings ratio, being the largest holding. But ultimately, we have confidence that the end result will be very positive.
Disclosure: I am/we are long XLY.
I wrote this article myself, and it expresses my own opinions. I am not receiving compensation for it (other than from Seeking Alpha). I have no business relationship with any company whose stock is mentioned in this article.