We learned that business inventories in the US increased 0.1% in December, as expected, while November's decrease of 0.2% was revised up to a decrease of only 0.1%. Business inventories include those for wholesale, retail and manufacturing companies. The high inventory levels that exist today can indicate either that businesses are expecting a surge in consumer demand or that consumer demand is falling way short of expectations.
When we compare inventories to sales, it is pretty obvious that consumer demand is not keeping up with expectations. If companies were anticipating an increase in spending due to the decline in gas prices over the past year, it has yet to materialize. The inventory-to-sales ratio is at its highest level in the past 6½ years, and continues to move in the wrong direction. This will be a headwind for economic growth as we move forward and businesses destock their inventories.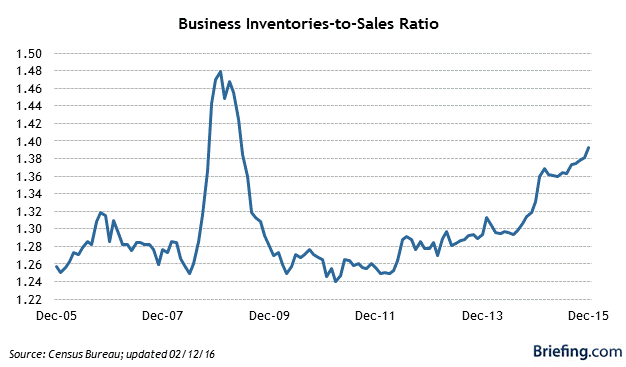 If we look at total business inventories in relation to total sales, indexed to their averages for 2010, we can see the point at which sales and inventories started to diverge. It was during the summer of 2014 that sales peaked, then began to decline in relation to the continued build in inventories.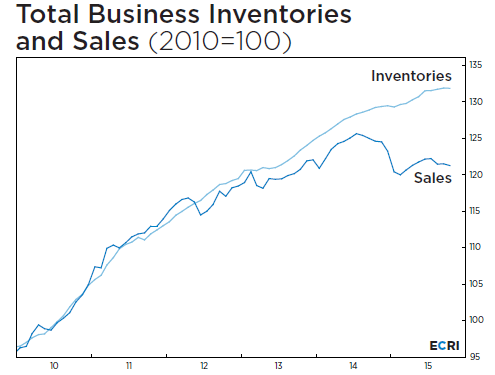 As a result, the rate of growth in both inventory accumulation and sales is slowing, as can be seen below. The fact that sales continue to slow at a faster rate than inventories is why the inventory-to-sales ratio continues to climb.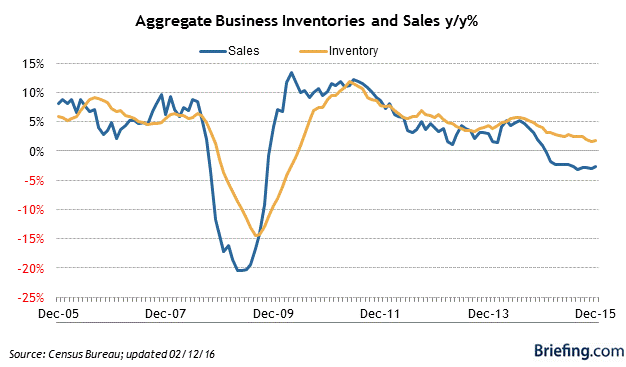 The retail sales report is one of the most valuable leading indicators of economic activity that we receive each month. Retail sales account for about one-third of overall consumer spending, which is the main driver of economic growth in the US. The Commerce Department reported that January retail sales rose a seasonally adjusted 0.2%, and that December's decline of 0.1% was revised to a 0.2% increase. This is good news. Still, these monthly reports are not a fair read on the health of consumer spending. Year-over-year comparisons are a far more valuable measurement of the underlying trend, which can be seen below.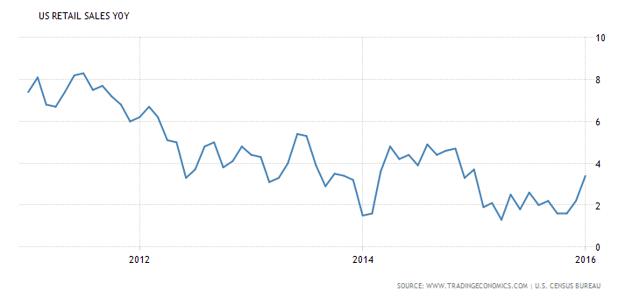 The year-over-year rate of growth in retail sales has obviously been declining for several years, reaching its lowest levels during the second half of 2015, but we saw a noticeable spike in sales in January to what was a 3.4% increase. The category that was the most significant contributor to this increase was autos, but there are reasons to question whether this can continue.
We realized record auto sales in the US in 2015. The factors contributing to this record were cheap financing, easy credit and a very old fleet of existing cars and trucks that necessitated replacement. This drove strong sales growth that contributed to overall economic growth during the first three quarters of last year. Yet auto spending slowed significantly in the fourth quarter, despite the unseasonably warm weather, detracting from US economic growth. It is too early to tell if the rate of growth will reaccelerate or not.
It is probably too early to tell what impact the stock market decline in January has had on retail sales or consumer spending in general. It is our suspicion that the January data will be revised lower. It was one year ago that I shared the chart below in an article about leading and lagging economic indicators, showing how the steady decline in the year-over-year growth rate of retail sales was a precursor to a stock market decline with a very long lead time.
Now we have seen a significant market correction that has bled into February. The steeper the decline and the longer prices remain depressed, the greater the chances it will negatively impact consumer confidence and the spending activities of the top 20% of consumers. It is the top 20% that own the majority of stock market wealth and account for a much larger percentage of consumer spending.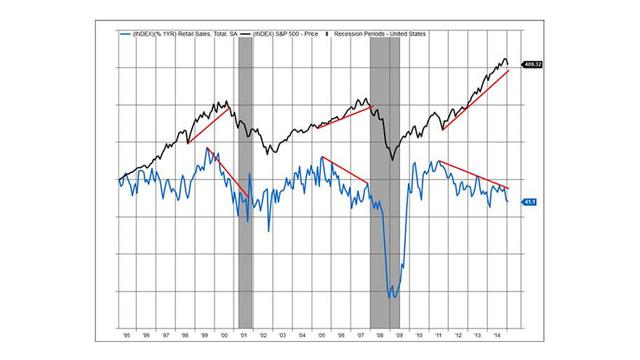 I do not have an updated version of the chart above that reflects the S&P 500 (NYSEARCA:SPY) decline year to date, but the uptrend is now clearly a downtrend that is in line with that of retail sales beneath it. The consensus of market strategists always places more importance on the employment statistics as we approach the latter stages of an economic expansion rather than consumption. It is an easy mistake to make because the unemployment rate is always at its lows for the cycle and job growth still appears to be healthy, as it is today.
The erroneous assumption is that continued job growth will result in continued strength in consumer spending, sustaining current rates of economic growth. This is not to say that new job creation does not lead to additional income that results in additional consumer spending. It does. Yet it is consumer spending that is the primary driver of job creation, while job creation is a secondary driver of consumption. This is why we are focusing on trends in spending above all else.
Disclosure: I/we have no positions in any stocks mentioned, and no plans to initiate any positions within the next 72 hours.
I wrote this article myself, and it expresses my own opinions. I am not receiving compensation for it (other than from Seeking Alpha). I have no business relationship with any company whose stock is mentioned in this article.