On February 12, Paragon Offshore (PGNPF) (formerly (PGN)) may have pulled off the most impressive maneuver of the Company's short and troubled life. The Company, which was widely expected to file for Chapter 11 bankruptcy ("Paragon Offshore: Say Goodnight Gracie", "Paragon Offshore Borrows $332 Million Under Its Revolving Credit Facility" and "Paragon Offshore Hires Advisors; Bankruptcy Next?"), announced a pre-bankruptcy agreement whereby the majority of PGNPF's unsecured creditors agreed to restructure their loans. Defying many observers, including the author, pre-bankruptcy shareholders will retain a 65% stake in the Company.
In short, the Company:
Crammed down $1.1 billion in debt in exchange for $345 million in cash "today" + 35% of the entity "tomorrow"
Reduced interest by about $60 million per year
Will continue to operate, from a customer perspective, as usual
Post-bankruptcy, PGNPF will have about $900 million in debt and $400-$500 million in cash.

Source: Paragon 10-Q
Aside from being highly impressed that PGNPF was able to pull off the restructuring while only diluting equity holders by 35%, I was curious as to whether there was any real value available for equity holders. Initial reaction by the market appeared extraordinarily optimistic, with shares rallying from $0.08/share to $0.34/share.
I dusted off my old PGN model, modified it to reflect the restructuring and "optimistically" assumed new contracts would begin to be signed in 2018 and 2019.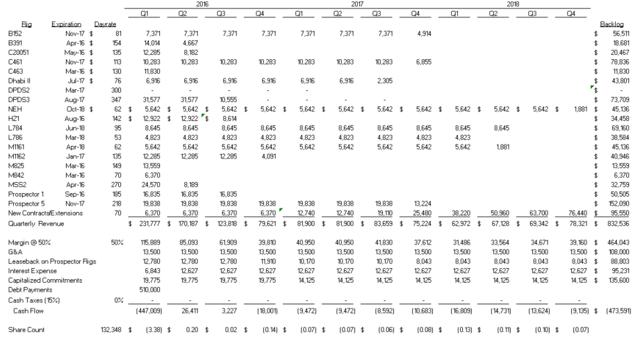 The good news for PGNPF is the ability "to stay in the game" until the $650 million Term Facility comes due in July 2021. The better news (for management) is ability to ride out the drilling recession until new jobs become available in 2018-2021. The bad news for shareholders is, even assuming a robust increase in contracting beginning in 2017, the Company does not hit break even until 2019. The worse news is, PGNPF's comparative advantage of delivering rock-bottom pricing has been severely diluted as all drillers are currently willing to contract at cost plus pricing. The unfortunate news for the industry is PGNPF continues on and few-to-zero rigs get scrapped.
Upon reflection, it appears the bulk of Friday's price jump was short covering. At $0.34/share, PGNPF is once again, a good short. However, this is blood sport and there may still be a large number of short's needing to cover so short-term volatility could be extreme.
Disclosure: I/we have no positions in any stocks mentioned, but may initiate a short position in PGNPF over the next 72 hours.
I wrote this article myself, and it expresses my own opinions. I am not receiving compensation for it (other than from Seeking Alpha). I have no business relationship with any company whose stock is mentioned in this article.
Editor's Note: This article covers one or more stocks trading at less than $1 per share and/or with less than a $100 million market cap. Please be aware of the risks associated with these stocks.