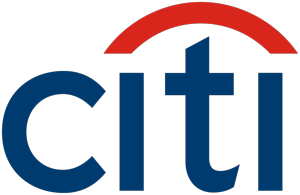 Stocks have gotten clobbered this year, and that's especially true when it comes to bank stocks. Take Bank of America (NYSE:BAC), for instance: BAC crashed ~29% year-to-date through no fault of its own, and that dismal price return even includes Friday's ~7% recovery rally. In terms of disclosure: I own Bank of America, and I am going to buy more, but only if shares fall back towards $10. The reasons that I cited for buying Bank of America in my last piece are generic, and can be made for buying other Wall Street banks, too.
The key argument I cited for buying Bank of America at the time was that the economy is still in good shape, and that investors are therefore overestimating U.S. recession risk. The same argument could be made for buying Citigroup (NYSE:C), too, which has an equally appealing reward-to-risk ratio.
Deep U.S. recession is not in the cards
The latest economic data does not indicate that the U.S. is moving into recession territory. The U.S. unemployment rate has fallen to 4.9% in January after U.S. companies added 151,000 jobs last month, and U.S. fourth quarter real GDP growth is estimated to have been 0.7% on an annualized basis. Granted, that's not a great GDP growth rate, but it is still far from being negative.
What the latest economic data may indicate, though, is that growth is slowing, but that does not imply that the United States is inevitably headed for another deep and painful recession. It is worth noting that the last two recessions in America in 2001 and in 2007-2009 were particularly painful and have wiped out many shareholders. The mere thought of another recession has had a very toxic effect on the performance of equities in 2016, but U.S. recession risk, as far as I am concerned, is greatly exaggerated at this point in time.
Citigroup, a gigantic margin of safety
Citigroup's shares slumped ~27% year-to-date, but that does mean nothing because Citigroup's fourth quarter results were actually not that bad. As a matter of fact, the bank's accounting book value, ABV, climbed 5% Y/Y from $66.05/share in Q4-14 to $69.46/share in Q4-15. Citigroup's tangible book value, TBV, grew at an even faster clip of 7% Y/Y, and was reported to be $60.61/share at the end of the December quarter.
Does that mean Citigroup is cheap or not?
You bet it is. Citigroup's shares sell for just 54 cents on the dollar, and less than seven times estimated 2016 earnings. Citigroup's market valuation includes a VERY wide margin of safety, and it might be worth giving the bank a shot at this point in time.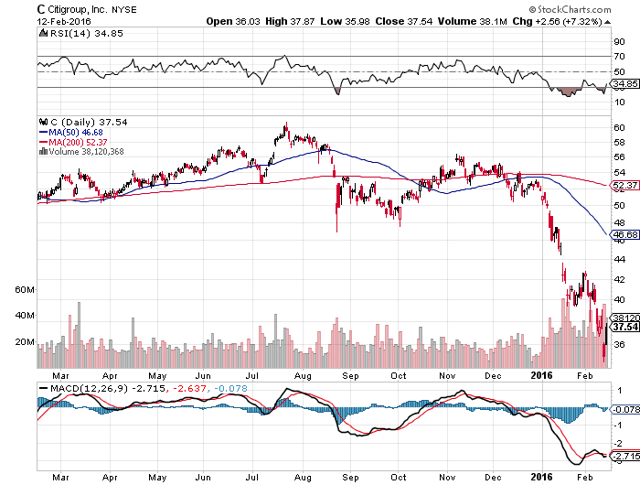 Source: StockCharts.com
Your Takeaway
The market meltdown of 2016 has washed up some deep value banking stocks. Bank of America is in the bargain bin, and so is Citigroup whose discount to ABV is approaching ~50%. This discount reflects investors' deep concerns over a U.S. recession, but those concerns don't bear close examination. Economic data does so far not indicate that the U.S. is headed for a recession. Citigroup's reward-to-risk ratio at this low a valuation is very appealing indeed.
Disclosure: I am/we are long BAC.
I wrote this article myself, and it expresses my own opinions. I am not receiving compensation for it (other than from Seeking Alpha). I have no business relationship with any company whose stock is mentioned in this article.