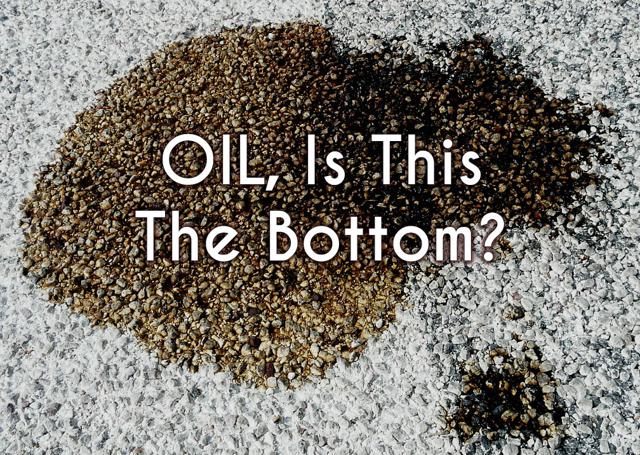 The problem
The world is awash in excess supply of oil at a time when demand seems to be weakening. Every day about 1.5 million barrels of oil a day is produced than global demand will use. The supplies in storage continue to increase and will for the foreseeable future.
There are several deep water projects scheduled for completion in 2016 and 2017 that will begin to add more production to the oversupply conditions of the market. Even as the production at older wells declines more oil production is coming online to replace it.
Shale oil production is not declining as rapidly as originally expected since there are still a few sweet spots where producers can continue to pump oil profitably when the price is below $30 per barrel. Drilling continues and the time it takes to drill is being decreased slowing the rate of production decline.
The Energy Information Agency recently increased its forecast for excess supply in 2016 from 1.5 million barrels a day to 1.75 million barrels per day. This adjustment is likely based upon the factors above plus one other: projected production increases from Iran.
The Agreement
The agreement includes only four major producers: Russia, Saudi Arabia, Qatar and Venezuela. Obviously, it does include two of the three largest producers of oil in the world (the U.S. is the other) and that part is encouraging. The one element to any agreement that could successfully improve the supply/demand imbalance is missing. Iran must be a party to any agreement for it to be successful.
Besides having a key member missing, the other element of the agreement that provides little more than false hope is the fact that there are no production cuts. The agreement calls only for a freeze at January levels, which were near record levels of production. This does nothing to alleviate the supply glut facing the world.
The announcement included a gesture of hope, of course, that in the future oil production cuts may be considered. This seems like no more than a public relations spin to provide false hope. Actually, the whole agreement reeks of empty assurances.
The Impact on the Price of Oil
Any agreement of any kind will prompt those who want to believe a bottom is either in or close to believe what they want to believe. But this agreement does nothing to assuage the supply glut problems that have exerted the downward pressure on oil. I suspect that the current surge in the price of oil will only continue until the majority of investors read the details and come to the understanding that nothing has yet changed for the better.
I give this rally no more than two weeks (and that is probably optimistic) before the reality of the weekly reports on oil supply and storage levels sink in. Then I expect that the downtrend to continue. The one difference is that the four producers have an official agreement in place with plans of future talks and that give the group a pulpit from which to try to use rhetoric to occasionally exert influence on the price of oil. And they will use that pulpit in an attempt to stem the fall in price.
Let us be honest about one thing that Saudi Arabia has come to understand over the years. Members of OPEC will cheat on production quotas every time. While a freeze does nothing to help the situation, a promise to cut will only make a difference if members actually do what they say they will. That has rarely happened in history with OPEC members. Why would it change now?
If you want to read more details about why my expectations for oil seem so dismal please consider the articles regarding my Energy Sector Outlook.
Conclusion
There is nothing in this agreement to change my expectation that the price of oil will continue lower and break below $25 per barrel in the first half of 2016. Make your investment decisions accordingly!
As always, I welcome comments and will try to address any concerns or questions either in the comments section or in a future article as soon as I can. The great thing about Seeking Alpha is that we can agree to disagree and, through respectful discussion, learn from each other's experience and knowledge.
For those who would like to learn more about my investment philosophy please consider reading "How I Created My Own Portfolio Over a Lifetime, or for those who would rather listen to a podcast on the same subject, you may want to consider my interview by IITF.com which can be found here.
Disclosure: I/we have no positions in any stocks mentioned, and no plans to initiate any positions within the next 72 hours.
I wrote this article myself, and it expresses my own opinions. I am not receiving compensation for it (other than from Seeking Alpha). I have no business relationship with any company whose stock is mentioned in this article.