Ford (NYSE:F) possibly delivered the best quarterly results in a long time, but the stock continues its downward spiral. In fact, 2015 was a stellar year for the company: Ford Europe returned to profitability after spending billions of dollars and making drastic changes to turn things around, it became the best-selling commercial vehicle brand in Europe, it recorded over a million unit sales in China, and it made a record $10.8 billion pre-tax profit.
For all the good news, the market's response was outright negative.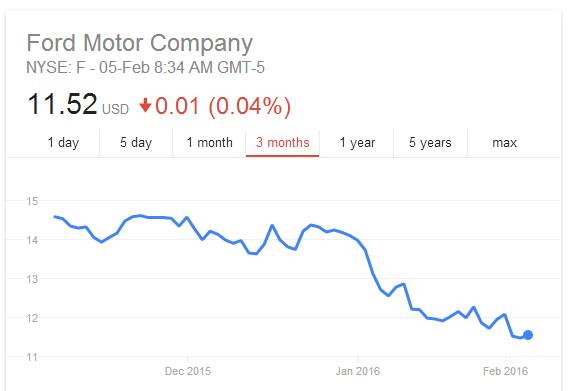 To understand the current slide, we must look closer at the some of the developments in the automobile industry in the United States and abroad over the last few months, which I believe have significantly stacked the odds against Ford.
Here are the seemingly insurmountable odds that Ford is now up against.
1. Ford Electricians were Asleep at the Switch
When Ford announced that it will be investing $4.5 billion by 2020 to electrify its line up by up to 40%, the plan sounded like an ambitious one to be closely watched. Since then, however, the game has changed in a big way, and it now looks like too little, too late.
Notwithstanding Tesla's (NASDAQ:TSLA) promise of delivering a mass-produced version of the much touted Model 3, GM (NYSE:GM) came in with a bang at the start of the new year with the unveiling of the Chevy Bolt. I covered this in detail in an article called GM Starts EV Battle With A 'Bolt' Of Lightning.
Though it will take a few more years for GM's Chevy Bolt to hit high production volumes, it's the technology know-how that will be a game changer for the company. To make matters worse for Ford, Elon Musk recently announced that the Model 3 will be unveiled on March 31 this year and pre-orders can be made the same day with a $1000 deposit. Easy $50 million, I'd say. At least.
With GM and Tesla now competing for essentially the same buyer segment, that leaves Ford coughing fitfully from the non-existent smoke at the tail ends of two major EV entrants.
Admittedly, it will take years before any kind of meaningful sales hit GM's bottom line, and in Tesla's case, their aggressive investments in technology and research are already forcing them to scrape the bottom of the barrel, but that's not a problem in the least - at least, not for Ford.
The problem now facing Ford is much larger than that. Ford's key competitors in the EV space now have the wherewithal to eat into the ICE segment and begin a mass conversion in the United States.
With Tesla that equation is fairly simple - achieve price parity with ICE vehicles in the next few years and start claiming market share in what could be the future core market for automobiles. Even GM, being a leader in the ICE segment, won't hesitate to make the change quickly if that's where it sees the future. And we've already seen that CEO Mary Barra is not one to shy away from what she sees as one possible future for the automobile industry.
In Ford's case, their fate is further darkened by this, an excerpt sent by Rod Lache, a Deutsche Bank analyst, to his clients:
"Ford's new 2015 F-150, which incorporates a number of advanced but costly powertrain, light-weighting and safety technologies represents one of the most prominent early examples of this forthcoming change.

At the same time the cost of electrification will continue to decline, and a key finding of our study is that electrified vehicles should reach cost parity with internal combustion vehicles by the early 2020s."
Source: MarketWatch
2. Ford's Europe Turnaround is Great but Late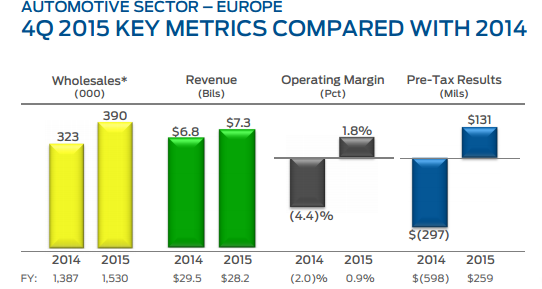 Ford has tirelessly worked towards improving its bottom line in Europe, but such is the nature of the competition that their turnaround now looks like it came too late. Their operating margin in that division went from -4.4% during the fourth quarter of 2015 to +1.8%, while sales improved from $6.8 billion to $7.3 billion for the respective fiscals.
Europe is the second largest segment for Ford in terms of revenue with near $30 billion in sales compared to near $90 billion in the United States. They've turned things around in Europe and will continue to work overtime to make sure it stays that way. However, even more hurdles now present themselves.
The biggest of these is the cost factor linked to strict emission standards in Europe.
The same Deutsche Bank analyst Lache also said that the regulatory cost burdens facing the industry from new fuel-efficiency mandates are "unprecedented," and the resulting increase in prices of new vehicles could dissuade consumers from making new car purchases in an environment of rising interest rates.
Source: MarketWatch
Though this will increase the cost for all the automakers in the future, Ford Europe will be under tremendous margin pressure as it's only now recovering from the slump. That's asking a company that just turned profitable to voluntarily increase their cost of production. I'd be surprised if Ford doesn't start making some drastic resource cuts over the next few quarters. They've already done a lot on that front, but the question is how long they can sustain further "optimization" of an already stretched resource pool.
3. Ford's Future in APAC/China is Questionable
Ford has a big question mark in China as well.
The company sold a record 1.1 million vehicles in 2015 in China - one of the biggest and fastest growing markets in the world.
Put that against GM's figures, however, and it pales in comparison. The latter has been selling three to four times that many cars for the past few years; 2015 alone accounted for 3.61 million GM vehicles sold in the PRC.
Moreover, the Chinese government is moving at an astounding pace towards more electric vehicles. I covered this in detail in an article called Kandi Technologies: The EVolutionary New Leader in China in December.
All three companies - GM, Ford and Tesla - are well aware of the situation in this potentially largest market for their electric cars, but Ford has been the slowest off the starting line. In fact, I think they missed the starting gun altogether by the looks of it.
In an earlier article called Ford's Electrification Master Plan, I outlined their 15-year-old effort to enhance battery technology and how it could potentially disrupt the market for EV batteries. I still have faith (now only a hair-thin strand, unfortunately) that they will somehow manage to turn things around to their advantage in the next 5-10 years.
The more I look at the situation, however, the less I think they're on the verge of revealing a major R&D secret and the more inclined I am to believe they're just sitting on their thumbs.
The 2016 Ford Focus Electric is the only thing they have on the market right now - and in its fifth year, it's still far behind the 200-mile plus range that both the Bolt and the Model 3 offer.
Investor-speak: Ford's Engines Failing to Fire
Ford's stock is in a dive more because of how the current industry landscape is shifting away from it than anything else.
We've just seen the three biggest mountains they must cross to gain investor trust: Electrification, their Europe performance and the big China Challenge.
While they've certainly made headway on the second hurdle, they still have miles to go before they can keep investors happy about owning F stock.
China is not about to roll out a red carpet for Ford any time soon. They're not even giving GM or Tesla an inch against local players despite the fact that the two companies would be willing - and even eager - to have their EV cars made there.
On the electrification front, they've been in neutral gear for a long time, and there's no sign that things are moving ahead.
So, does that mean I'm short F? On the contrary - I think this is a great time to buy if you're willing to wait for a few years for your investments to bear fruit. The company has been around far too long to sit by and watch company after company beat them at their own game. For now, you may need to watch their numbers from quarter to quarter, but that situation is temporary in the larger scheme of things - and from the perspective of how old they are as a corporation.
In my most recent article, Automakers Getting Run Over: Load Up on General Motors and Ford While the Going's Bad, I outline why these companies are in a slump and why I believe that will not last.
Their time will come, of that I'm sure. Perhaps GM's time will come sooner than Ford's, but both these stalwarts of the automobile industry certainly aren't going to let a few bumps in the road (be they molehills or mountains) bring them to a screeching halt.
If you think this article has any merit, I invite you to read and comment on my other articles on the automobile, retail, sportswear and other industries.
Disclosure: I/we have no positions in any stocks mentioned, and no plans to initiate any positions within the next 72 hours.
I wrote this article myself, and it expresses my own opinions. I am not receiving compensation for it (other than from Seeking Alpha). I have no business relationship with any company whose stock is mentioned in this article.