Introduction
The financial world has been quite shaky lately, but the Swiss bank UBS (NYSE:UBS) seems to be doing quite well and even announced a special dividend of 0.25 CHF after releasing its full-year financial results. Is this special dividend warranted? And are the financial results really good enough to cover this dividend? I dove into the company's financial results to find out if UBS indeed is a robust bank.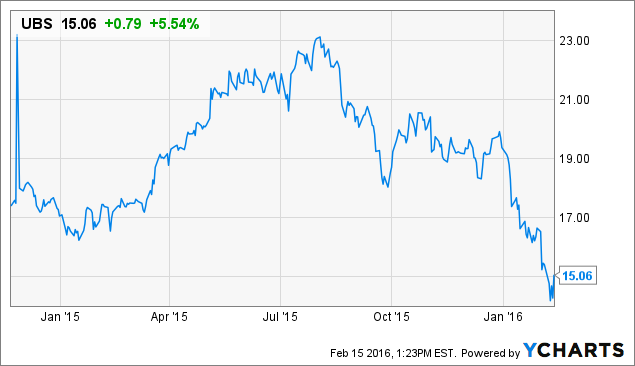 Keep in mind UBS is reporting in Swiss Francs (CHF), and for the purpose of this article, I used an USD/CHF ratio of 0.99.
2015 wasn't as bad as one would have expected, and UBS continues to strengthen its balance sheet
It was very interesting to keep an eye on the Swiss banks, which once were a beacon of trust in the financial world. Whereas Credit Suisse (NYSE:CS) has lost some of that allure, UBS is still working hard to keep the name of the Swiss banking sector in good standing, so I wanted to have a look at the bank's financial results to see if it was able to keep its status of being a 'profitable' bank.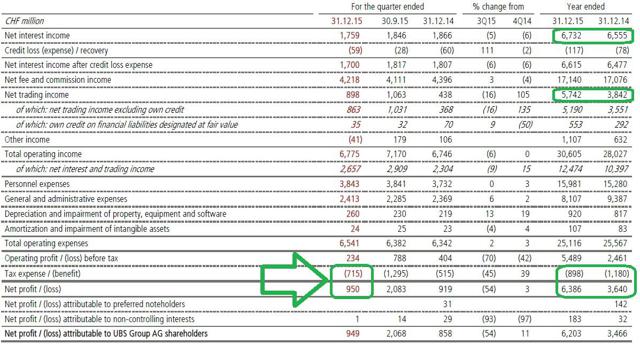 Source: financial statements
I was quite happy, as the company's net interest income increased by approximately 2.5% to 6.7B CHF ($6.6B) on the back of a pretty strong second half of the year (and an exceptionally strong Q3 2015). The net fee and commission income also increased (although very slightly at just 0.5%), but it was the bank's trading division which really moved the needle. Whereas UBS generated 3.55B ($3.5B) CHF in trading income in 2014, it was able to increase this by more than 40% to 5.74B CHF ($5.7B), and that's an amazing result. The total operating income increased by 9.3% and as the total operating expenses fell by 2%, the pre-tax operating income actually doubled from 2.5B CHF to 5.5B CHF ($5.45B). There also was a nice tax benefit which caused the net profit to increase from 3.5B CHF to 6.2B CHF ($6.1B). A pretty good result if you ask me, and the EPS was 1.65 CHF ($1.63). As the share price is currently trading at 14.80 CHF, it's trading at just 9 times the 2015 profit. This sounds cheap, but keep in mind the tax bill was quite low in 2015 and will undoubtedly increase again in 2016.
Based on these strong results, UBS proposed to pay a final dividend of 0.60 CHF ($0.59) over the financial year, as well as a special dividend of 0.25 CHF ($0.25) on the back of the 'upward revaluation of deferred tax assets'. The majority of the bank's shareholders will be quite happy as this represents an effective dividend of approximately 6% based on the most recent share price. Not too shabby, if you ask me (but keep in mind the dividends will be subject to the Swiss withholding tax).

Source: financial statements
What's interesting here is the fact the company's tangible book value as of at the end of 2015 increased to 13 CHF (from 12.14 CHF) which means UBS is currently trading at just 1.1 times its tangible book value, and that's quite cheap. Yes, there will be a 'tangible' outflow of 0.85 CHF due to the normal and special dividend, but I would expect the tangible book value to increase by an additional 4% to 13.50 CHF by the end of this year.
It will probably be the only bank paying an extraordinary dividend - but it can afford to do so
UBS has been doing the right things for its shareholders and debtholders. As the bank was already on track to generate a multi-billion dollar profit after the first three quarters of the year, UBS launched a buyback offer for its subordinated debt in the final quarter of last year.
UBS wanted to repurchase some bonds that would be maturing in June of this year, as well as in December 2017. Of the total outstanding amount of approximately $800M, approximately 42% has been bought back at a premium of 1.95% for the 2016 bonds and 9% for the 2017 bonds. This was all part of the company's decision to continue to deleverage its balance sheet, and the total debt issued by UBS increased just slightly on a YoY basis, but the total liabilities fell by 12%.
| | | | |
| --- | --- | --- | --- |
| | Equity (in B CHF) | Total size balance sheet | Equity ratio |
| EOY 2014 | 51 | 1062 | 4.8% |
| 9M 2015 | 54 | 978 | 5.52% |
| EOY 2015 | 55 | 943 | 5.83% |
The focus on reducing the size of its balance sheet has been paying off for UBS as the company's equity portion has increased whilst the total size of the balance sheet actually decreased. This had a positive effect on the equity ratio of the balance sheet, which currently stands firmly above 5%.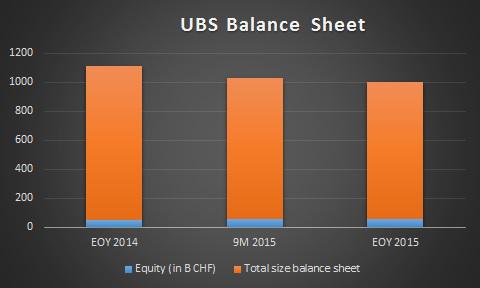 This stronger balance sheet also has an impact on the company's capital ratio's, as UBS is on the right track to meet (or surpass) all requirements. In fact, its Swiss SRB leverage ratio was twice as high as the minimum requirement:

Source: Financial supplement
Investment thesis
UBS has performed pretty well in 2015 and its already robust capital ratios have been strengthened further, so there's no objective objection against paying a rather large dividend as well as a special dividend for a total dividend yield of 6%.
The bank is currently trading at just 1.1 times its tangible book value and with a Swiss leverage ratio of 6.2% (versus the required 3%), UBS' balance sheet is stronger compared to some of its other counterparties. I will keep an eye on UBS hoping the bank's share price will fall towards its tangible book value, and then I might initiate a speculative long position as a long-term dividend company, as its balance sheet seems to be strong enough to cover the continuous dividend payments.
Disclosure: I/we have no positions in any stocks mentioned, but may initiate a long position in UBS over the next 72 hours.
I wrote this article myself, and it expresses my own opinions. I am not receiving compensation for it (other than from Seeking Alpha). I have no business relationship with any company whose stock is mentioned in this article.