People have been intrigued by Arabia for centuries. The classic Arabian Nights has served as an inspiration for famous artist such as novelists James Joyce and Jorge Luis Borges as well as the great composers, von Weber, Cornelius and of course Nikolai Rimsky-Korsakov's. Arabia was the exotic destination of adventurers such as Gasparo Balbi, Jacob Vogel, Sir Wifred Thesiger and of course, T.E. Lawrence who took part in the Arab revolt against the Turks. His account of the war, 'The Seven Pillars of Wisdom' was the basis of the Oscar winning Hollywood classic 'Lawrence of Arabia'.
However, as much as the literature, music and adventure stories may entertain us, to a large part they are still just that: entertainment, whether originating from mythology or actual events. The actual history of the Arabian Peninsula is even more fascinating. Dynasties rise and fall, great battles are fought, the basis of modern mathematics and medicine are founded, great works of literature are written and obscure Sheikdoms change into economic world powers in the mere blink in the eye of history.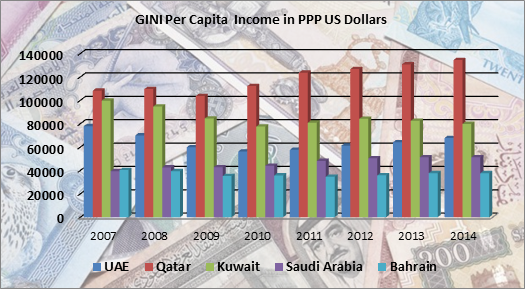 Data from the World Bank
The petroleum era of the industrial age has created an abundance of wealth the scale of which seems to have fallen straight out of the pages of Arabian Nights. Among the beneficiaries is the 6th largest petroleum producer in the world, second only to Saudi Arabia in the Arabian Peninsula: the United Arab Emirates.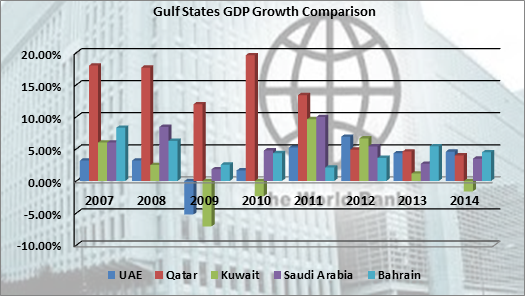 For many centuries the region was loosely governed. It was generally populated by nomadic peoples or those who lived along the coast. Local economies were based on the pearl trade with the outside world. Ottomans and Portuguese were first to ally themselves with emirates in the regions such as the Bani Yas emirate located where modern day Abu Dhabi stands today or the Al Qasimi emirate located on the ancient promontory of Ras al-Khaimah. The Portuguese and Ottoman's main intent was to discourage the ambitions of British traders in the region. The British were not so easily discouraged, however, and eventually negotiated an agreement with the emirates and sheikdoms which defined the Trucial States as a combined entity. The signatories were the Sheiks of Abu Dhabi, Dubai, Umm Al Quwain, Sharjah, Ras Al Khaimah, Ajman and Fujairah. These were the founding united emirates.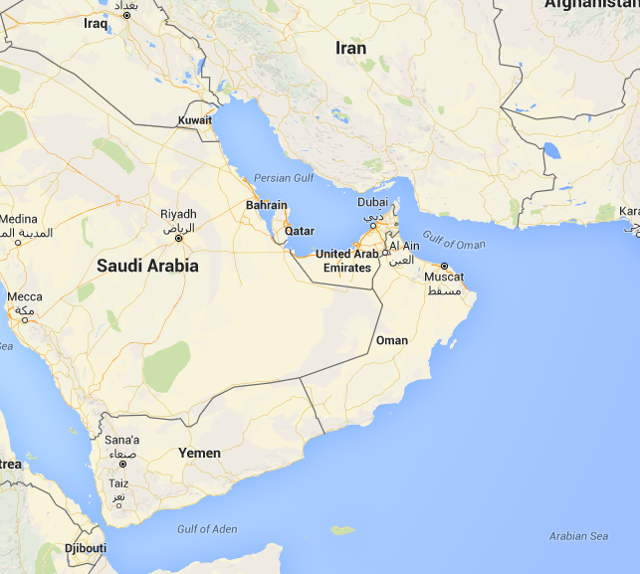 However, at the time of the formation of the Trucial States, pearling was still the base of local economies. This wouldn't last for much longer. A sequence of events, the invention of cultured pearling, the First World War and the global depression all but completely ended the industry. The post war era witnessed extraordinary advances in technology, all of which either directly or indirectly required energy and petroleum from the Arabian Peninsula was well within reach of the drilling technology of the time. The British obtain exploration concessions in the 1930s but it wasn't until after the Second World War that the full potential of Arabian oil resources could be realized. Political and boundary disputes eventually led to the formation of a governing body known as the Trucial States Council whose jurisdiction grew as British influence waned. By 1972 all seven of the original Trucial Emirates had formally created a new federation which was to be known as the United Arab Emirates.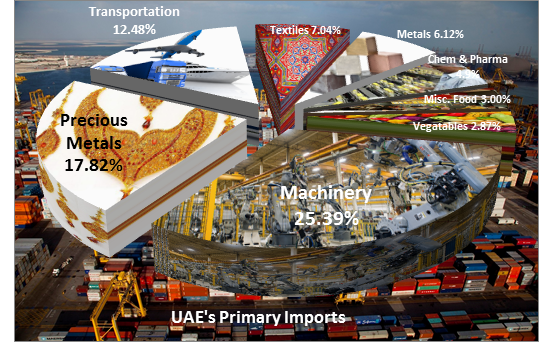 Data from OED
From the time of the formation of the new federation until today petroleum has powered the global economy. However, petroleum is perhaps the most volatile of all strategic commodities. The UAE has long benefitted from its petroleum reserves and although the recent global oversupplies among all petro-economies are sure to decrease revenues, the UAE has the resources to weather the storm. This is a key point if considering an investment in this fund.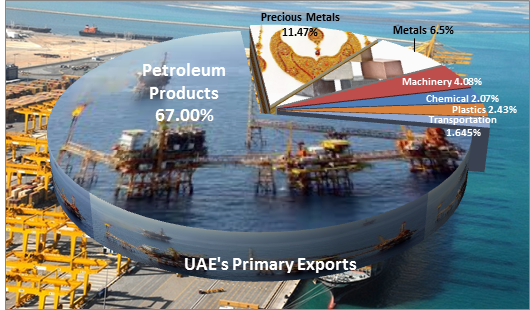 Data from OED
For those investors with the willingness to venture some capital for both yield and capital appreciation there's only one port of entry to be found: BlackRock's (NYSE:BLK) iShares MSCI UAE Capped ETF (NASDAQ:UAE).
The fund is reasonably well traded having a three month average daily volume of 12,544 shares and has been trading in single digit thousands recently. Hence, a good entry position can be established. The fund is small having just over $24,840,000 in net assets, 1.650 million outstanding shares, just 33 holdings and a slightly high expense ratio of 0.64%. However, it's currently trading at a discount of -1.33% of NAV, which will well offset the expense ratio. The fund's P/E is well below the S&P, and, importantly, the beta of the fund's equity holdings is non-volatile at 0.67 times the broader market.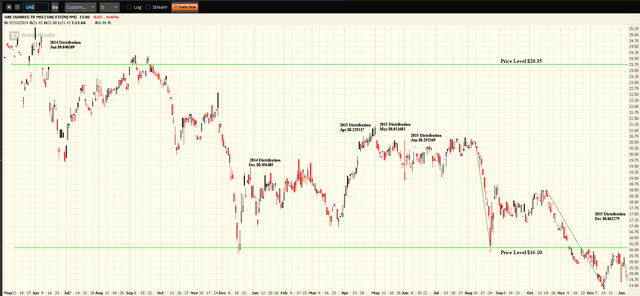 What makes this fund attractive is the yield which seems to be quite sustainable. The annualized yield is just over 5%, the 12 month trailing yield 4.15% and the yield after expenses is 3.57%. The fund is relatively new having first traded April 29, 2014. The fund's all time high was just over $25.00 and is currently trading near its all-time low of just under $13 per ETF share. It's rather unfortunate that a fund focused on a leading petroleum based economy had come on the market just when petroleum prices started to collapse. It's a textbook case of unlucky bad timing for the issuer. However, this may be an opportunity for the investor.
As it often is with petroleum based economies in this region, many of the companies are partly or majority owned by the state's sovereign wealth fund thus lending support to the underlying market. It should be noted that the Abu Dhabi Investment Authority is the fourth largest investment fund in the world with estimated assets totaling over $800 billion, putting it on par with the known largest sovereign wealth fund, Norway's Norges Bank. Public-Private entities held by the fund are labeled by PJSC: Public Joint Stock Company.
Hence, to initiate a position here, dollar cost average over the long term and all the while collect distributions partly underwritten by the UAE's sovereign wealth fund makes this a unique opportunity.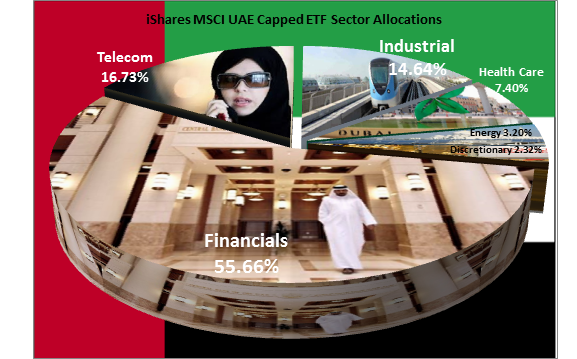 Data from BlackRock
The fund is most heavily weighted in financials at well over 55%. This is followed by Telecommunications Services at 16.73% and the Industrials at 14.64%. Health Care holdings are small but significant at 7.40%. Energy and Consumer Discretionary are the lightest of the weightings.
Financials Holdings greater than 1% : 50.6898%

Fund Weight

Market Cap

(US Dollar Billions)

Yield

Payout Ratio

P/E

Total Debt to Equity

Emaar Properties PJSC (EMR.DU)

11.8031%

$10.534

2.78%

32.61%

9.98

37.42%

Emaar Malls

Abu Dhabi Commercial Bank (ADCB.AD)

6.1575%

$9.910

6.92%

48.78%

7.03

136.36%

First Gulf Bank PJSC (FGB.AD)

4.8814%

$1.435

8.55%

75.98%

8.89

86.40%

Aldar Properties Co. (ALDR.AD)

4.6522%

$5.142

3.75%

31.66%

7.55

50.89%

DB Islamic Bank

(DISB.DU)

4.613%

$6.409

7.56%

49.94%

6.60

28.03%

National Bank of Abu Dhabi PJSC (NBAD.AD)

4.5133%

$11.612

4.89%

37.57%

8.57

134.87%

Union National Bank PJSC (UNB.AD)

2.9904%

$2.683

5.59%

34.35%

4.72

16.96%

Dubai Investments PJSC (DINV.DU)

2.5892%

$1.931

6.47%

51.22%

6.44

26.81%

Dubai Financial Market PJSC (DFM.DU)

2.5024%

$2.594

5.88%

73.71%

24.79

0.28%

Al Waha Capital

(WAHA.AD)

2.209%

$1.086

14.63%

28.06%

6.41

115.60%

Ajman Bank PJSC (AJMANBAN.DU)

1.6334%

$0.621

0.00%

0.00%

18.84

NA

Amanat Holding Ord (AMANAT.AD)

1.0765%

NA

NA

NA

NA

NA

Health?

Eshraq Properties Co. (AMLK.DU)

1.0684%

$0.531

0.00%

0.00%

NA

3.00%

Averages

3.90%

$4.54

x-NMF or NA

5.59% x-NMF or NA

38.66%

x-NMF or NA

9.9836

x-NMF or NA

57.87%

x-NMF or NA
Data From Reuters Africa, Barron's, Yahoo!Finance and company Websites
Financial Holdings less than 1% : 4.9663%

Fund Weight

Market Cap (in US Dollar Millions)

Yield

Total Debt/Equity

Amlak Finance

(AMLK.DU)

0.9824%

$531.00

0.00%

3.00%

Deyaar Development

(DEYR.DU)

0.9308%

$719.62

0.00%

14.87%

Ras Al Khaimah Properties

0.9018%

$544.96

10.20%

2.80%

Union Properties PJSC (UPRO.DU)

0.8886%

$672.48

4.30%

33.12%

Gulf General Investment Co. PSC (GGIC.DU)

0.7633%

$263.49

0.00%

262.34%

Shuaa Capital PSC

(SHUA.DU)

0.4994%

$104.469

0.00%

0.00

Averages

0.83%

$472.67

2.42%

52.69%
Data From Reuters Africa, Barron's, Yahoo!Finance and company Websites
There are twenty holdings with a little overlap. The fund lists Emaar Properties and further down Emaar Malls which is part of the parent company's properties holdings. They are combined in this list. That said, Emaar Properties is a public-private partnership and one of the largest real estate holding companies on the planet. Its focus is on the high-end market globally with assets in the US, Canada, India, Saudi Arabia, Iraq and others. Aldar Properties is not as extensive as Emaar, but is also in the high-end market contributing to the modern UAE skyline with notable properties such as the Burg Mohammed Bin Rashid and Shams Abu Dhabi. Dubai Investments is just that, an investment company with real estate, industrial, manufacturing and financial holdings. The point is that the financial allocations are well diversified among commercial banks, investment banks and real estate. One note: Amanat Holdings, a small holding, defines itself as a public-private health and education services company, yet it's listed with the financial sector. Likely, it invests in health and education instead of holding these assets directly.
Information about these companies is sometimes incomplete. However, the table demonstrates that where data may be found, these are very well capitalized companies with a great average yield and very sustainable payout ratio.
Telecom Services 16.7283%

Fund Weight

Market Cap

(US Dollar Billions)

Yield

Payout Ratio

P/E

Total Debt to Equity

Emirates Telecom (ETEL.AD)

16.7283%

$38.388

4.43%

61.40%

17.18

52.47
Data From Reuters Africa, Barron's, Yahoo!Finance and company Websites
Emirates Telecommunications Corp., under its brand name Etisalat is the regional telecom services company serving Arabia, North Africa, West Africa and South Asia providing services for 150 million customers. It is a leading company of the UAE. The company is well capitalized, pays a good dividend, has a low P/E and has a sustainable payout ratio.
Industrials 14.6434%

Fund Weight

Market Cap

(US Dollar Billions)

Yield

Payout Ratio

P/E

Total Debt to Equity

Dp World Ltd

5.4964%

$4.127

1.29%

27.84%

21.86

68.90%

Air Arabia PJSC (AIRA.DU)

3.0142%

$1.602

7.14%

75.96%

11.31

61.04%

Arabtec Holdings (ARTC.DU)

2.3609%

$1.471

0.00%

0.00%

NMF

21.90%

Agthia Group (AGTH.AD)

1.5718%

$1.183

1.38%

31.04%

19.60

26.85%

Orascom Construction Ltd (OCIC.CA)

1.4501%

$34.582

0.00%

0.00%

9.55

102.03%

National Central Cooling Co. LTD (TABR.DU)

0.75%

$0.203

5.94%

10.10

9.65

54.76%

Averages

2.44%

$7.19

2.63%

24.16%

14.394

55.91%
Data From Reuters Africa, Barron's, Yahoo!Finance and company Websites
DP World is a leading marine and inland terminal developer, providing maritime services, logistic, facilitating trade, transportation and ancillary services. DP is global managing facilities in 31 countries on six continents. Agthia is a public-private entity which manufactures many popular consumer brand food and beverage products, including the familiar Yoplait and Capri-Sun and many others. One industrial listing Tabreed is also known as National Central Cooling. Investors who live in temperate climates would be surprised to know that Tabreed distributes water from centrally located chilling plants through a piped network in order to facilitate air conditioning; this infrastructure is known as district cooling. It serves as a good example of the engineering challenges faced by modern cities and the solutions needed in extreme climates. In its entirety, the sector is well capitalized, has a low P/E, a fair dividend and a sustainable payout ratio as well as public-private ownership.
| | | | | | | |
| --- | --- | --- | --- | --- | --- | --- |
| Health Care 7.4013% | Fund Weight | Market Cap (US Dollar Billions) | Yield | Payout Ratio | P/E | Total Debt to Equity |
| Al Noor Hospitals Group Plc (OTCPK:ANHGY) | 4.3538% | $0.938 | 1.13% | 41.13% | 25.28 | 0.00% |
| NMC Health Plc (OTCPK:NMHLY) | 3.0475% | $1.110 | 0.62% | 20.72% | 30.93 | 83.76% |
| Averages | 3.70% | $1.024 | 0.88% | 30.93% | 28.11 | 41.88% |
Data From Reuters Africa, Barron's, Yahoo!Finance and company Websites
Al Noor Hospitals Group provides healthcare through its three hospitals and 17 outpatient facilities. NMC Health manages 15 health facilities in the region as well as Barcelona, Spain. These are among the few companies which list on the London FTSE. It should be noted that the UAE has recently instituted a 'shared payer' system for all citizens of Abu Dhabi. In general and as noted by the UAE-US embassy website:
The UAE has a comprehensive, government-funded health service and a rapidly developing private health sector that delivers a high standard of health care to the population. Healthcare is regulated at both the Federal and Emirate level.
Hence, the UAE provides a shared payment system.
Energy 3.2026%

Fund Weight

Market Cap (in US Dollar Millions)

Yield

Payout Ratio

P/E

Total Debt to Equity

Dana Gas

(DANA.AD)

1.8942%

$854.00

0.00%

0.00%

382.93

28.30%

Lamprell Plc (OTCPK:LMPRF)

1.3084%

$206.00

0.00%

0.00%

6.52

14.73%

Dubai subsidiary of Lamprell Plc

Averages

1.6013%

$530.45

0.00%

0.00%

NMF

21.52%
Data From Reuters Africa, Barron's, Yahoo!Finance and company Websites
Surprisingly, the energy holding Dana Gas is privately owned. Its primary product is oil and natural gas from Egypt and also from Iraq's Kurdistan region. The company is young, established in 2005 by over 300 prominent founder investors from among the Gulf Cooperation Council region. Lamprell is a petroleum infrastructure construction company specializing in shallow water drilling and onshore drilling rigs with operations in the UAE and joint ventures in Saudi Arabia. Lamprell lists on the London exchange as well.
| | | | | | | |
| --- | --- | --- | --- | --- | --- | --- |
| Consumer Discretionary 2.3207% | Fund Weight | Market Cap | Yield | Payout Ratio | P/E | Total Debt to Equity |
| Dubai Parks and Resorts (DUBAIPAR.UH) | 2.3207% | $1.894 | 0.00% | 0.00% | NMF | NA |
Data From Reuters Africa, Barron's, Yahoo!Finance and company Websites
The least allocation is perhaps the most interesting and certainly the most curious. Dubai Parks and Resorts does not have many metrics to compare with. It's rather new and some parts are still under construction. The company specializes in the Hospitality and Entertainment business with several theme parks for family entertainment. By the company's website the goal is to be the region's largest integrated theme park resort: Motiongate, Bollywood Parks and LegoLand theme and water park. The project is expected to host close to 7 million visitors in its first full year of operations: 2017. When considering its target market which includes Africa and South Asia as well as Arabia and the fact that it's the only such resort in the region, it does seem to have the potential to be as successful as Disney is in the west.
The UAE is a petroleum dependent economy but clearly has not taken its resources for granted. It sovereign wealth fund is perhaps among the largest in the world. The nearest comparison is with Norges Bank of Norway in both scale and purpose. Like Norges Bank, the ADIA can act as a backstop in tough economic times.
It's also fair to note that the Abu Dhabi Investment Authority incurred heavy losses due to the collapse of the real estate market in 2007-2008. The fund had a large position in Citigroup at the time, costing it nearly $6 billion in losses. Since then, the fund has restructured with a more conservative approach. The main point is that the ADIA has survived an extraordinary difficult situation in 2008 as did most global banks then survived and restructured. It can't be said to be an absolute guarantee, but the ADIA has proven itself under the worst circumstances and might be better prepared to handle the commodity downturn because of it.
The fund has an excellent focus, an solidly sustainable dividend and the potential for capital appreciation over the long term. The prudent investor diversifies, so it might be well worth the risk to establish a small position, particularly if the opportunity presents itself in a general market correction.
Disclosure: I/we have no positions in any stocks mentioned, and no plans to initiate any positions within the next 72 hours.
I wrote this article myself, and it expresses my own opinions. I am not receiving compensation for it (other than from Seeking Alpha). I have no business relationship with any company whose stock is mentioned in this article.
Additional disclosure: CFDs, spread betting and FX can result in losses exceeding your initial deposit. They are not suitable for everyone, so please ensure you understand the risks. Seek independent financial advice if necessary. Nothing in this article should be considered a personal recommendation. It does not account for your personal circumstances or appetite for risk.
Editor's Note: This article discusses one or more securities that do not trade on a major U.S. exchange. Please be aware of the risks associated with these stocks.