Shares of the nutritional supplement retailer GNC Holdings (NYSE:GNC) have suffered over the past year as concerns over competition and pricing have weighed on its share price. Furthermore, a look into the company's product quality control and related legal exposure has placed a cloud over the stock. The company has taken a number of steps to move past these issues; however, shares remain depressed. GNC reported its Q4 and FY 2015 results which showed a drop in net income and margin compression. Nevertheless, GNC has continued to pursue an aggressive share repurchase strategy that has resulted in a sizable drop in shares outstanding. In addition to this, the company also offers a meaningful 3.1% dividend yield and has shown a commitment to increasing these dividend payments over time. In conjunction with its recent earnings release, GNC also released its guidance for 2016 which paints a rather uninspiring picture of the year, including limited growth in its same-store sales figure. However, the firm noted a small but potentially transformative strategy in which it will seek to refranchise roughly 1,000 of the company's stores over the next few years. This can potentially have a tremendous impact on the capital requirements for GNC. There are a lot of moving parts for GNC's investment case, but as shares trade at 9.9x TTM earnings and sit just above its 52-week low, there could be an opportunity.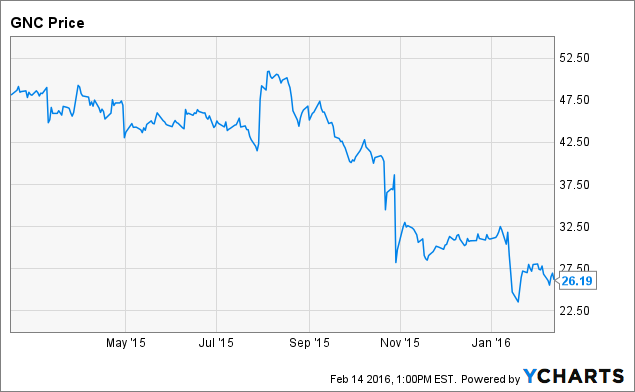 GNC data by YCharts
GNC's Alleged Quality Control Issues
Back in October, Oregon's Attorney General filed a lawsuit in the state's circuit court alleging a violation of Oregon's laws requiring the disclosure of certain chemicals in products sold within the state. This sent shares tumbling and the company quickly came out with a statement refuting the claims made. The following month, the Department of Justice announced legal action against a few dietary supplement companies, including a then GNC supplier, USPlabs, with which GNC quickly cut its ties. Nutritional supplement companies have come under fire as a result of increased quality control and product transparency; however, GNC has taken steps to remedy some of these concerns. Negative developments relating to these previous issues or new problems certainly add risk to the stock and are a large part of the reasoning behind the poor performance of the company's shares. Nevertheless, these concerns may in fact be overblown, and if they are resolved this year, shares could rally. A large portion of these worries surround GNC's suppliers (both current and former) and the company has stated that it is entitled to be contractually indemnified from liability with product issues from its suppliers as GNC relies on guarantees that the products are safe and legally compliant. Of course, it remains to be seen if GNC will in fact be insulated from liability relating to these cases.
Weak Financial Results Weigh On Shares
In addition to the legal concerns surrounding GNC product quality concerns, its operating business has come under stress. While share repurchases added some cushion to the per share results, the company's net income fell by 17.1% in Q4. This is a concerning figure and may be behind GNC's strategy of massive store refranchising in the coming years. Through GNC's aggressive share repurchase program and modest dividend, it has expanded its leverage in recent quarters which likely signifies management's confidence, but also represents additional risk.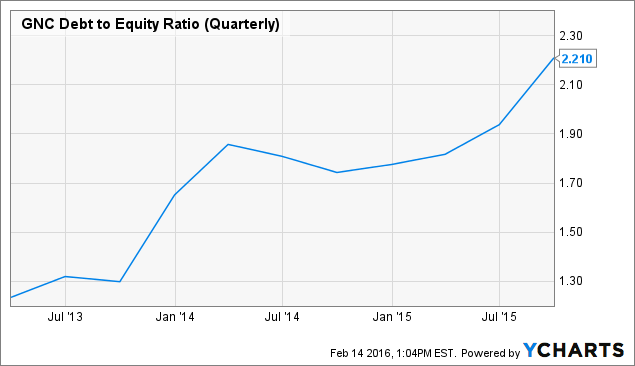 GNC Debt to Equity Ratio (Quarterly) data by YCharts
Of course, GNC has been consistently profitable and has generated substantial amounts of cash from operations recently. With minimal relative CAPEX requirements, the company still remains in a strong position to continue to repurchase shares and return value to shareholders as the firm goes through a rough patch. As mentioned before, GNC plans to engage in a massive refranchising program that should turn over roughly 1,000 company-owned GNC stores to the hands of franchisees. As of the end of 2015, GNC had 3,594 company-owned stores and 1,084 franchised stores, respectively, in the US and Canada. The refranchising plan would substantially alter this split and could have meaningful impacts on GNC's capital requirements including a decreased need for excess capital.
What Does The Future Hold For GNC?
After a tumultuous end of 2015 for GNC, the company is focused on moving forward and proceeding with its plan to continue to return large amounts of value to shareholders. GNC anticipates repurchasing 6-8% of its outstanding shares this year and a number of new store openings. Continued concerns surrounding potential liability from its product and quality control issues will likely continue to weigh on shares until it is resolved. Nevertheless, GNC continues to take steps to return sizable value to shareholders through share repurchases and dividends and trades for an attractive valuation. While GNC's financial results have been lackluster, earnings and cash flow remain at a level that does not justify the current share price. Those who are willing to take the risk of negative impacts of possible legal liability could be rewarded handsomely over the long term.
Disclosure: I/we have no positions in any stocks mentioned, and no plans to initiate any positions within the next 72 hours.
I wrote this article myself, and it expresses my own opinions. I am not receiving compensation for it (other than from Seeking Alpha). I have no business relationship with any company whose stock is mentioned in this article.