Devon Energy Corporation (NYSE:DVN) reports its Q4 2015 results on February 16 and will host its conference call a day later. When the upstream focused energy company updates investors, there are several major things to look out for. The first is whether or not its dividend will be cut after an aggressive pre-hedge outspend during the first three quarters of 2015, when oil prices were significantly higher than they are now. With crude now hovering below $30/barrel, Devon Energy's hand may be forced to either cut or suspend its dividend payments until prices recover farther out.
This includes factoring in Devon cutting its 2016 upstream capex budget to $2.5 billion versus $3.9 billion last year. After bringing the third Jackfish steam assisted gravity drainage development online in Alberta, Devon has the financial flexibility to cope with lackluster prices by ramping down spending while cranking up output at its Jackfish complex.
A dividend cut would be the right move to do, even it creates short term downward pressure on Devon's stock price. If such a move were to occur, Devon Energy would be following in the footsteps of ConocoPhillips (NYSE:COP) and Anadarko Petroleum (NYSE:APC), both of which just cut their dividend payments substantially. By doing so, they freed up a ton of cash flow and materially lowered the crude pricing level at which they can breakeven. It also reduced the amount of damage that the current environment would have done to their balance sheets had they kept up the facade.
Updates on Devon's new assets
Devon spent $1.15 billion in cash and issued out $1.35 billion in equity to buy an additional 80,000 net acres in the STACK region and 253,000 net acres in the Powder River Basin to expand its presence in both plays. To fund the cash side of the purchase and to attempt to reduce its debt load this year (debt reduction guidance was issued out when crude was trading at higher levels), Devon Energy plans to sell off midstream and upstream assets. Jefferies has been tapped to help the company market its operations.
Looking at Devon Energy's STACK acquisition, the company is buying primarily into the low cost potential of the oil-rich shale plays in the area. The STACK region is located in Oklahoma and houses several unconventional intervals including the Woodford, Chester, Springer, and Meramec plays. Recent industry activity indicates that wells tapping into the emerging oil-rich Meramec horizon can "breakeven" at prices below $40/barrel.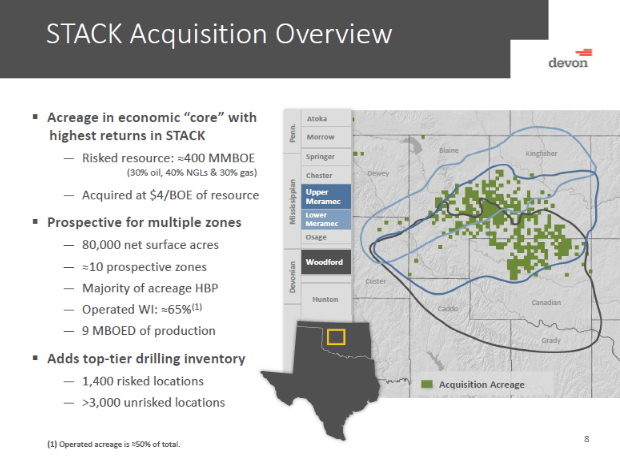 Source: Devon Energy Corporation Presentation
During Devon's December 7 presentation, management guided for Devon to be able to bring five wells online per section in the Upper Meramec. That could increase to eight if downspacing pilot projects are successful, like they have been elsewhere, as Devon shrinks the distance between each well lateral (horizontal section of the well). Staggered lateral tests and the potential to co-develop the Meramec alongside the Woodford offers additional avenues for Devon to further bolster its drilling inventory.
To enhance Devon Energy's STACK drilling economics, the company is testing out longer laterals in the oil weighted part of the Meramec. Longer laterals have generally resulted in better drilling economics as those wells produce materially more hydrocarbons over their lifetimes. Optimization efforts are also underway to find out the ideal amount of frac stages and proppant during the completion process to find the most economical way to develop the Meramec shale. Investors should pay attention to any comments regarding operational gains in the STACK region.
In the Powder River Basin, the "breakeven" costs are slightly higher, around $40-$50 WTI. There are several productive oil-rich plays in the region, including the Parkman, Teapot, Turner, and Niobrara intervals, that are housing billions of barrels of oil equivalent. This purchase seems to be more of a bet on the immense resource potential in the area, indicating a longer term outlook in regards to development considering the higher breakeven costs. There will probably be limited commentary on the area as Devon shifts its drilling activity to the STACK region.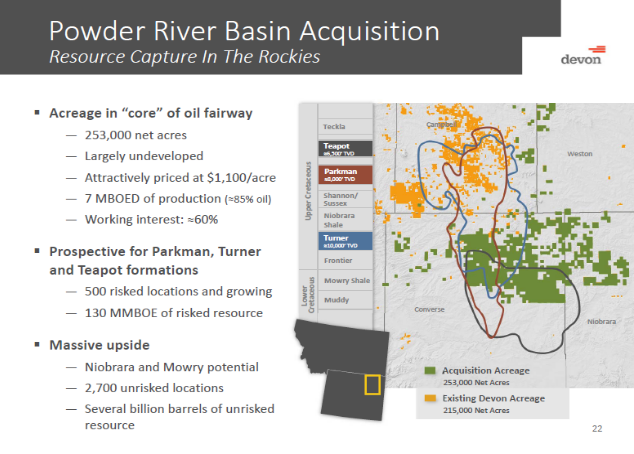 Source: Devon Energy Corporation Presentation
Divestitures
These are interesting assets that Devon was able to buy near the bottom of the downturn, now the market wants to see Devon pay off the debt it accumulated to do so. Management is guiding for $2 billion - $3 billion in non-core asset sales to cover the purchase.
The biggest and "easiest" asset for Devon to sell is its Access Pipeline up in Alberta, which is currently servicing its heavy oil production. Midstream assets are easier to market than upstream assets in the current environment, especially when supporting long term, low decline oil sands production streams. When Devon reports its Q4 earnings, investors should see when that asset will be sold off, as it will raise the vast majority of the cash it needs to cover these acquisitions.
On the upstream side of things, Devon recently sold its San Juan Basin operations for $100 million to BP (NYSE:BP), which wasn't mentioned as one of the assets Devon planned to sell. This is bullish in the sense that Devon is able to market non-core, not very economical operations at the bottom of the downturn. That property consisted of 33,000 gross acres and 480 producing wells, which fits together with BP's large 550,000 net acre position in the region. So far, management has mentioned Devon's Granite Wash, Southern Midland Basin, and East Texas operations as other divestment opportunities.
Horizontal refrac effort
After completing its current vertical well restimulation program at the end of 2015, Devon is seeking to further leverage its existing well portfolio. In the Barnett shale, Devon has over 3,000 producing horizontal wells. Many of those wells are potential refrac targets that could offer a cheaper way for Devon to maintain its production base. Legacy wells will give Devon the most bang for its buck, as older completion techniques recovered a significantly smaller portion of the oil/gas in the ground compared to current standard completion techniques.
Below is a look at the productivity gains Devon is seeking to generate as it restimulates its existing well portfolio. Barnett shale production is heavily weighted towards natural gas, and within 30 days Devon's refracked wells should see production shoot up by 1 million cubic feet equivalent per day (MMcfe/d). Overall, an additional 2 billion cubic feet equivalent (Bcfe) will be extracted from each well, at least that's what Devon is modeling so far.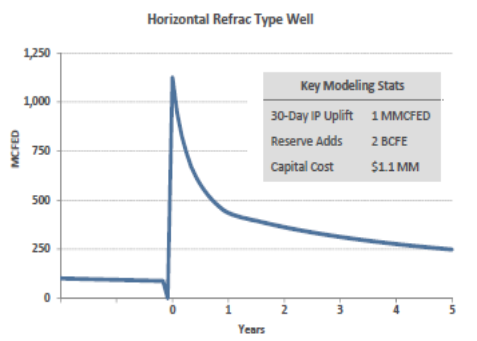 Source: Devon Energy Corporation Operations Report
Eight out of the 25 wells Devon planned to restimulate in the Barnett shale had been brought online as of its Q3 2015 update, leaving plenty of room for additional data to paint a better picture of what to expect.
Investors should pay attention to the kinds of returns Devon estimates it could generate on these refracs at various prices, and if the restimulation costs will keep trending lower. As of Q3 2015, Devon noted that the average refrac would cost around $1.1 million, down 10% from previous estimates.
Final thoughts
What the market is going to be looking for is continued capex cuts (possibly deeper cuts than what the current budget is pushing), asset sales, and the possibility of a dividend cut or suspension. Operational gains are important, but macro headwinds will continue to cloud over any improvement, no matter how important. Devon Energy guided that it would be able to reduce its debt load in 2016 on the back of capex cuts and asset sales, but as crude and natural gas prices have moved lower since then, that forecast may get scrapped. The market is expecting a bad Q4 2015, but what really matters is how Devon Energy Corporation sees 2016 panning out in light of the much lower for much longer pricing environment.
Investors who want to read more about Devon Energy Corporation's expansion in the STACK and PRB regions should check out this article.
Disclosure: I/we have no positions in any stocks mentioned, and no plans to initiate any positions within the next 72 hours.
I wrote this article myself, and it expresses my own opinions. I am not receiving compensation for it (other than from Seeking Alpha). I have no business relationship with any company whose stock is mentioned in this article.