Introduction
This is part of a series of quarterly reviews that analyze the performance and portfolio characteristics of interesting equity managers running either public (mutual funds) or private pooled investment vehicles (hedge funds) that are not accessible by retail investors. Our aim is to provide readers:
An analysis of the manager's return and risk characteristics.
An analysis of the manager's top portfolio holdings.
An opinion on whether readers should replicate their portfolio.
All analysis is based on a clone portfolio of the manager's top 10 disclosed holdings, which allows readers to replicate the portfolio with ease if desired. It may not be an accurate reflection of the manager's actual investment performance.
That said, it is possible for some clone portfolios to outperform the manager's actual portfolio over time due to the following factors:
No Fee Drag: Absence of management fees (high base fees + performance fees in some cases). Investors can buy the stocks directly to access the manager's stock-picking skill.
Higher Concentration: Managers typically over-diversify. Returns from the best ideas are usually diluted by a long tail of lower quality ideas. We focus only on the top 10 holdings.
Equal-Weighting: Managers may have good stockpicking skills, but can be terrible at sizing ideas correctly. Our clone portfolios are equally-weighted so all ideas have an impact on returns.
Lower Trading: Managers typically add/trim positions on the margin too often. Quarterly rebalancing in line with 13-F releases reinforces a buy-and-hold discipline and reduces costs.
Manager Brief
| | |
| --- | --- |
| Manager Name: | Third Point LLC |
| Location: | New York, NY |
| Year Established: | 1995 |
| Investment Style: | Multi-strategy, long/short equity & credit |
| Portfolio Manager: | Daniel Loeb |
| Number of Employees: | 61 |
| MV of Latest 13-F Holdings: | $9.9bn |
Third Point currently manages north of $17bn and has been around for some time. It employs an event-driven, value-oriented investment style with an emphasis on special situation equities, distressed debt and risk arbitrage.
The firm runs several vehicles based off the same strategy. This includes Third Point Opportunities Master Fund, Third Point Ultra Master Fund and Third Point Resources. Third Point also has closed-end funds listed on the London Stock Exchange. These are:
Third Point Offshore Investors GBP - "TPOG"
Third Point Offshore Investors USD - "TPOU"
Third Point Offshore Investors EUR - "TPOE"
The manager also oversees the investment portfolio of Third Point Reinsurance Ltd, a NYSE listed company where the underwriting proceeds are invested with the manager, providing a stable source of capital.
A Word On the London Listed Closed-End Fund
As at 31 Jan 2016, shares in TPOU was trading at a discount of -17% to NAV, a level last seen in the middle of 2012. It reached a discount of -50% during the depths of the financial crisis. These extremes shows that Third Point does not have very good discount management policies in place, and investors should therefore only gradually phase-in during periods of extreme discount.
Performance Analysis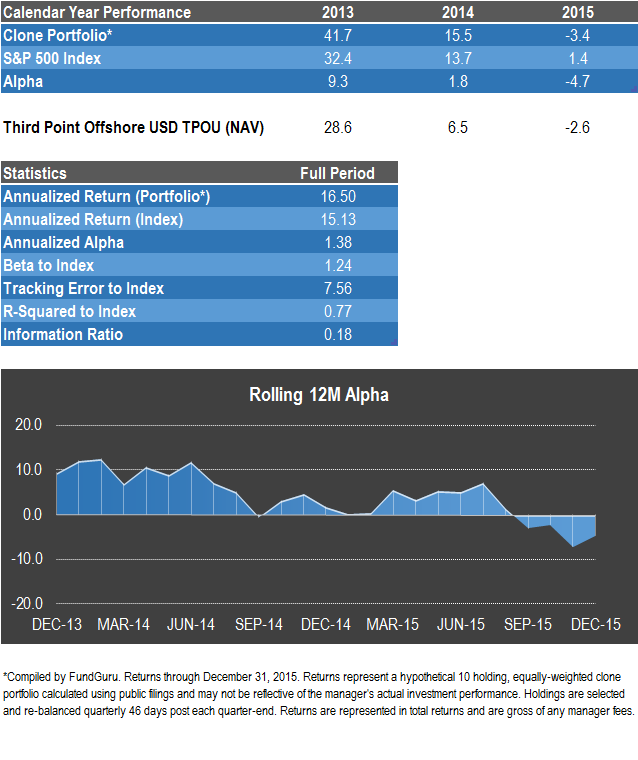 Third Point's clone portfolio returned +16.5% annualized over the past 3 years, versus +15.1% for the S&P 500. This is not much ahead of the S&P 500, due to weak performance in 2014 and 2015.
On a relative basis, the clone portfolio outperformed Third Points' listed fund, which returned +10.1% annualized over the past 3 years, according to the NAV returns published on Third Point Public's website. The listed fund is a feeder fund that invests in Class E Shares of Third Point Offshore Fund Ltd (the "master fund"). Although this is a good result, investors should note that the clone portfolio only mimics a subset of Third Point's actual portfolio. As at year-end 2015, the master fund was 48% net long equities and 23% net long credit. Net exposure to North America was 75%. Whereas the clone portfolio is 100% net long US equities only.
Portfolio Analysis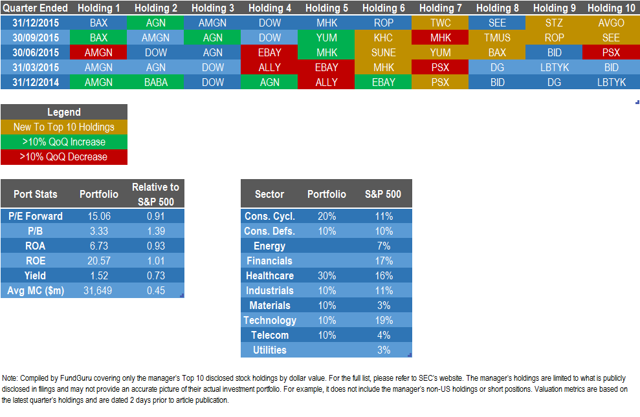 Portfolio Characteristics
Due to the event-driven nature of the portfolio, trailing valuation metrics such as P/E and P/B are not extremely useful. The portfolio has a mid- and large-cap growth tilt. Holdings are fairly diversified across sectors.
Individual Name Performance
Our holdings map above shows that Third Point does not change its top 5 names very often, but there is more turnover in the bottom 6-10 holdings, which changes regularly.
This is the performance of 4 names that have been in the portfolio over the past year, Amgen (NASDAQ:AMGN), Allergan (NYSE:AGN), Mohawk (NYSE:MHK) and Dow Chemicals (NYSE:DOW):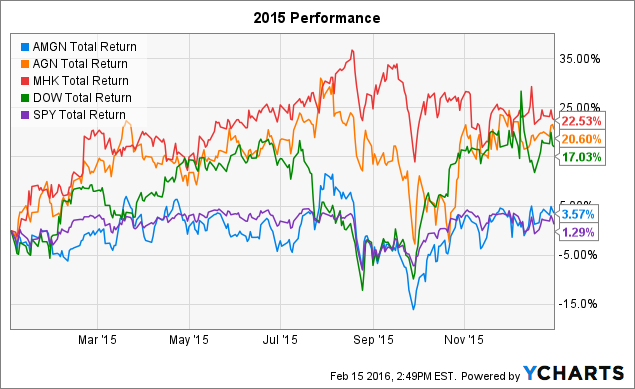 All 4 names have outperformed the S&P 500 significantly, with the exception of AMGN.
Baxter (NYSE:BAX), a hospital products maker, is the manager's current top holding, and entered the portfolio during Q2 2015. This is how it has fared since then: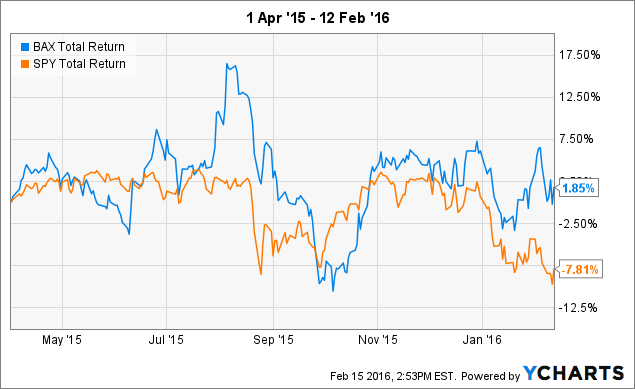 Third Point filed its 13-D on BAX on 5 August 2015, which resulted in a price spike. Since then, its share price have come down and have moved sideways since the initial stake. According to WSJ, Baxter has recently granted a board seat to Third Point partner Munib Islam. Islam participated in the search process for a new CEO, which resulted in the hiring of Jose Almeida late last year. Almeida became CEO of BAX effective 1 Jan 2016.
This is what Third Point has to say in its recent quarterly letter, as shared on marketfolly:
"Baxter seems to be at an inflection point for two reasons: (1) the Company recently spun off Baxalta, its biosciences business. As our longtime investors know, break-ups and spinoffs are classic opportunities and Baxter fits this mold; and (2) we believe that the new CEO can re-invigorate the more focused, post-spin company and drive it toward industry-leading operational performance by following a similar playbook to the one he executed so successfully at Covidien. Mr. Almeida's international experience, cost conscious mentality, and strategic vision will be instrumental in helping Baxter accelerate its revival through consistent execution and portfolio reshaping. He has a strong track record of creating shareholder value: during his tenure as CEO from July 2011 to January 2015, Covidien shares rose nearly +140% vs the S&P 500's +54% return. Given the ample room to drive margin expansion at Baxter and the new CEO's history of delivering consistent top quartile shareholder returns, we see Baxter as one of the most promising positions in our portfolio"
Clearly, Third Point has confidence in the new CEO, but this investment is at its early stages.
Summary Thoughts
We Liked:
Established manager with good long-term track record
Differentiated portfolio of event-driven names
Superior clone portfolio performance
We Didn't Like:
High turnover in bottom holdings
Alpha over past 3 years is now flat relative to S&P 500, due to recent declines
Sizable assets under management and a myriad of different vehicles - pointing to a relentless desire to grow capital base - which typically leads to deteriorating alpha
Bottom Line:
We do not recommend cloning this manager. This is a relatively higher turnover equity portfolio that have not produced much better results than the index over the past 3 years.
Investors interested in Third Point's event-driven approach should consider investing in its public fund which provides better access to the manager's investment skill across equities and credit. However, as a closed-end fund it trades at a premium or discount to NAV, and investors should only phase in during periods of widening discount.
Interested in following more alpha?
Follow us now and get live updates as we publish more manager reviews. For now, take a look at some of the recent articles we've published in this series:
Disclosure: I/we have no positions in any stocks mentioned, and no plans to initiate any positions within the next 72 hours.
I wrote this article myself, and it expresses my own opinions. I am not receiving compensation for it (other than from Seeking Alpha). I have no business relationship with any company whose stock is mentioned in this article.