E-Commerce China Dangdang Inc. (NYSE:DANG) announces fourth quarter and fiscal year 2011 Results on February 23, 2010 and hosted a conference call with investors and analysts on the same day.
Revenue came in at $195.7 million, an increase of 73% year over year and 37.4% sequentially. Needless stay, this sizzling growth rate trumped all analysts' estimates and even the management team's own estimate ($184.5 million) made in November. The chart below shows the comparison between the company's actual sequential growth rate, analysts' and management's estimates, and industry average for Q4 2011.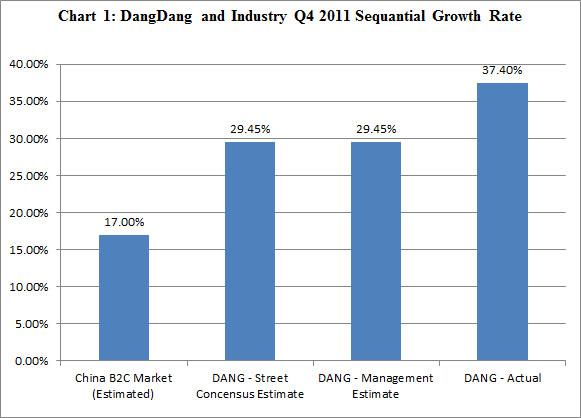 Note that the official market data for Q4 2011 has not been released yet. I used Analysys.com's last research report, which covers Q3 2009 to Q3 2011, as a starting point and assumed that the entire B2C market grew a little bit faster in Q4 due to positive seasonality factor more than offsetting slightly weaker growth of national GDP. Accordingly, Dangdang's top line growth rate last quarter more than doubled that of the entire B2C market. As a result, it distanced itself from the closest competitor Amazon.cn (NASDAQ:AMZN) and firmed secured its position in the No.3 spot in the industry according to the last research report published by IResearch.cn. However, the expectation-blowing revenue growth came with a high price.
Gross margin dropped to 10.5% last quarter from 13.8% in Q3 2011. The management team attributed most of the drop in gross margin to shift in product mix with general merchandise accounting for bigger portion of the total revenue. However, I believe at least part of the decrease in gross margin was also a result of the company's extremely aggressive discount offering toward the end of the year. Similarly, marketing expenses swelled to $11 million from $6.3 million in the previous quarter. It seemed that the management team spent a lot more in marketing, promotions, and price cuts in exchange for $11 million additional revenue. In the third quarter of last year, the additional discounts and marketing expenses were almost imperative in order to respond to a sudden increase in price cuts by competitors. However, judging by the fact that the company grossly exceeded both its own growth objective and the growth rate of the entire B2C market in China in the fourth quarter, I think at least part of the additional price cuts and marketing spending in the fourth quarter were discretionary and strategic.
On many occasions over the past year, Dangdang CEO and CFO openly criticized the top two competitors' careless price cutting practices and said that they did not believe lowering prices alone could guarantee a company's success over the long run. So, it was a little surprising to me that Dangdang not only matched these two competitors' low prices but possibly beat them on prices for many items in fourth quarter. I bet Taobao and 360buy.com CEOs probably kicked tires at home many times and condemned Dangdang management team for taking more market shares away from them and making them sleepless at nights.
I personally am not a big fan of this highly aggressive competitive strategy Dangdang's management used last quarter. If the company has a healthy and stable gross margin like that of Longwei Petroleum Holdings Inc. (LPH), it might be ok to spend a lot more money to push for additional revenue, but this is not the case for Dangdang right now. Furthermore, at a time when overall economy in China was growing at a slower speed, even LPH's management team decided to temporarily postpone the completion of a major expansion plan in order to make the best use of limited working capital to generate the maximum amount of revenue and net profit. As a long term investor I surely am not opposed to sacrificing short-term profits a little bit to enhance the company's long-term growth prospect and competitive advantage. However I think it still warrants the management team to be extra careful in analyzing ROI for this kind of intensive marketing and promotional campaigns to avoid negative marginal returns and overly fast depletion of working capital. The marginal return from each dollar of additional marketing and promotional spending diminishes as the amount of total spending increases.
Fortunately, since the management team is only aiming for 60% YOY revenue growth for Q1 2012, they might be already applying some break to revenue growth to improve margins. Speaking of Q1 2012, I think management's current forecast of 60% YOY growth for the top line is somewhat conservative. Even if the company trims branding campaigns, advertising, and promotions a little bit this quarter, it might still enjoy 65% - 70% top line growth with the help of residual effects of the sales and marketing efforts it made last quarter. For this year, I think a YOY growth rate of 65% - 70% is more manageable and beneficial to the company than a YOY growth rate of 73% or higher. Even with an average yearly revenue growth rate of just 65%, the company's revenue will still grow to over $7 billion in five years, a figure that will probably satisfy most shareholders of the stock today.
Other expense lines are not too big of a concern right now because they account for smaller portions of the total cost. However, I'd still suggest the management team to review technology and G&A expenses carefully too and make a tighter control on these expenses because they also grew faster sequentially than the revenue did last quarter. I am less concerned on technology expenses because investment in technologies can give the company substantial competitive advantages over the long term. However, long-term benefits are more elusive and less predictable for increased G&A expenses. As I said in previous articles, over the long run a significant source of the company's scale of economy is the company's ability to keep its technology and G&A expenses fixed or grow at a much slower pace when revenue increases.
Overall, the long-term growth story of Dangdang is still intact. The company still looks very like Amazon of China in the making. I wish and believe that the management team will steer the company to trim losses from this point on while still keeping a satisfactory top line growth rate.
Disclaimer: my standard disclaimer for my analysis can be viewed here.
Disclosure: I am long DANG, LPH.