All eyes will be on the size of the LTRO next week as the ECB releases unlimited funds to European banks in hopes of providing liquidity and easing government borrowing costs further.
The LTRO is credited with the recent market rally and often equated to the Federal Reserve's QE-2 program of 2010. As the charts below illustrates, the comparison seems to hold true for now.
S&P 500 Percentage Move:
right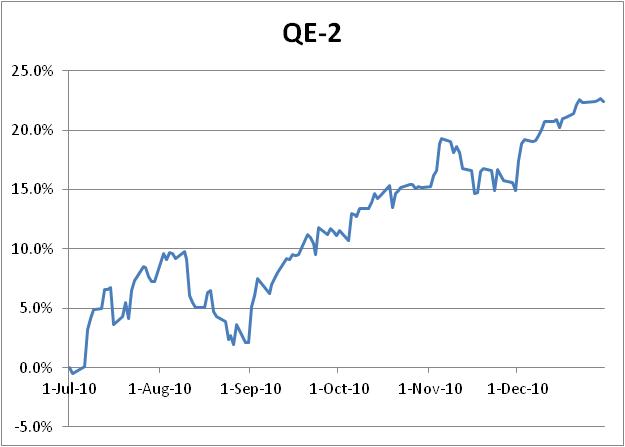 S&P 500 Percentage Move: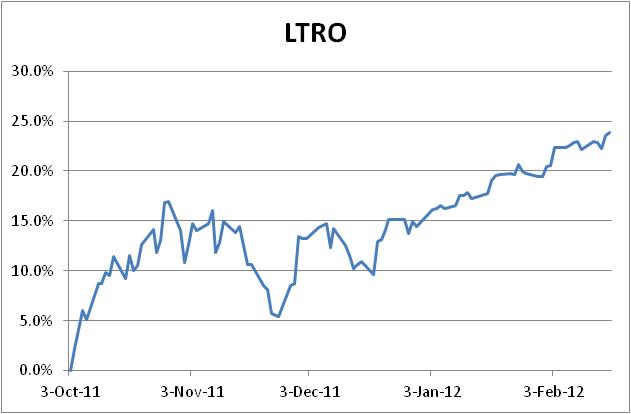 Background
The first Long Term Refinancing Operation (LTRO) took place on December 21, 2011 and the second will take place next week on February 29, 2012. Similar liquidity operations are carried by the ECB on a regular basis; however, those operations usually span three months. The LTROs are the first liquidity operations to span three years since the inception of the ECB.
Under the LTRO European banks who wish to participate can borrow an unlimited amount as long as they provide the eligible collateral against the loan. In the past, triple-A rated securities were the acceptable collateral, however, the restrictions on the most recent operations have been eased.
The first LTRO amounted to €489 billion and included 523 banks. Estimates for the upcoming operation have been all over the map and are in a range of about €300 billion to €1 trillion.
What Can We Expect?
It seems the larger the allotment the happier equity markets will be as more liquidity will push government bond yields lower and continue to emulate the QE-2 rally of 2010. This might be indeed the case; however, investors have to note the key differences between QE-2 and the LTRO.
Firstly, QE-2 involved the Federal Reserve purchasing treasuries and mortgage backed securities directly, thereby pushing borrowing rates. On the other hand, the LTRO has a predetermined expiry date and is a sterilized program in the sense that participating banks must provide collateral to back the loan; it is therefore not the creation of new money.
Secondly, the LTRO simply replaces sources of capital that were open to European banks in the past, yet dried up as fear of nationalization (remember Dexia) and sovereign default were on the horizon. Again, the LTRO is not new money, but a substitution.
In addition, the first LTRO failed to ease borrowing costs for Portugal as it did for Spain and Italy, and although the large number of banks participating eliminated the negative stigma of using the LTRO, the stigma of owning Portuguese debt is alive and well.
Lastly, recent rumors indicate that ECB head Mario Draghi will make it clear that this operation is the last of its kind (time length wise). This rumor can be supported by pressure coming from the German Bundsbank which is extremely cautious on inflation instigating policies.
Disclosure: I have no positions in any stocks mentioned, and no plans to initiate any positions within the next 72 hours.