By multiple cash flow measures, we believe shares of Amazon (NASDAQ:AMZN) look relatively cheap considering the company's trailing growth and future growth prospects. A large $5 billion share buyback program gives us faith that management shares this view that the current stock price is undervalued, and we remain bullish on Amazon's secular growth in several high-growth markets.
After a 178% rally in 2015, AMZN shares are now off 25% in less than two months.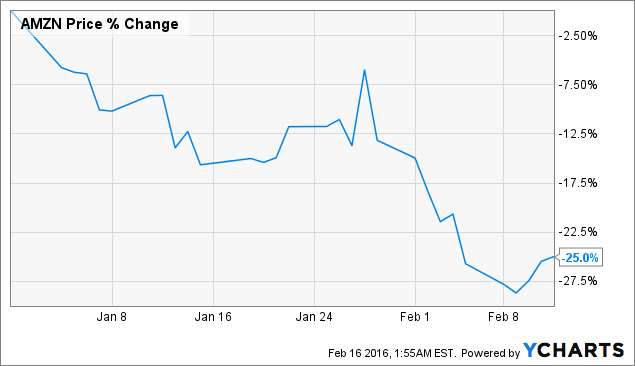 AMZN data by YCharts
The stock's current market cap is around $238.8 billion which, after taking out $19.8 billion in cash and adding in $18.2 billion in long-term obligations, translates to a $237.2 billion enterprise value. We think this is an attractive enterprise value relative to the company's cash flow growth. The stock is trading at ~20x EV/operating cash flow on 74% Y/Y growth, ~32x reported free cash flow on 276% growth, ~50x free cash flow less lease principal repayments on 797% growth, and ~95x "true" free cash flow (free cash flow less lease principal repayments and assets acquired under capital lease) when this "true" free cash flow grew from -$2.2 billion to $2.5 billion.
Looking at these multiples across the board, the stock is currently undervalued relative to its trailing cash flow growth. Trailing growth, though, is rear-view window investing, and we understand that the premium investors pay for this company hinges on future growth prospects. We do not believe the stock should trade around a 74x EV/OCF multiple because we believe growth will be long-term logarithmic (i.e. future growth rates will be slower than current growth rates), but we do believe 20x OCF undervalues the immense growth prospects of the company. We do think OCF growth will exceed a 20-25% five-year forward CAGR.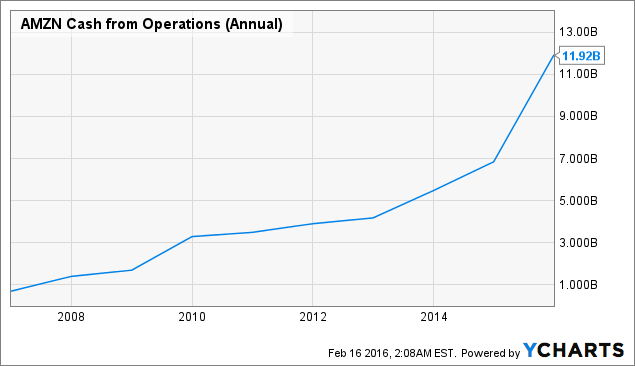 AMZN Cash from Operations (Annual) data by YCharts
AMZN is fleshing out its own delivery system, changing the last mile of delivery and taking the ball back into its own court when it comes to delivering goods to its customers. A combination of a truck-and-plane infrastructure, a drone network, and a ride-sharing economy will be the basis on AMZN's next-generation delivery system. This is a $400 billion market opportunity for the company.
AMZN is aggressively expanding its logistics operations in China, applying to become a maritime shipping broker with the Shanghai Shipping Exchange. Alibaba (NYSE:BABA), with trailing revenues of $14.36 billion, owns roughly 50% of retail e-commerce in China, while AMZN owns a mere 1%. Expansion of logistics operations in China should bolster AMZN's China market-share, cut into BABA's China market share, and be a boon to AMZN international retail growth. We are fully confident in AMZN's ability to capture market share given its dynamic pricing model for top-selling items, which essentially guarantees price leverage.
AWS growth remains strong (69% MRQ) and we see strong growth therein persisting over the next several years as cloud demand grows. AMZN's recent acquisition of NICE, a cloud computing company in Italy, provides some insight that AMZN is not done growing and expanding AWS. AWS growth will drive margin expansion and accelerate profit growth.
In sum, we think AMZN is a high-growth company whose growth prospects in delivery, China and cloud are being undervalued by the current cash flow multiples. We think that shares are currently in buy range.
Disclosure: I am/we are long AMZN.
I wrote this article myself, and it expresses my own opinions. I am not receiving compensation for it (other than from Seeking Alpha). I have no business relationship with any company whose stock is mentioned in this article.