Our recent articles combining fundamental analysis and options have been well received by Seeking Alpha readers. The most rewarding aspect of writing here is when a reader genuinely appreciates that he/she learned something new from an article. We've had many such comments on this options series.
Our portfolio consists of dividend growth stocks mainly, ranging from the usual suspects such as Altria Group (NYSE:MO) to slightly less conventional ones like Omega Healthcare (NYSE:OHI). The only technology-related stock we own is Apple (NASDAQ:AAPL), and we've been on the lookout for the second one for a long time. Qualcomm (NASDAQ:QCOM) held that position for a while, but we sold it off thankfully before its recent troubles began. That still leaves us with just one technology related stock.
Cisco (NASDAQ:CSCO) is one of the front-runners, but we aren't convinced about its future yet. Microsoft (NASDAQ:MSFT) is another candidate for its clout (as well as cloud). This article focuses on MSFT, an option chain we like and its prospects.
When you sell a put:
You are taking a bullish position on the stock, contrary to the misconception that when you do anything with "puts" you are being bearish.
You get a premium in your account right away for the obligation to buy the stock at the price you want on the date you want. So, you decide the date and the price you want to buy and the party you sell the option contract to pays you for it.
But you are taking a "risk" in that if the stock drops well below your strike price, you still have to buy the stock at the price you chose, not the current market price.
You believe a stock will not drop below a certain level, and if it does, you want to be a buyer.
An Example: Below is Microsoft's option chain, which expires on Jan. 20, 2017. Let's pick the $40 put for example.
For selling one contract (one contract = 100 shares), you need to have a cash balance of $4,000 in your account ($40 per share times 100 shares in a contract) to cover the possible purchase of 100 shares of MSFT.
Please note there are two variations here: (1) Some brokers allow using the premium from the sale to be used as part of this trade. For example: if a trade needs $1,000 to be set aside but nets you a premium of $30, the broker might allow you to sell the put with $970. (2) Some brokers allow 'some' investors to go on margin. Margin is essentially borrowing money from the broker and we do not advice the average investor to do this. The risk of being "margin-called" isn't worth the reward for most investors.
The premium on this particular put is likely to be between $2.30 and $2.40 per contract depending on the day. That would net you a premium of say $230 for one contract.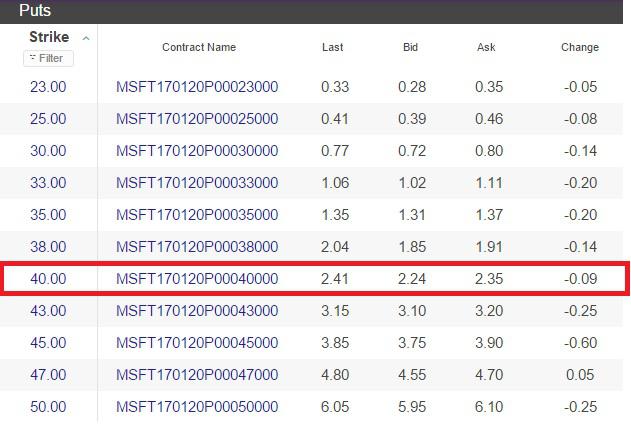 Source: Finance.Yahoo.Com
The Scenarios
#1: Microsoft is well above $40 at the time of expiration. Your option expires worthless and you net nearly 6% for about 11 months of your willingness to set aside $4,000 on this contract. Remember, your $4,000 is not locked up with Microsoft beyond this point. This trade gives you double the yield than you currently get on Microsoft's shares.
Risk: If Microsoft really rockets up from here, your option returns will be lower than the stock returns. This may happen but given this stock's history, it has a habit of being range bound for an extended period of time.
#2: Microsoft is at or below $40, you are obligated to buy 100 shares at $40. Remember, you already netted $2.30 per share when you sold the put. So, your cost basis is essentially $40-$2.30 = $37.70. As long as Microsoft is above this $37.70, you will have a net positive return when this option chain expires.
Risk: The risk in this scenario is that if Microsoft really tanks in the next 11 months and trades below $40, you will still have to buy your shares at $40. With the stock trading at $50 as of this writing, $40 would represent 20% fall in price. That looks unlikely as Microsoft is fast becoming a respected dividend stock and investors/funds are likely to scoop in on bargains.
Why this particular strike price?
Microsoft has been delivering dividend increases since 2005 and is very likely to announce one more in September 2016. If it increases the dividend by 10%, the new annual dividend will be around $1.60 per share. The $40 strike price would represent a 4% yield for investors. As a comparison, the maximum yield over the last five years was 3.15%.
Based on the 2017 EPS estimate of $3.07, a purchase at $40 would represent a multiple of 13. Microsoft has not traded at or below that level since Satya Nadella took over the reins. It's not a given that the stock is never going to trade at this multiple but when your CEO is as hated as Steve Ballmer was, the successor is likely to get the benefit of the doubt for an extended period of time.
Forward Thoughts
After being neutral on Microsoft for a long time, we are now beginning to like the company and stock. This is not because of any recent share price movement or its strong dividends. It's simply because of its cloud platform, Azure.
We've personally witnessed a few mid-sized companies moving away from Amazon's AWS (NASDAQ:AMZN) to Microsoft's Azure for two main reasons: pricing and development platform. AWS does not allow integration services, programming tools and frameworks on it. It's simply a hosting/staging platform. Microsoft, with its rich programming heritage, handles this very well.
To put this in simple terms, imagine you build a software for your customer in your development office but host it on Amazon's AWS. Your client requests a change in the software. AWS will not allow you to do this programming change on its platform. The software programmers have to do this at their end and move the changes to AWS. Microsoft's Azure, on the other hand, allows this seamlessly.
This may seem like a minor thing for the average onlooker but for the million of companies that work on critical production support, this is key as it saves time and money. In addition, Azure is natively compatible with some of the most common technologies used by many businesses. Why? Because those common technologies are provided by Microsoft to begin with.
Let us not forget Microsoft's strong presence in the public sector. The private sector is very well exposed to the cloud but the public sector is just about beginning to catch up. Microsoft already provides plenty of enterprise solutions to these public agencies (think county offices, state agencies, and federal agencies) and when they make a move to the cloud, Microsoft will likely be their choice given the familiarity.
Forget about the growth prospects for a minute. Microsoft's existing business is so strong that its lowest free cash flow level in the last five years (December 2013) is sufficient to meet its current dividend requirements. Granted, a company has much more to pay than just dividends but whenever we see this trend, it clearly shows two things: 1) the company isn't cyclical and 2) it has reliable, strong, and continuous inflow of money. These are two key components that we look for as dividend growth investors.
Conclusion
We did like Cisco's recent earnings report and its plan to return more capital to shareholders. But Microsoft is now the front-runner to be the second technology related stock in our portfolio. We might buy the shares outright in the near future, but are also watching the options chain to sell puts on down days to collect some nice premium and the 'option' to buy at a price we like.
Disclosure: I am/we are long AAPL, MO, OHI.
I wrote this article myself, and it expresses my own opinions. I am not receiving compensation for it (other than from Seeking Alpha). I have no business relationship with any company whose stock is mentioned in this article.