Herbalife's largest individual investor is reducing his exposure to Herbalife (NYSE:HLF) common stock. In an SEC filing dated April, 2015 Mr. Stiritz declared ownership of over 7.5 million shares of Herbalife. At a price of $45 that represents capital of close to $337 million.

According to an SEC Filing released today, Mr. Stiritz and his family are having second thoughts. Ostensibly, his exposure has been reduced to roughly 4.8 million shares. In practice, he may actually own closer to 4 million shares as many of his call options may expire worthless or out of the money. Here are the details of the SEC filing: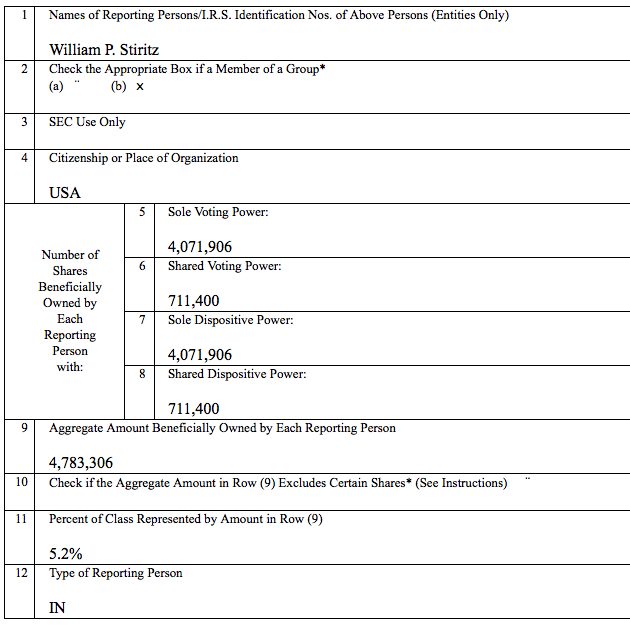 Q. Why is this important?
Since Pershing Square's initial allegation v. Herbalife the company has had a number of apologists. Perhaps none were more vociferous than Mr. Stiritz and Mr. Icahn. Let's review some of the public statements Mr. Stiritz has made about the company.
In an interview with Bloomberg in 2013, Mr. Stiritz referred to Herbalife as a "National Treasure". That article can be found here.
In April of 2015, Mr. Stiritz changed his investment status in Herbalife from "Active" to Passive". Upon the release of this information, Mr. Stiritz had the follwing to say about his position in the company.
"As I sit right now, I couldn't be happier with my investment in Herbalife," Stiritz said Sunday in an interview. "I am more resolved than ever in the legitimacy of the model."

The headline from this article reads: Stiritz Has No Plans to Sell. You can read it here.
What a difference a year makes. Now, I suppose we should be clear. 4 million shares of Herbalife at $45 per share is still $180 million worth of exposure. This isn't chicken feed. What was chicken feed, however, was the advice Mr. Tim Ramey offered to Mr. Stiritz on the good ship Herbalife in the first place. Recall, Mr. Ramey was issuing price targets north of $100 per share just as Herbalife's operating fundamentals were peaking out. So enamored with Mr. Ramey's advice was Mr. Stiritz that he hired him to work as a hired gun at Post Holdings (NYSE:POST). How quickly things can change. Fortunately, Mr. Stiritz now seems to be thinking for himself.
As investors, it is difficult for us to ascertain exactly what Mr. Stiritz' adjusted cost base is on the good ship Herbalife. In all likelihood it is north of $45 per share. It is my sincere hope that he was able to reduce his exposure to Herbalife at prices north of the $55 range. Schadenfreude isn't my thang. I remain optimistic that he will liquidate the balance of his position before it is too late. We'll have to wait and see. Hopefully he will do something pro-social like build a hospital.
What we can say categorically, however, is that Mr. Stiritz' blender seems to be whirring a tad less vigorously of late as his enthusiasm for Herbalife obviously wanes. To add insult to injury, 4 million shares x a loss of $10 per share since January 1 amounts to an additional mark to market loss of $40 million. Surely that has to sting.
Herbalife will report Q4 earnings next Thursday. Currency headwinds continue to prevail. Recruiting trends in most markets other than China are flat to down sequentially. It is difficult to envision investors assigning a premium multiple to a company that churns 2 million Members per annum as its sole means of survival. It strikes me right now that short sellers are getting the company's regulatory risk for free. Whatever the case may be, we can now say categorically that Mr. Stiritz doesn't see Herbalife as the "national treasure" it once was.
My guess is he is on to something. Herbalife remains a short.
Disclosure: I am/we are short HLF.
I wrote this article myself, and it expresses my own opinions. I am not receiving compensation for it (other than from Seeking Alpha). I have no business relationship with any company whose stock is mentioned in this article.